In partnership with Duck Club
Duck Club's new Frequent Flyer Pass is a must for the local music-loving, Treefortin', show-goin' superfan!
With the Duck Club Frequent Flyer Pass, you get:
Your name on the guest list at every Duck Club show throughout the year – that's over 250 shows a year

At least one "Buddy Show" per month where you can bring up to five friends for free

ZIPLINE Pass for Treefort Music Fest + premier access to the brand new lounge at Treefort Main Stage

3-Day GA Flipside Fest Pass

One free drink coupon at every Treefort Music Hall show

10% off private event rental at Treefort Music Hall or Shrine Social Club

Surprises throughout the year
Pretty sweet deal, eh? Snag your Frequent Flyer Pass here. These are only available until Thursday 9/21!
---
This story was written by Amanda Patchin. Listen to the podcast here. Special thanks to reader Kriss for sending in this story idea!
Big City Coffee sits on Grove Street between 14th and 15th. As part of the Linen District it has been in this location since 2006 although it rather looks like it's been here for half a century or more. Sturdy tables are surrounded by metal chairs with charmingly worn paint, while signs announce "A Complete Line of Tack" and "Poultry" with all the charm of a farm store from the 1940s. Like a farm store, it is a little cluttered, although branded cups and t-shirts fill the shelves rather than seeds, spades, or bolts.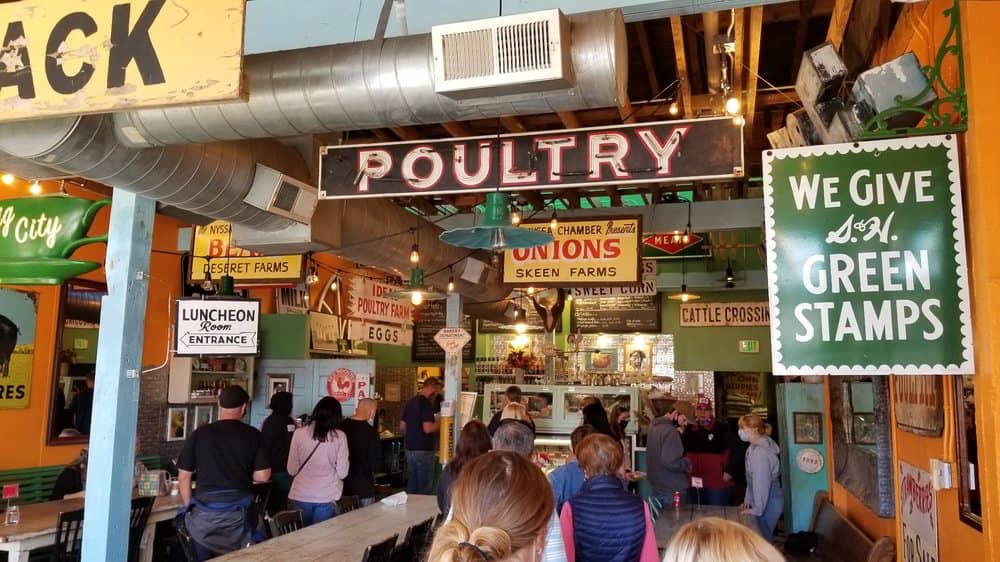 Big coffee mugs and pastries the size of a toddler's head promise to satisfy morning cravings while monstrous plates of biscuits and gravy float by looking like enough to satisfy a farmer's appetite after a long and hard day. There are no farmers in evidence though.
Aesthetics and menu aside, on a Saturday morning Big City Coffee was full of families, football fans, and police officers getting ready for their Greenbelt patrol. Greetings, queries of "Are you going to the game?" and "How have you been?" loudly compete with quieter conversations about Art in the Park, whether or not the gentleman in the corner was "Dave", and how the wedding planning is progressing.
Boise is the largest city in Idaho, which isn't saying much. Idaho is one of the least densely populated states in the US. With under 2 million people at the last census and counties that are bigger than several whole states Idaho is not very populous and Boise holds only about ⅛ of that population. I find it difficult to go much of anywhere in town without running into someone I know from work, from church, from school, or just from around. When meeting someone new I almost always figure out that we have mutual friends somewhere in town.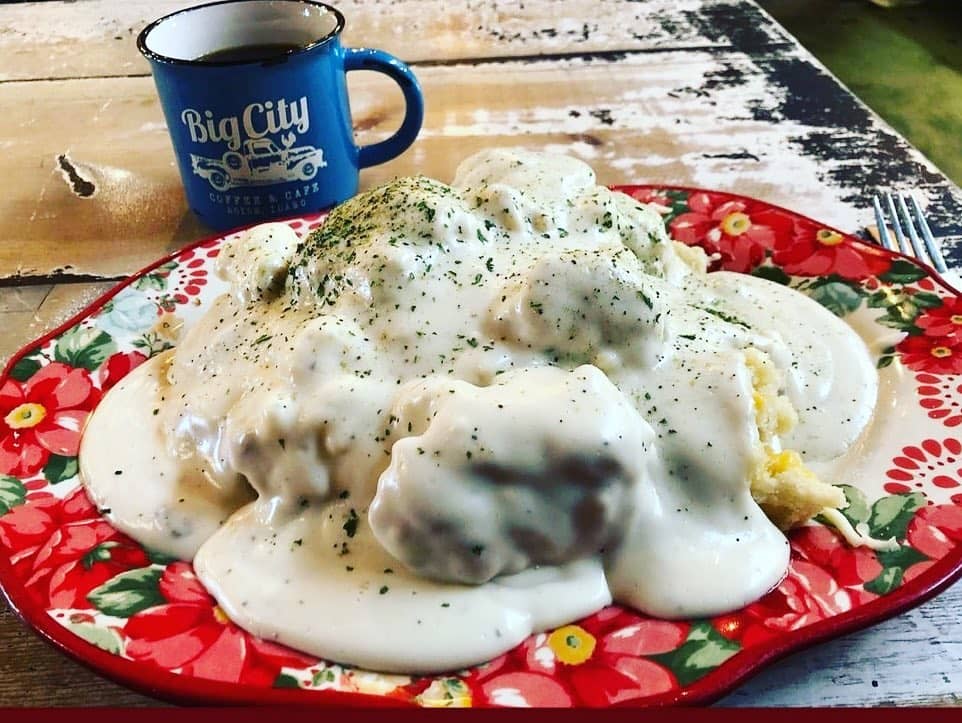 Boise then, is something of a small town. Warm, friendly, interconnected, and lively, Big City's choice of decor corresponds at least loosely to the feeling of living here. Grove Street may be in the heart of downtown, but it is still interwoven with Idaho's rural past and the sense of community available in a small town.
Interconnectedness is not a marketable commodity. You can plop pseudo-rural decorations into any business but ordinarily you will not find community or community feeling following your design choices. The aesthetic of a small town store is desirable because it signals that connected feeling, but no decor can create the reality. To be connected takes kindness, it takes openness, and it takes time. Obviously time is insufficient to create community but it is indispensable if community is to develop.
The philosopher Josef Pieper, in his book Tradition, explains three necessary components of traditions. They must be motivated by some transcendent impulse, they must come from before our time, and they must be living: i.e., those who enact them must believe in their necessity or efficacy.
Big City Coffee is the site of a charming local tradition. At some point after their move to Linen District, someone placed a note in the drawer of the little white table that sits in the corner opposite the door. Moved by an impulse, human or divine, they recorded a thought and left it to a kind of obscurity that contained unwitting permanence. We cannot know, unless they choose to reveal themselves, who that person was, but the transcendent nature of the impulse to leave a note is revealed by what has happened in the years since.
The two drawers of the little white table are filled with such notes. Some date back more than a decade and some from earlier this year. Paper doilies, scraps of order tickets, old receipts, boarding passes, and post-its all bear hopeful, sorrowful, or humorous notes.
"The world is changing, we are changing with it, change happens and even if we don't like it in the moment it leads to greater things…"
"Trauma begets wisdom or humor and sometimes both."
"Hope this is hear when I'm here next year"
"Hey stranger have a greatastic day!"
"Sitting here after years of pregnancy loss, waiting to hear if we were selected to adopt. Longing to read this with a little one someday."
"Average is totally fine UNLESS you're destined for Greatness…"
Light or dark, simple or complex, each of these notes reaches out to the wider community.
Reminding us of the complexity – the silliness and the hardness, the despair and the hopefulness – of others' lives. They are part of the ideal of community that we mostly desire but frequently fail to understand, create, or inhabit.
---
In partnership with Idaho Preferred
September is Idaho Preferred Month! We are so lucky to live in a city surrounded by farms and ranches that supply us with fresh produce & products. Every September, Idaho Preferred Month reminds us how important it is to shop locally and support our local farmers & producers. A few ways you can participate in Idaho Preferred Month:
While you're at the grocery store, look for the Idaho Preferred logo & choose products that were grown, raised and/or processed in Idaho.
Find food that is locally grown, raised, or crafted by utilizing the Idaho Preferred Farm and Food Finder.
Eat seasonally by using the Idaho Preferred What's In Season Calendar.
Buy producer directly from growers at local farmers market using the Idaho Preferred Statewide Farmers Market Directory.
Shopping for Idaho Preferred products at Albertsons, Walmart, Boise Co-Op, Broulim's, Lark & Larder, Moscow Food Co-Op, Red Top Market, Stokes, Ridley's, Cliff's Country Market and Winter Ridge Natural Foods.
Live. Eat. Local. Learn more at idahopreferred.com​
---
The notes in the drawer are something given. They exist now and stretch back to the beginning of Big City's presence in the Linen District. There is no practical need for such a tradition, but it can meet people where they are, and offer them a connection to a larger group, a wider existence than their own immediate experiences, a richer moment than the mere consumer role of a person buying a coffee and a cinnamon roll. The fact that people continue to delight in them and continue to add to them, indicates that this is a living tradition.
The notes, with their sense of mystery and continuity, are enriching the communal life of Big City and the people of Boise. Other little corners of Boise are busy doing the same kind of thing in a complicated variety of ways. Little Free Libraries, alleyway murals, buskers, gardens, and all the gratuitous beauty of human life conspiring toward tradition and all the potential in it.
The messiness and complexity of real life, the personality of a small business, the serendipity of colliding purposes, varying motives, or crossing paths, these things form a community. We must be intentional ourselves as we encounter this complexity and then create it with our choices. We must also be open to such things. The drawers could have been "cleaned out" by someone cold to the hopefulness in them. Each person who left a note could equally have opted not to out of indifference, cynicism, or distraction.
Indeed, there are infinite potential communities that remain uncreated because of that exact indifference. Further, the joy with which we encounter these precious instances of community may be the measure of how deeply we need them, how rare they are in comparison to their potential existence, and how much we need to set about cultivating them in our lives. Notes in a drawer may not mean much in the grander scale of life, but the sense of contribution, of building something, of connecting to living tradition can and probably should matter to all of us whether Big City Coffee is our communal corner or not.
Thanks for reading!
With love from Boise,
Marissa
This story was written by Amanda Patchin. Amanda has a monthly-ish newsletter where she shares her booklist, selections from her fiction, and updates on what books she has for sale in the Zed Bookshop.
Special thanks to From Boise reader Kriss for sending in this story idea.
​