In partnership with Tamarack Resort
Looking for an open-air event space where you can soak up the last of summer? Head up to Tamarack Resort!
The Plaza and North Lawn are excellent outdoor spaces with stunning views of the mountain and Lake Cascade. The Plaza is an outdoor banquet space that can seat up to 150 guests. It's perfect for a reception, dinner or mingling event. The North Lawn is a secluded and perfectly manicured green area with a view of Tamarack Mountain. Dreamy! It's perfect for an intimate wedding ceremony, team building events, and social receptions.
Host your next meeting or event in the fresh mountain air at Tamarack Resort.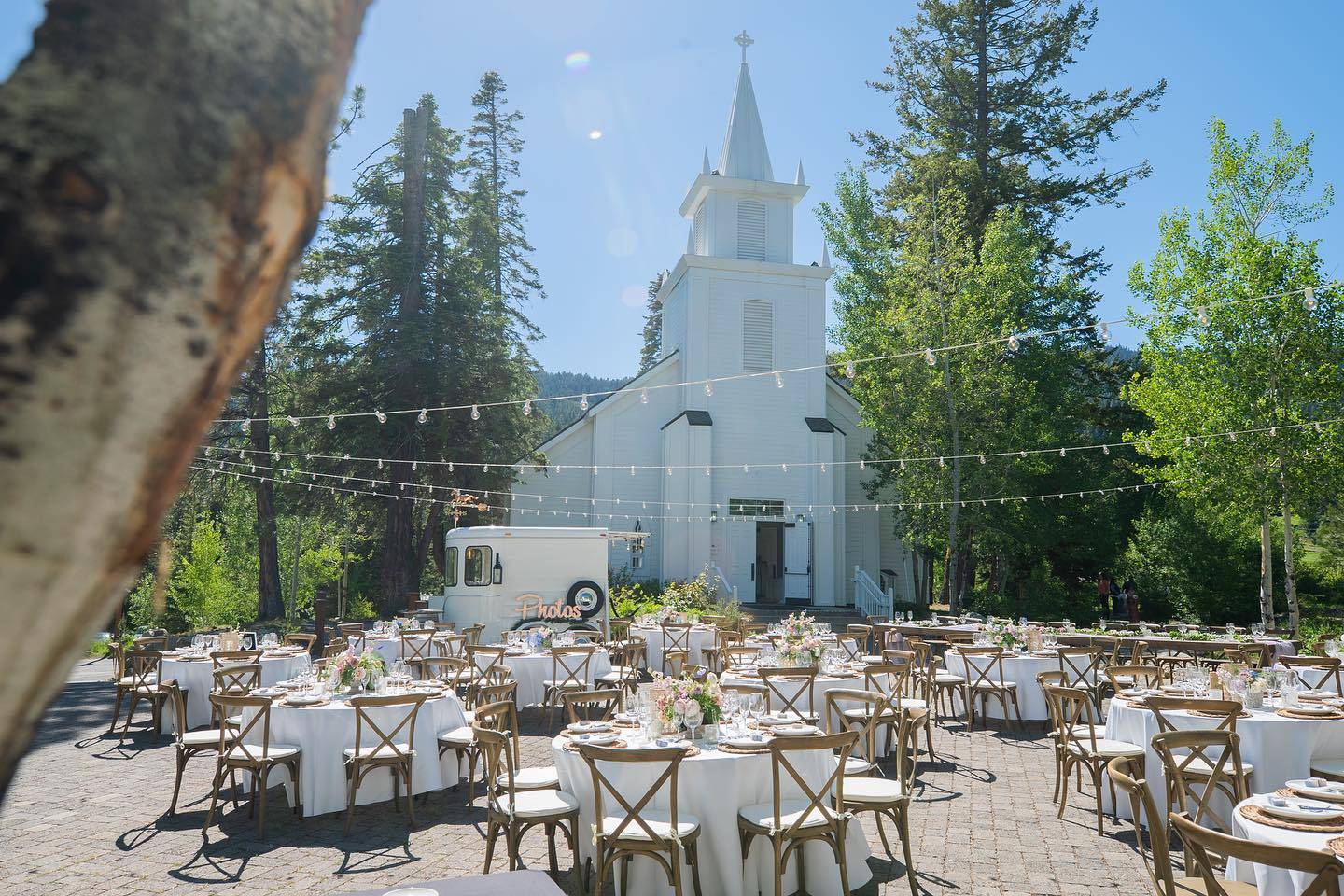 ---
Boise's high desert climate may not seem like the place to raise koi fish, but the members of the Idaho Water Garden and Koi Society are gearing up to show us how it's done.
Created in 1990, the Idaho Water Garden and Koi Society is a state-wide group of people who have a love of water gardening and keeping koi fish. In addition to keeping ponds and koi at their own homes, the club helped build the koi pond at the Idaho Botanical Gardens, they planted water lilies and aquatic plants in Kathryn Albertson Park, and they care for the water lilies and koi at The Boise Depot and do an annual cleanup of the Depot's ponds.
The club also has two public events: pond tours during the summer months, where you can go see some of the best ponds in the Valley, and the 29th Annual Koi Show, which is coming up next weekend on Saturday, September 16 at Edward's Greenhouse.
To get the scoop on keeping koi fish in Boise, I talked to Katy Shanafelt. Katy is a koi keeper and pond lover, a long-time member and the current president of the Idaho Water Garden and Koi Society, a Certified Medical Koi Keeper (aka fish doctor), and a national koi judge.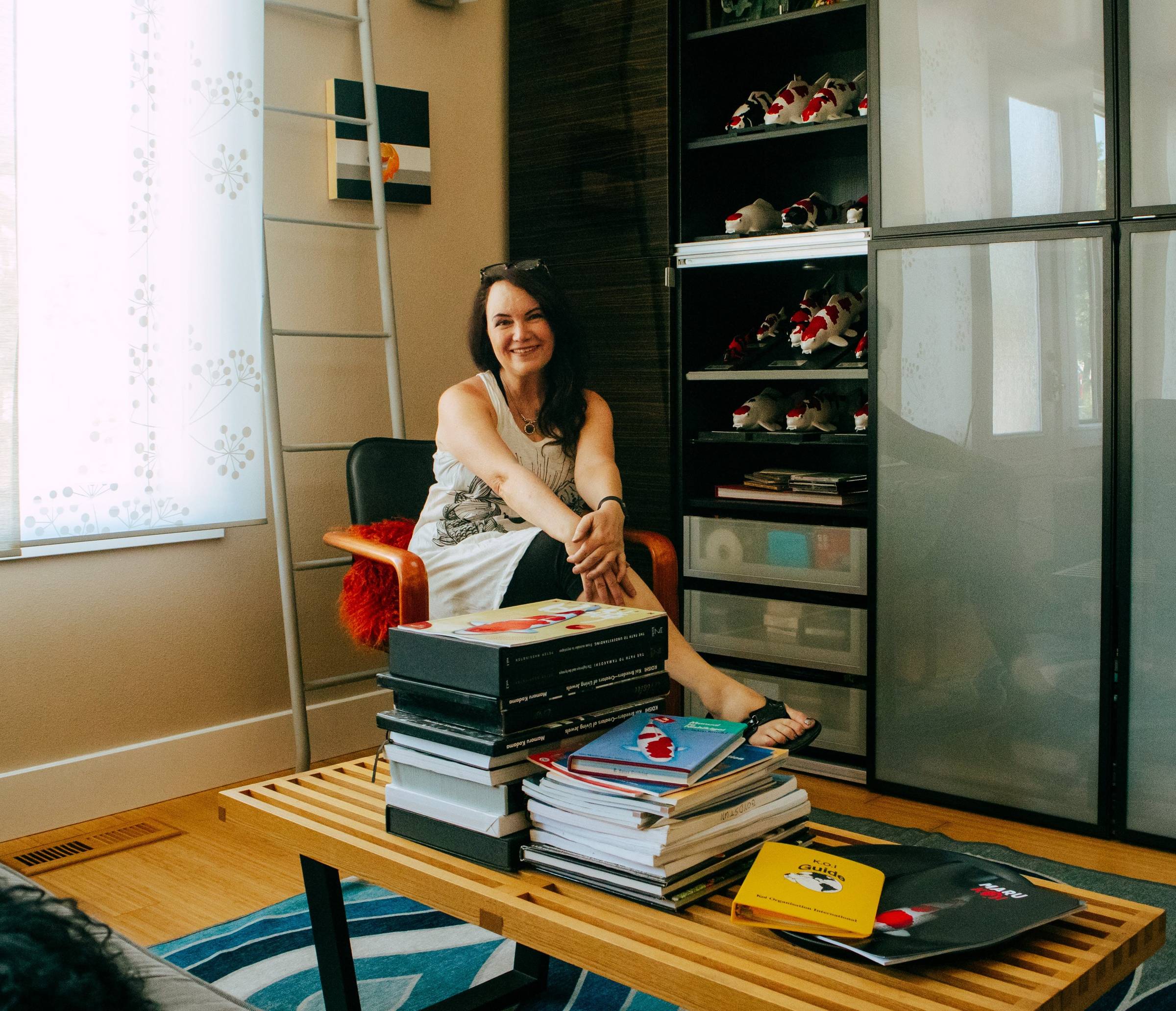 Water gardening has always been part of Katy's life. She built her first pond at her parents house in 1993 while they were away on vacation. Many ponds later, Katy now has a thriving koi pond in her own backyard and helps people across the Treasure Valley care for koi fish and install ponds in their own backyards.
"I learned the hard way. The old adage is you have to kill a lot of fish to be a good fish keeper," said Katy. "There's so many people who have or want ponds, and they just think, oh I'll dig a hole, throw some goldfish in and call it good. Most people don't know what fish really need."
Lots of people love the idea of having a pond at their home, but most don't understand the design aspect of building the pond. While a pond may look natural, it is most likely not a natural feature in your yard in Boise. So, in order to achieve a healthy, functioning pond, it takes informed planning and design, especially if you are going to have fish live in it. This is where Katy and the Idaho Water Garden and Koi Society can help.
Keeping koi in Boise
One of my biggest questions about keeping koi fish in Boise was in regard to our weather. What happens in the summer when it's super hot? And what do you do in the winter when it gets cold?
"We have a really strange climate here. It can be super cold and super hot. So it's always a good idea to talk to the people who know what to do and how to winter your fish. And the koi club is the best place to start," said Katy. "Honestly, [the club] has so much information – so much experience. They are just a wealth of knowledge. We teach people every season how to open ponds, how to shut ponds, where to get healthy fish, and how to take care of them."
In the summer, Katy has a sun sail covering part of her pond for shade. That helps, but most important is keeping track of the water temperature. Katy uses a floating thermometer that she can read from inside her house, so she can keep tabs on it at all times. The water is typically 10-20 degrees cooler than the outside temp. And if it's really, really hot, she will float bags of ice in the pond to cool it down. Katy also keeps water constantly circulating throughout the pond. Ten percent of the water is refreshed each day. All of the excess water is used to water her lawn or other plants.
In the winter, koi fish and goldfish go into a kind of hibernation called torpor. It's a semi-dormant state when a fish's activity level slows way down. Koi are also in the carp family, so they are pretty hardy fish. Katy's winter plan is to keep everything going in the pond and make sure the water is moving, monitor the water temperature, and make sure her fish have food and oxygen.
"I use what's called a solar blanket for swimming pools and I put that over the top. Then I put some pretty high powered heaters in the pond, like 2000 Watt heaters, and I have them jacked up as hot as they'll go," said Katy. She noted that even though the heaters are running on high, it doesn't make the pond hot, but keeps the water around 50-55 degrees all winter.
Katy also has some tips and tricks for "putting the fish to bed" in the winter. There's a few medical things she does, like using Aqua Prazi to keep parasites away while the fish are in torpor.
If you are interested in starting a water garden and/or koi pond, Katy's first suggestion would be to get in touch with the Idaho Water Garden and Koi Society.
"That's what we do," said Katy. "We have an incredible pond designer, Sot Chimonas. He has designed industrial ponds for large facilities with fish, and now he does really high end ponds. So he can tell you what to do, then it's just finding contractors to do it."
---
Sponsored by the City of Boise
The City of Boise's 'In the Know' newsletter keeps you informed about community-driven initiatives and opportunities to get involved in your city. Whether it's volunteering at a local event, participating in citywide celebrations, or supporting sustainable practices, stay in the know by signing up here.
---
Katy's koi pond
Katy has a 5,000 gallon koi pond in the backyard of her Garden City home. It's a completely custom design, which was somewhat out of necessity.
"There's no companies in town that build koi ponds. There's companies that will build you a water feature, but those are not necessarily set up for this kind of koi," said Katy, meaning for koi that are actively growing and will be entered into koi shows. "For this kind of koi pond, you have to have nothing in it. No rocks on the bottom. Straight sides all the way down. No shelves for plants. And just make sure that it is built for fish first."
The point of having straight sides on your koi pond is to make it harder for predators to reach the fish. Katy explained that when you have plant shelves down into the pond, you basically create a staircase leading to a buffet for predators. Raccoons and birds can walk right down into your pond and easily grab your fish.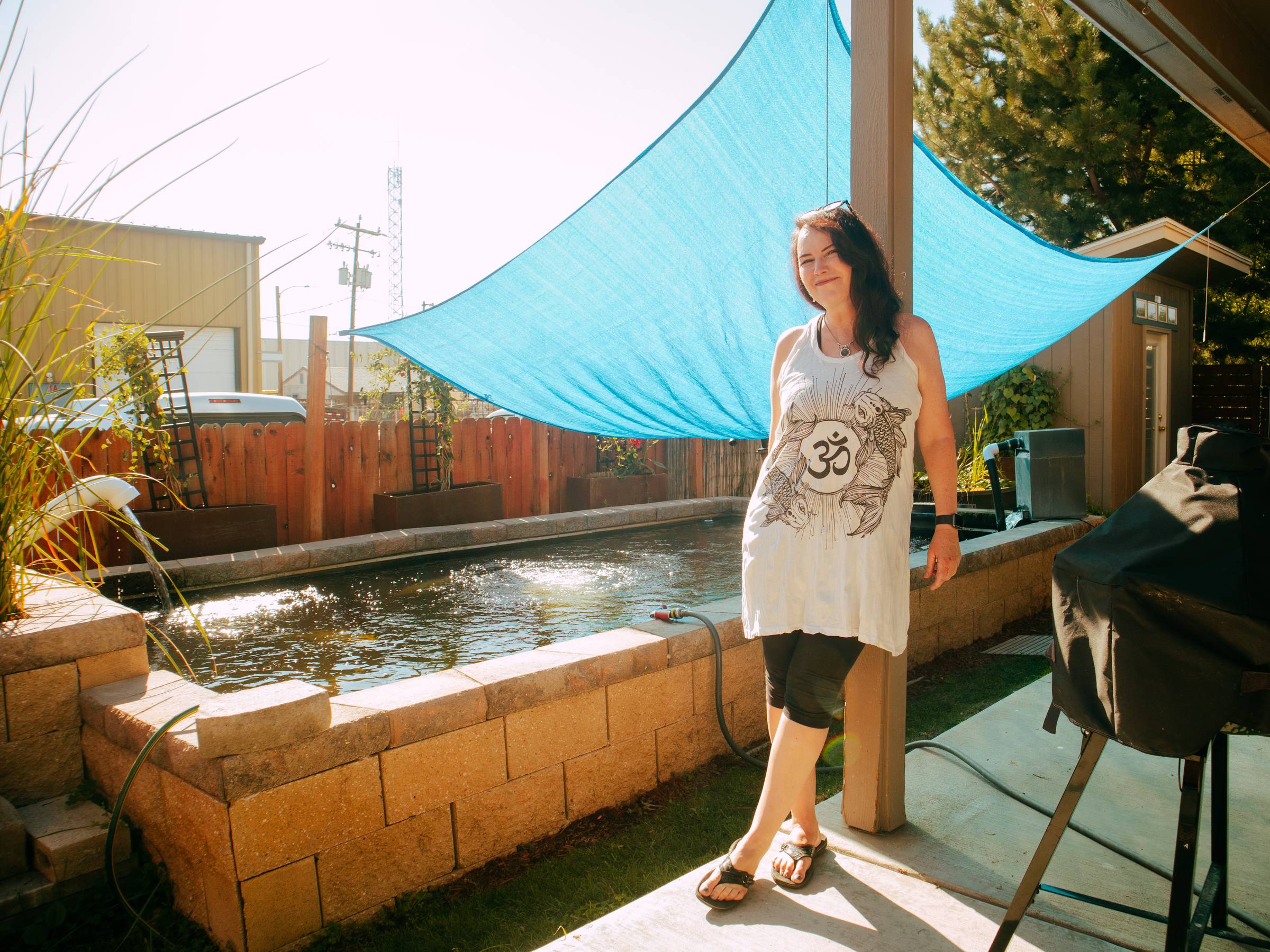 To create her pond, Katy did some of the work herself, hired a bit of professional help, and relied on helpful friends. She rented the backhoe to dig out the pond area, and she hired a mason to install the raised brick walls around it. Friends came over to help her set the liner and bottom train and other pieces.
"It should be a community project. It's like a barn raising when you make a koi pond," laughed Katy.
The amount of work and cost will depend on how big your pond is, of course. The easy way is to go to the store and buy an insert to put into the ground – but that is not necessarily the best way, especially if you plan to have koi fish.
"That's going to keep your fish small. But these fish will grow no matter what and I do a lot of fish rescue when people start that way," said Katy. "I always tell people to never skimp on size. Always make it bigger than you think you should. The fish will grow to fit it and they'll be happier overall."
First and foremost though, Katy says in order to have a successful pond, you must have the desire to have beautiful fish in a beautiful pond in your backyard. The intention and commitment to care for your water garden and/or fish is the most important thing. For Katy, her fish are very much pets.
"There's my girl Butter, she's my big baby," said Katy, as she sprinkled fish food into the water for a huge yellow koi fish swimming slowly to the surface. Butter is 30 inches long right now and still growing – she grew four inches this year alone.
"I usually give her a special treat. She loves watermelon and oranges," said Katy. Her fish also love sweet potatoes.
Koi fish are extremely peaceful. They are not aggressive towards each other or other living things. Koi are also omnivorous and don't eat other fish or even bugs.
"Most people think koi can just eat algae – I hear that all the time," said Katy. "But you don't put a horse in a pasture and never feed it hay. If you did, it's food would be gone pretty quickly. People don't think that way with fish."
Katy's fish have their own little personalities. Katy said that the female fish are generally more calm and slow, and eat on the surface. The male fish are a little more "jazzy" and move around faster. The males also tend to be longer and skinnier than the females. When showing fish in competitions, the females tend to be chosen to show because they get rounder and overall larger than the males.
"You want them to be nice and round. Yeah, we appreciate the goddess in the fish world," laughed Katy.
Boise's Koi Show
You can get a glimpse of these big, beautiful koi fish at the upcoming Boise Koi Show, happening next Saturday, September 16.
There's soft sided tanks set up in one of the greenhouses where the show will take place. Participants bag and transport their fish to Edward's on Friday. The show begins on Saturday at 9am and ends at 4pm.
Fish are judged in two categories. The "A fish" are the Gosanke category, which includes Kohaku (red and white koi), Sanke (red and white koi with black spots on top), and Showa (red and white koi with black wraps around it). Only Gosanke koi fish can take grand champion.
The "B fish" category are all other koi fish, which are what most people have in their ponds. All the fish are measured, photographed, and entered into a database where they are ranked. The fish are judged on their size and the purity of color, like how white their white is or how black their black spots are.
In the evening, there's a big awards banquet where winners are announced and awarded with giant trophies and ribbons. Katy has her fair share of trophies, which used to be koi sculptures. This year, the winners will receive big silver cups.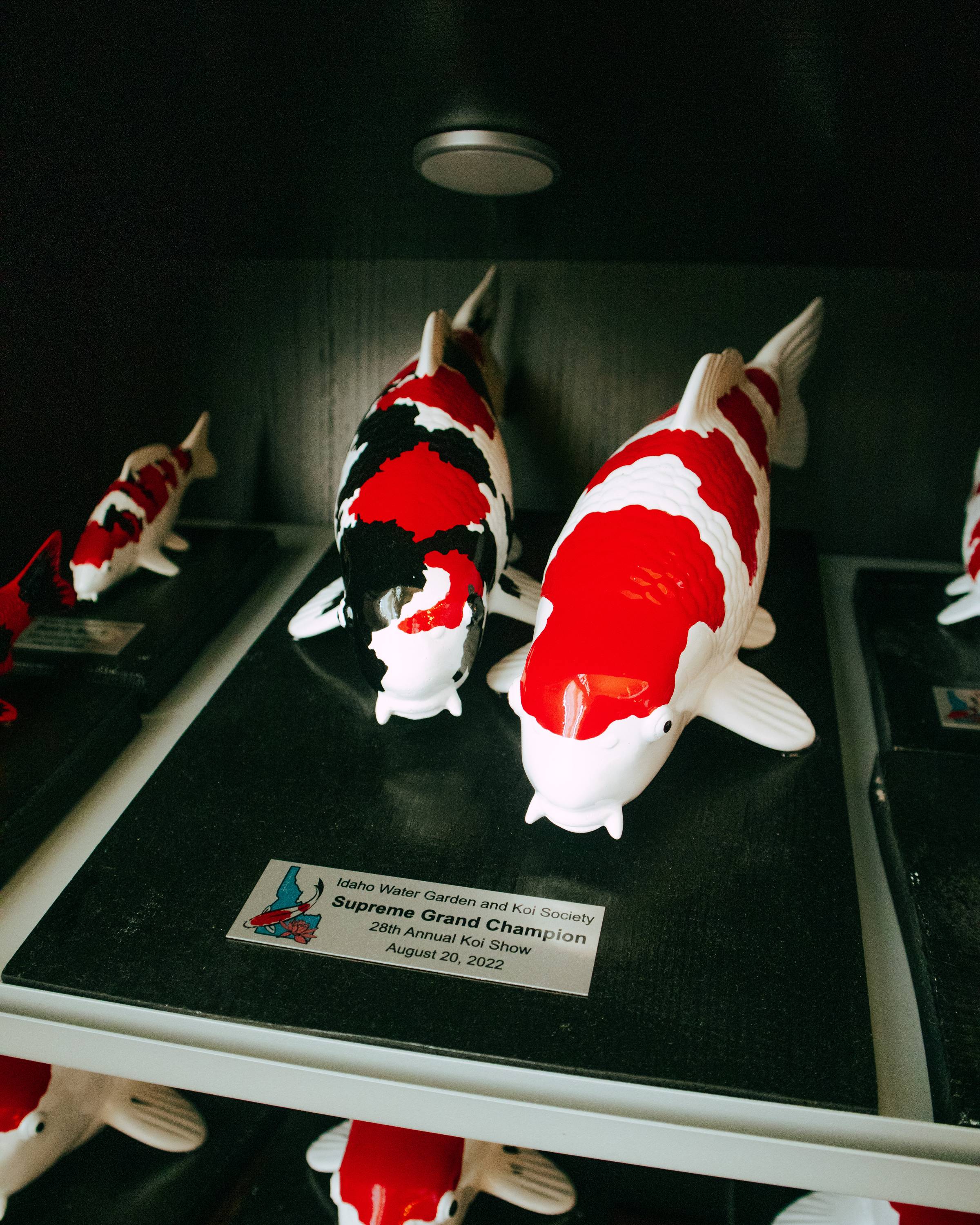 They are expecting about 140 fish to be entered into this year's koi show. But koi isn't the only thing to see at the show, either. The Boise Bonsai Society brings a huge display of bonsai trees, and hosts workshops and demos about how to care for bonsai. The Kawa Taiko drummers do a big drumming performance at noon, and there's lots of vendors at the show selling fish, items for ponds, artwork and much more.
"It's really a great opportunity for people to come see koi. You get to come and actually see these big beautiful fish and you know, talk to owners and learn more about keeping koi," said Katy.
The 29th Annual Boise Koi Show is at Edward's Greenhouse on Saturday, September 16 from 9am to 4pm. It's very family-friendly and it's free to attend. You can also learn more about the Idaho Water Garden and Koi Society and getting started with pond of your own at iwgks.org.
Thanks for reading!
With love from Boise,
Marissa
​
​
​