Tis the season for some spooky stories. There's only two weeks until Halloween, so let's talk about some haunted locations in Boise.
Idahistory's new book, Haunted Boise, covers exactly that. In case you aren't familiar, Idahistory is a local business that does macabre walking tours around Boise and a Boise true crime driving tour, a newsletter, and multiple books about the dark side of Boise's history.
Today's story gives you a sneak peek at two of the thirteen ghost stories told in Idahistory's new book, Haunted Boise.
The lost souls of the Idanha Hotel
Built in 1901, the Idanha building was a hotel for 70-something years before becoming apartments. The Idanha has been the location of multiple tragic deaths.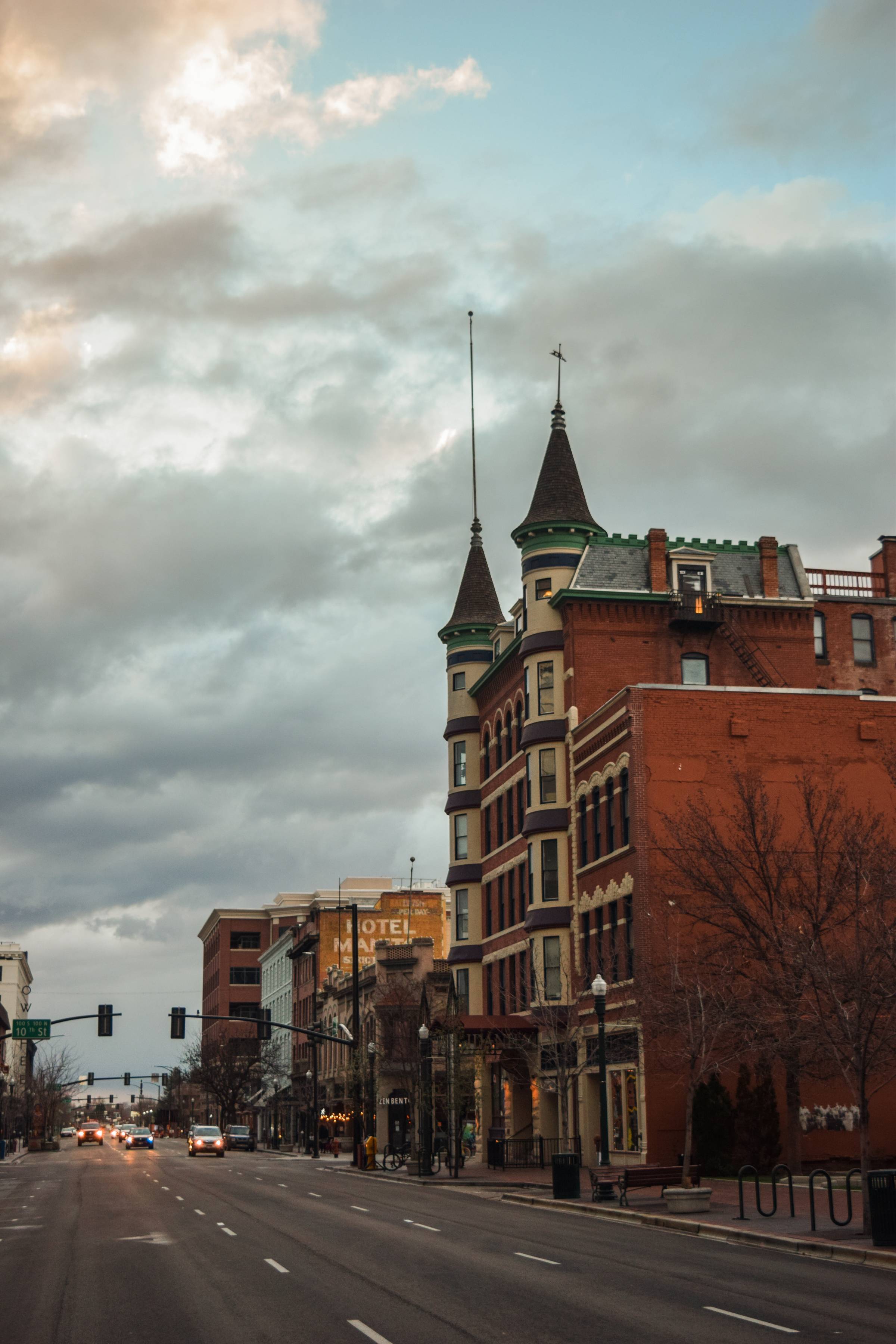 One of the most horrific deaths at the Idanha Hotel was Alexander Palmer Jacobs. The son of Boise pioneer and merchant Cyrus Jacobs, Alexander was a wealthy and successful man. He owned multiple homes in Boise and many acres of farmland around Kuna. He also suffered from what friends and family called "fits of lunacy" and on more than one occasion, Alexander had threatened to kill his wife and then himself.
In 1921, Alexander and his wife traveled to Boise to see a doctor about Alexander's mental state. The doctor, Dr. Tolman, later informed the Idaho Daily Statesman that Jacobs seemed normal and that he "just wanted to get rid of his wife because she was spending his money." (Mental health care wasn't quite the same back then.) The next day around 10:30pm, Alexander Jacobs arrived at the Idanha Hotel, by himself, and checked into a room. Around 1am, his relatives in Nampa called the front desk of the hotel to alert them of Alexander's vulnerable mental state. A few hours later, Alexander phoned his wife. The details of that conversation have never been made public. Shortly after that call, his family again called the front desk and asked to be notified if Alexander left the hotel.
At approximately 5:50am, Alexander "crawled out of his hotel window, balanced there for an instant, then hurled himself head foremost to the sidewalk below." His room faced Main Street and was on the fourth floor. Unfortunately, a taxi driver and a pair of waitresses on their way to work witnessed Alexander's final moments.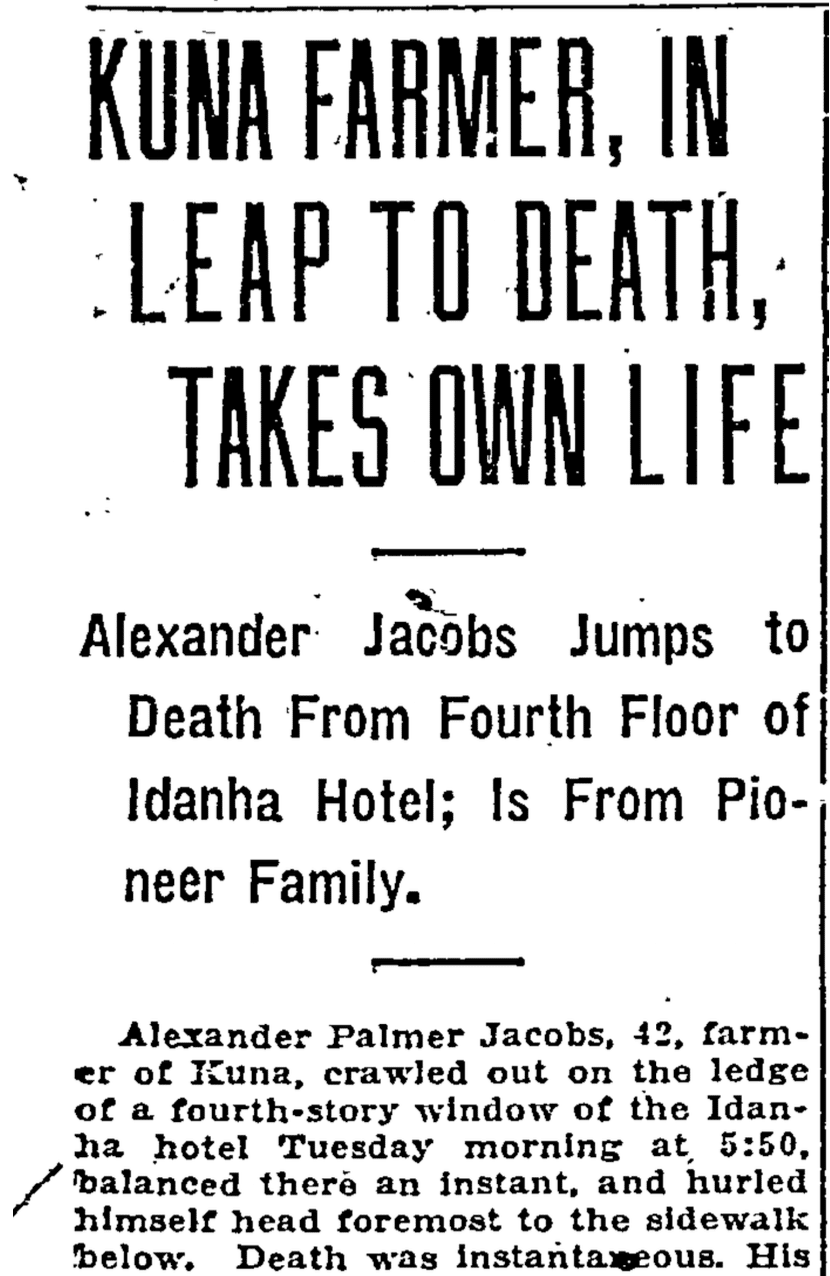 Years later, two more lives would be taken on the fourth floor.
In April 1975, John Peter Nelson was a guest at the Idanha Hotel. One night he had been drinking at the hotel bar, and other patrons reported that he was "behaving strangely while at the bar and had been talking to himself." It's said that he left the bar drunk and ran into Joseph C. Grannon and an argument ensued. The details of the argument are unknown, but it ended with John Nelson shooting Joseph Grannon in the chest with a 12-gauge shotgun outside of room number 410. He then walked down the hallway, and turned the gun on himself.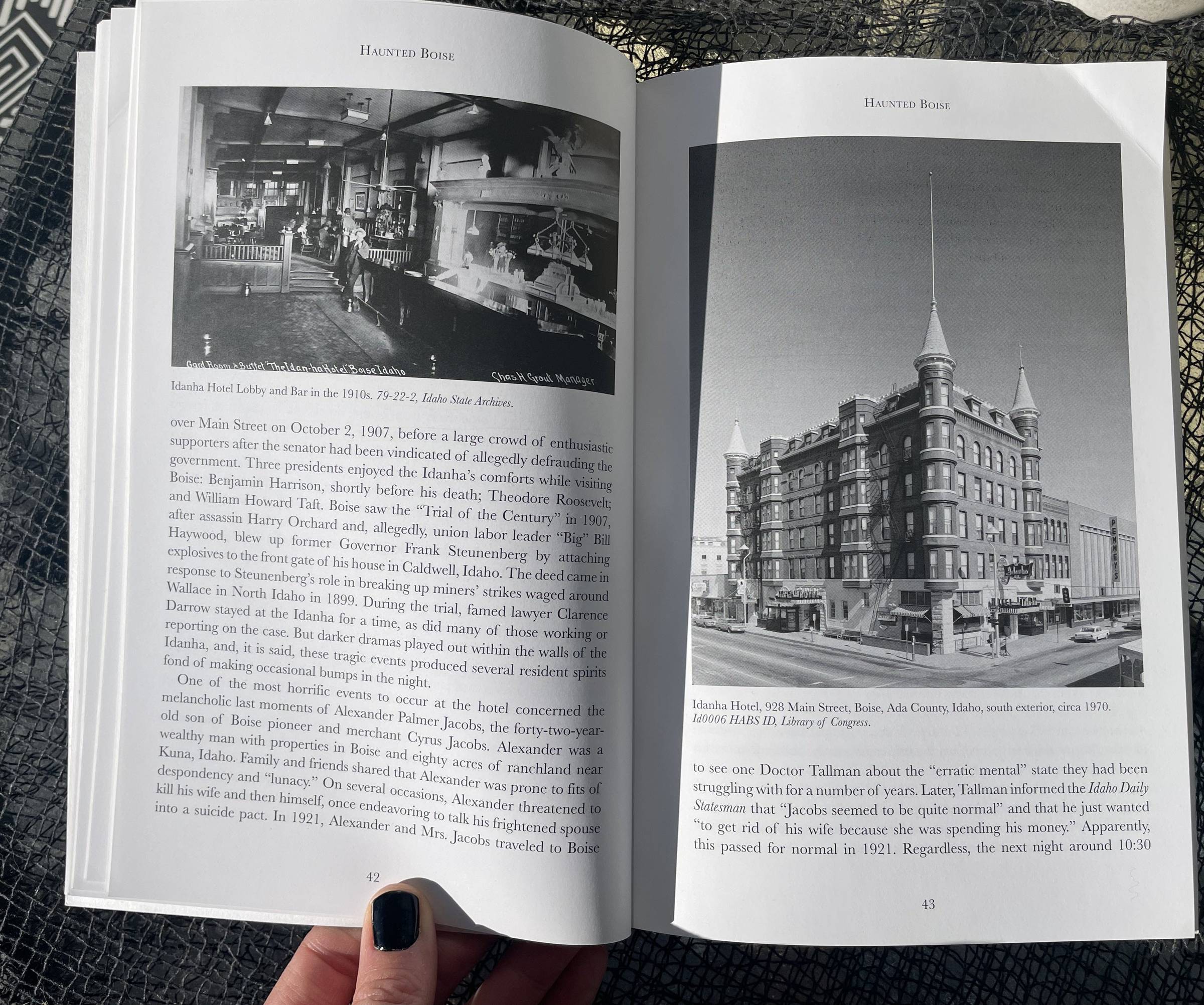 According to Haunted Boise, most claims of paranormal activity happen on the fourth floor of the Idanha, which are now apartments. Residents over the years have reported lights switching on and off, hearing moaning, and even being pulled out of their beds. Some residents have claimed to see a "misty gray apparition" floating around the third and fourth floors. One fourth floor resident would "hear scratching along the wall of her bedroom which was adjacent to the hallway, with footsteps and then louder scratching and tapping on the front door." The resident also had a puppy that would walk down the hallway until it reached a certain room, then slump onto the floor and refuse to go on.
There have been claims of paranormal activity in other areas of the building as well. A front desk clerk interviewed by the Idaho Statesman in October 1997 claims she encountered the ghost. She described it "...like a shadow, except it was white. I caught him out of the corner of my eye and turned to see a man walking through the lobby, about a foot off the floor." The bellman is also said to play tricks on people, hiding belongings, and taking the elevator a floor past their requested stop. The elevator will also "repeatedly descend and ascend between the lobby and fourth floor."
The Idanha is located at 928 W Main Street in downtown Boise. The top floors are apartments, the ground floor is Guru Donuts, Bombay Grill, Mullet Proof, and 10th Street Station is in the basement. You can read this story in chapter five, page 41 of Haunted Boise.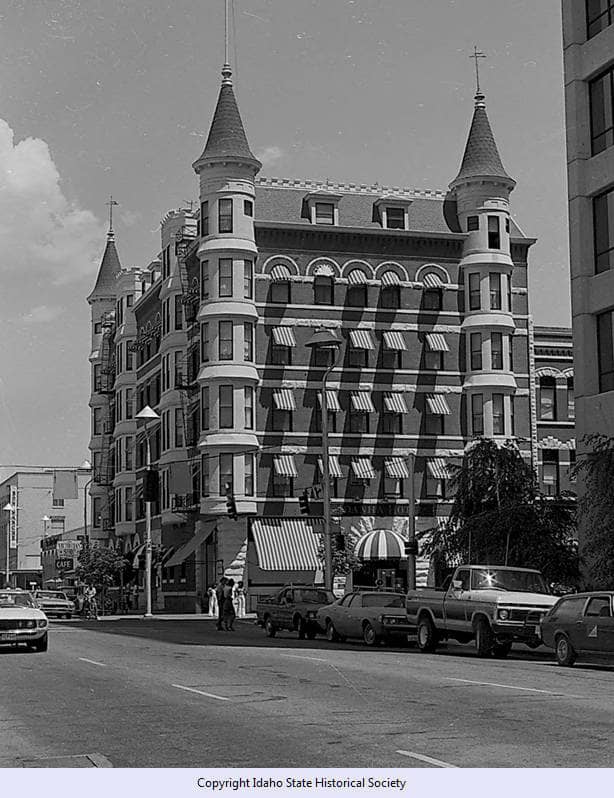 ---
Sponsored by Downtown Boise Association
Phil like a novel adventure?
You won't find this in the Dewey Decimal System, but you will find it at the Boise Public Library on Thursday, October 26. The Boise Phil String Quartet, Woodwind Quintet, and Brass Quintet is booked to *checks notes* enchant you (and your kids) like a plot-heavy musical fairy tale.
​Learn more about this free community event and join Boise Phil's stellar community engagement program!
---
The ghost of poor little Clare Church
In 1970, a young mother and her three children moved into a rental home at 200 East Idaho Street. The mother, Joanne (not her real name), had an uneasy feeling about the home, especially when she was upstairs. Strange things started happening once they moved in. One day she was taking a bath and the lights briefly went out; when they flicked back on her bath water was ice cold. The family heard strange sounds, a bell tinkling, voices. Joanne got curious and went to the library to research the history of the house.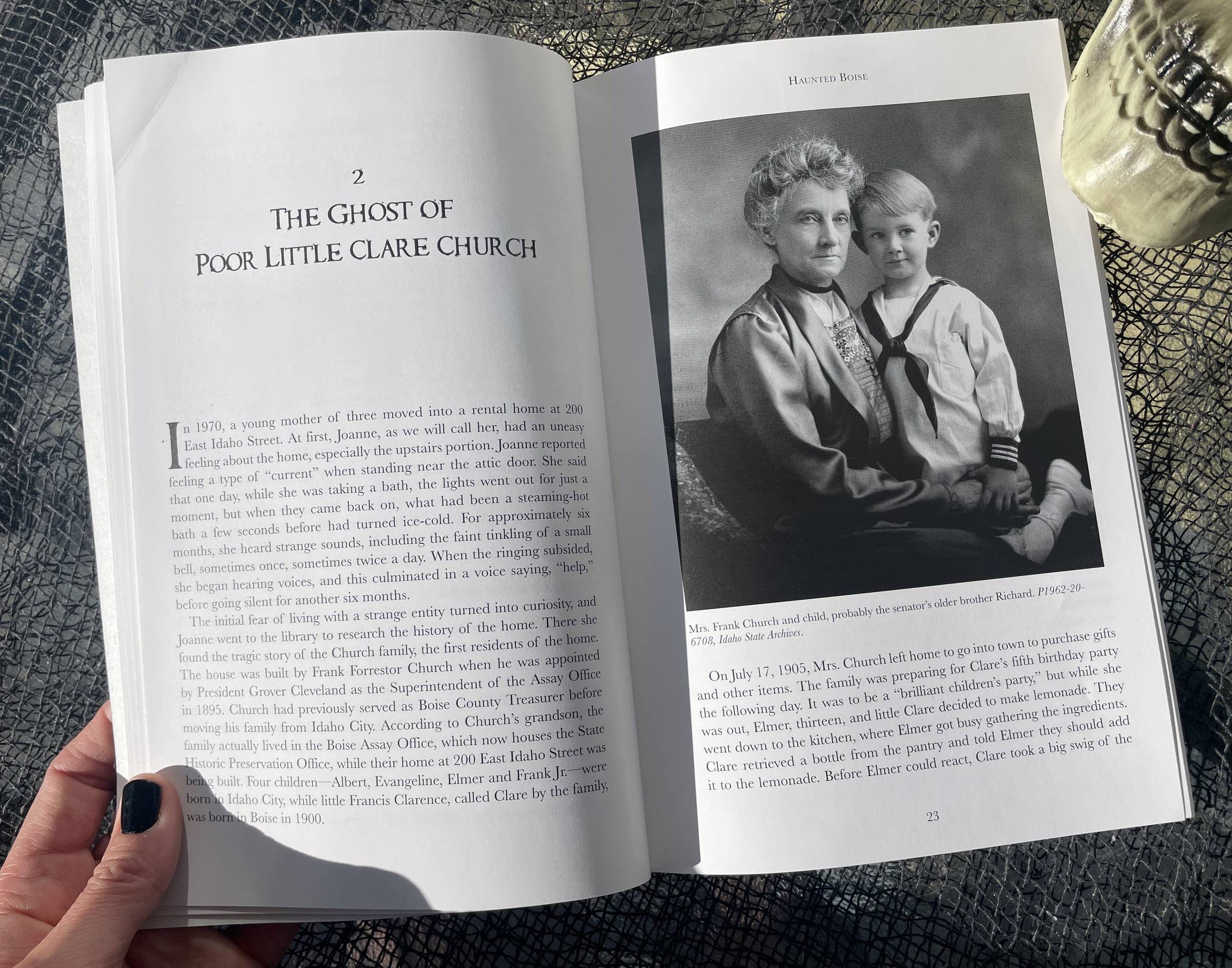 She found that the first residents of 200 E Idaho Street were the Church family. The house was built by Frank Forrestor Church when he was appointed Superintendent of the Assay Office in 1895. The Boise Assay Office was the first major federal government building in the Idaho Territory and was the location where gold and other precious metals were assayed, or tested for purity before being sold. The Church family had five children – Albert, Evangeline, Elmer, Frank Jr., and Francis Clarence, whom the family called "Clare."
On July 17, 1905, Mrs. Church went to town to get things for Clare's fifth birthday party. While she was out, Elmer and little Clare decided to make lemonade. As Elmer grabbed ingredients, Clare retrieved a bottle from the pantry and told Elmer they should add it to the lemonade. Before Elmer could stop him, Clare took a big drink of the bottle. It was carbolic acid, which was used as an antiseptic and cleaning agent at the time. Elmer ran for a doctor, but by the time they returned to the home, it was too late. Little Clare was buried three days later in Saint John's Cemetery, which is now part of Morris Hill Cemetery.
Joanne was relieved to learn that their paranormal activity was likely coming from a child, but the activity increased. They began hearing the name "Eddy" being called out and named the entity as such. After a while, the family began to see Eddy. Joanne reportedly saw "a ball of energy that spun around very quickly until the face of a young boy appeared." One day, she was outside in front of the house when her youngest child pointed up to one of the windows in the attic and asked if she could see the boy looking down at them. Another time, that same child pointed to a corner in the home and told Joanne that that was where Eddy died.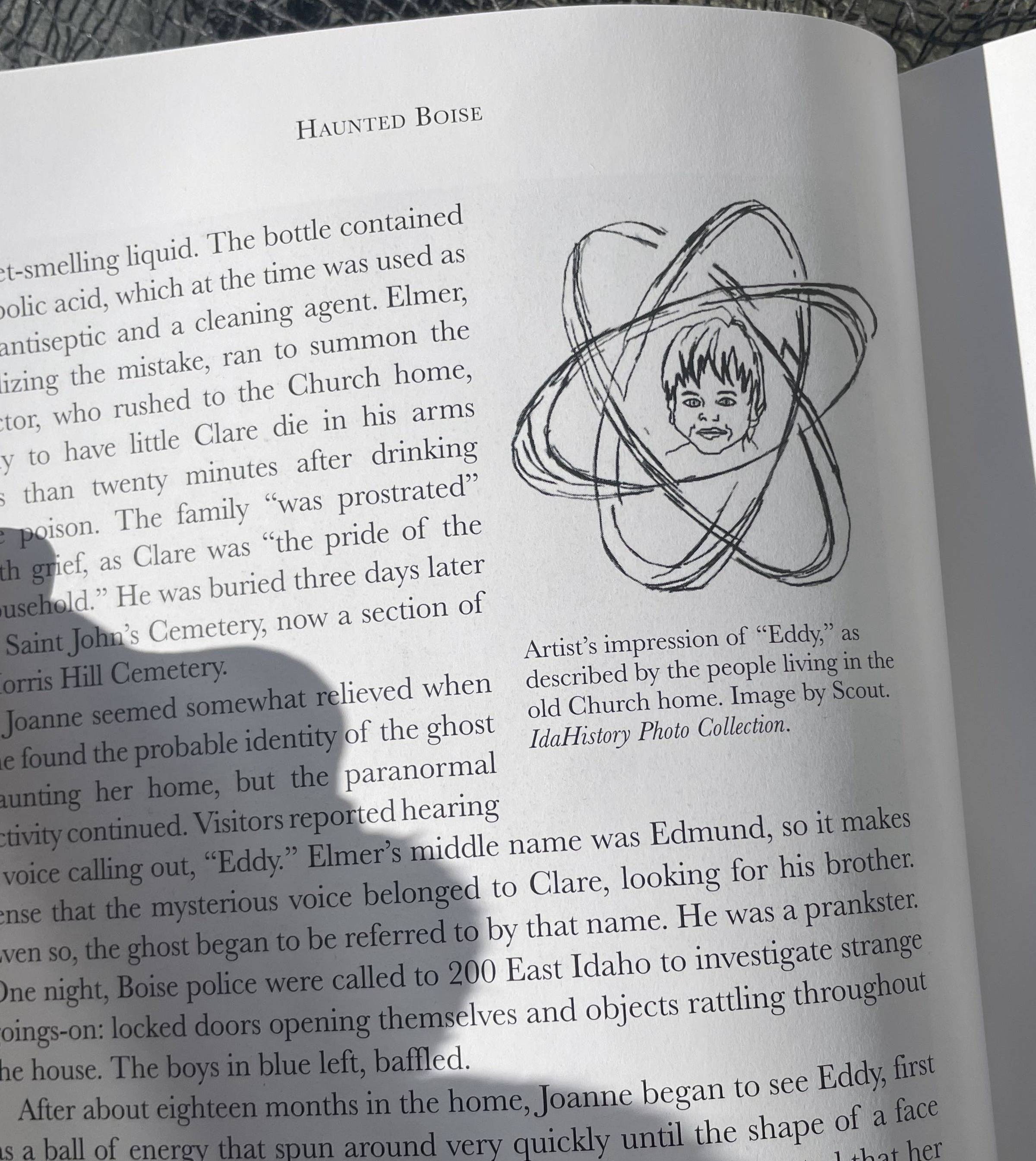 In 1972, Joanne decided to sublet rooms in the house. Two girls rented one of the rooms and reported doors opening and closing on their own. A man named David Mitchell asked to rent the attic. Joanne told him about Eddy and the strange feelings she had while upstairs. He was undeterred and rented it anyway. On his second night living in the attic, a fire broke out in his room, forcing him to jump out of the window. He was hospitalized for minor injuries and his dog was killed in the fire.
The home sustained too much fire and water damage in the incident, and Joanne and her family moved out. The home was bulldozed in March 1973. The site of 200 East Idaho Street is now part of St. Luke's campus, where East Bannock Street intersects East Idaho Street. You can read this story (there's more to it) in chapter 2, page 22 of Haunted Boise.
You can read these two spooky stories and many more in Haunted Boise, which you can find Haunted Boise book at Flying M in downtown Boise, Rediscovered Books, The Lit Room in Garden City, and online at Barnes and Noble, and Amazon.
Thanks for reading!
With love from Boise,
Marissa
PS - Frank Forrestor Church's grandson and Clare Church's nephew is Frank Forrestor Church III, who was a four-time US Senator and played a major role in the creation of protected wilderness areas. The Frank Church–River of No Return Wilderness is named after him. There's also a book about him called The Last Honest Man by Pulitzer Prize winning author James Risen. James Risen is doing a talk about the book at the Frank Church Conference this Thursday, October 19th. More info & tickets here.
​
​
​