In partnership with
​City Cast Boise is excited to announce Emma Arnold as their podcast host! Emma has been a fixture in Boise's comedy and arts scene for years and soon she'll bring her wit and love of our city to the mic. Check out the podcast here.
---
This week's story was written by Amanda Patchin. Enjoy!
Age and time accumulate in a building's form and in its legend. If it is around long enough, a building will almost inevitably acquire a ghost.
Time alone is insufficient for a substantial haunting. Here in the West, we have relatively few old buildings and so we might suppose that we have relatively few hauntings. However, with a dose of tragedy and violence, even our relatively brief history can give a ghost or two a foothold. I don't think any brand new building has ever been haunted, but at fifty years, a building can take a ghost or two.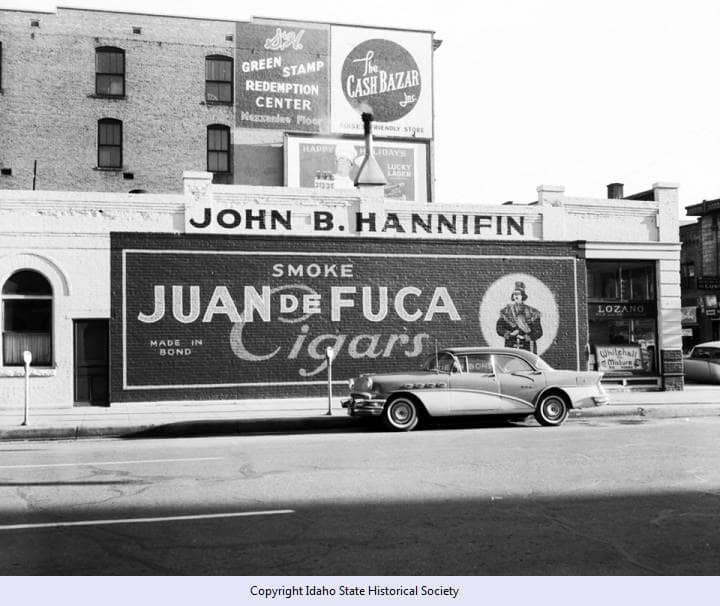 Today a barbershop sits on the north east corner of 11th and Main downtown. Called the Belmont Barbershop, it is retro and funky, as well as light and airy: a charming combination. It hasn't been a barbershop for long. For well over a hundred years it was a cigar shop – Hannifin's Cigar Shop. There is a certain continuity though. The interior aesthetic of the barbershop echoes the history of Hannifin's. The floors are still the same rough hardwood, the signage the same orange and white. But perhaps some of the building's history ought to have been left behind.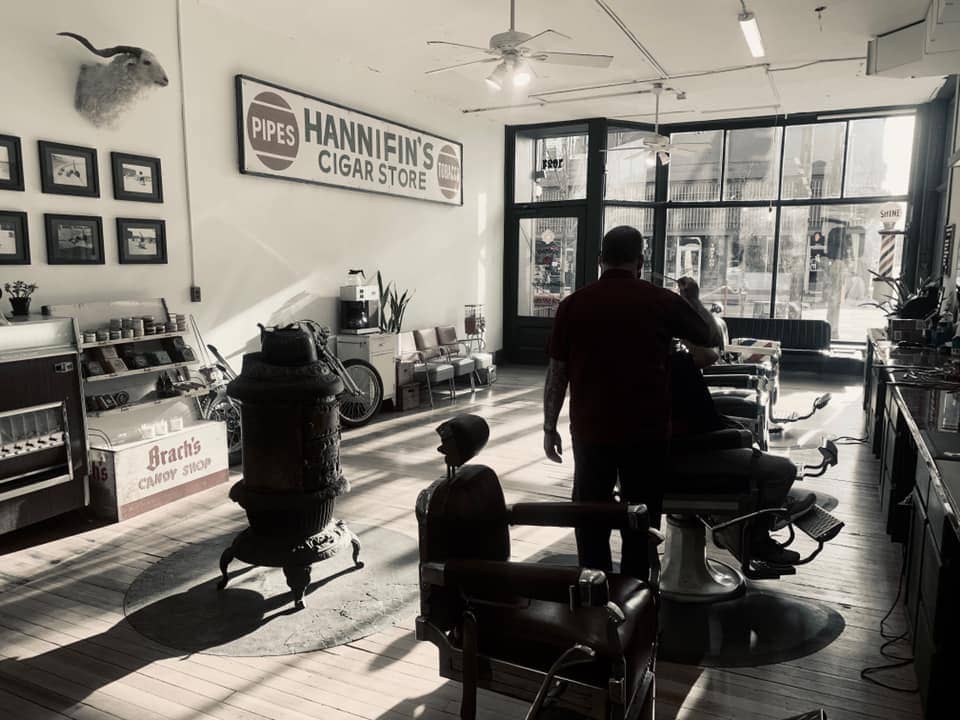 Architecturally, Hannifin's was never exciting or impressive. It stands instead as a simple, pleasing, and accessible space without pretension or ornament. And yet, there is something comforting and human about such spaces. Worn brick, worn hardwood floors, simple shapes and comfortable proportions, without the extremely dated look of the very up-to-date.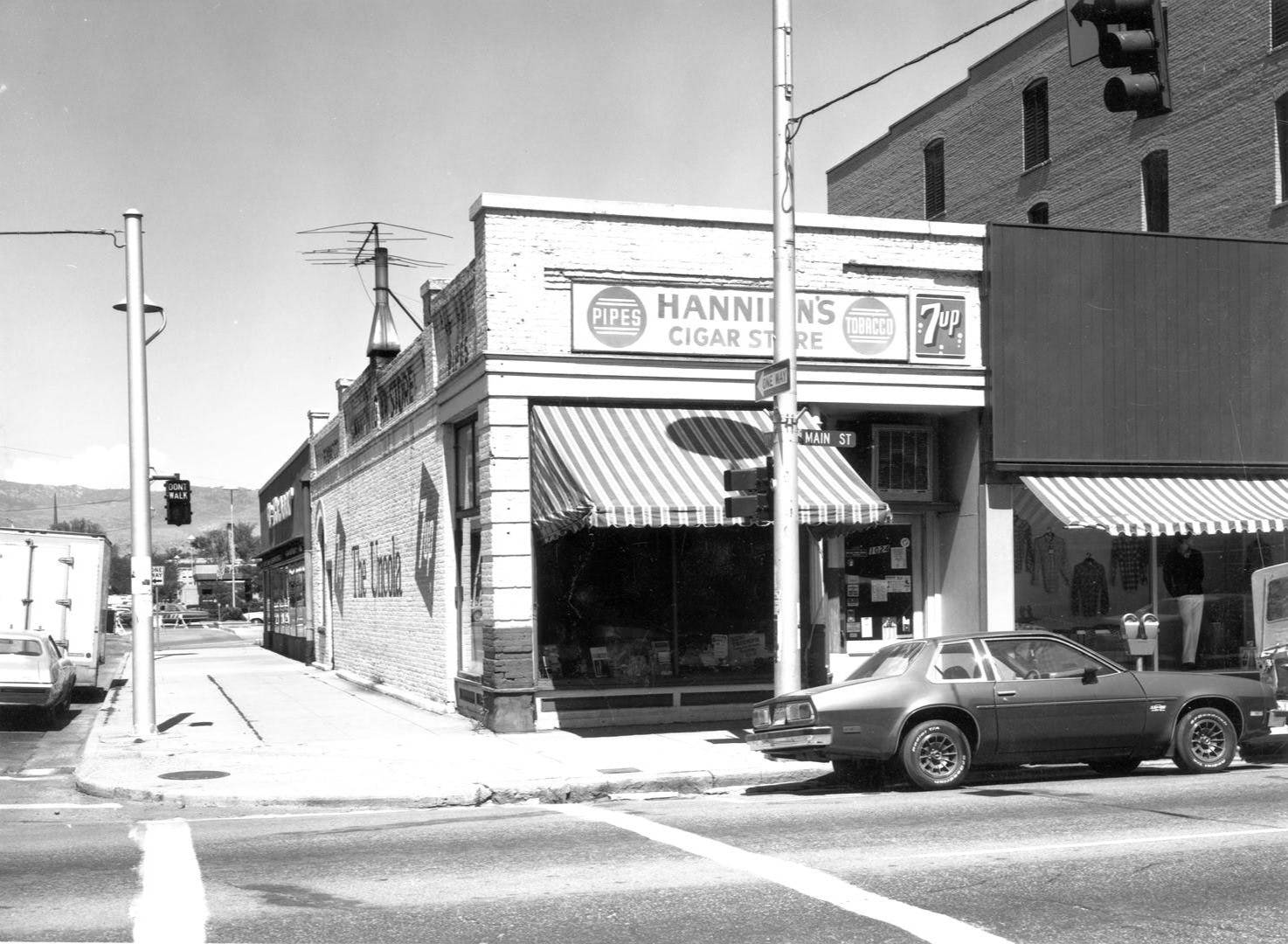 In 1956 Raymond Allen Snowden murdered Cora Lucyle Dean in Garden City. After an encounter at the HiHo Club on Chinden, Snowden brutally murdered Cora Dean. He claimed to have threatened her with either death or rape and then slashed her throat, severed her spinal column, and stabbed her more than twenty times.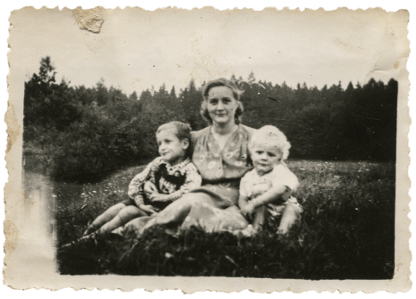 A side note here for a variety of connections and possible connections: Snowden is, obviously, a famous name because of Edward Snowden the notorious American telecom consultant, now a Russian citizen. There is no obvious connection between Raymond Allen and Edward, however it is possible that someone with a penchant for genealogy could dig something up. The HiHo Club, where Raymond Allen Snowden met Cora Lucyle Dean is the same dive bar that former governor Butch Otter is said to have won a "tight-fitting jeans" contest at, some decades ago (isn't Idaho lore fun?). Cora Lucyle Dean was born Cora Lucyle Bundy, and I don't think I need to point out how locally and regionally notorious that name is. Oregon, Nevada, and Idaho have seen news stories featuring the Bundy name for several years now. Ok, back to murder!
---
Sponsored by Anthony's
Eat, drink & be crabby…
…at Anthony's Happy Hour! It's one of the best deals in downtown Boise. Enjoy the signature ½ Dungeness crab for $15, savory shareables starting at $8, $7 cocktails, $6 wines by the glass & $5 beers. Available weekdays 3-6:30pm. Check it out!
---
After the brutal killing, which earned him the moniker "Idaho's Jack the Ripper", Snowden threw away his knife in the gutter outside of Hannifin's and hid in the cigar shop's bathroom. Later arrested, investigated, tried, and convicted, he was the last person executed at the old Idaho Penitentiary. The knife was key evidence in his trial. Snowden's hanging went poorly and rather than having his neck broken in the fall, he slowly strangled to death.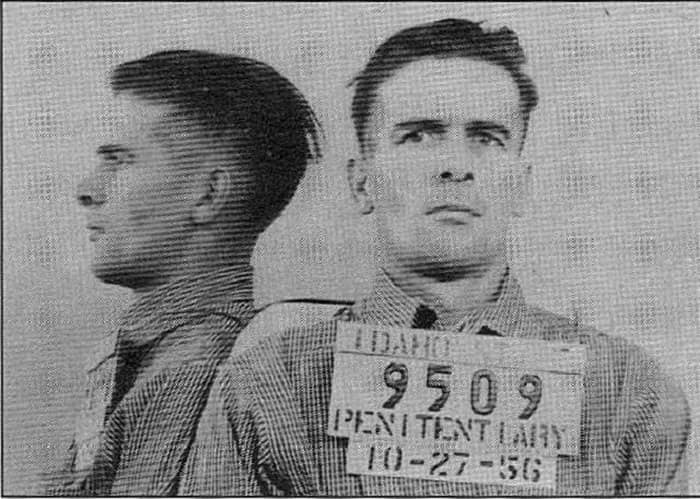 Given his brutal actions, painful execution, and the luridness of his own testimony, it is no wonder that his ghost is said to haunt Boise. Boise Dev, Boise Weekly, and the Idaho Press have all mentioned the haunting of Hannifin's in news stories about the store.
Footsteps are said to have been heard walking the plank flooring of Hannifin's late at night and Snowden is believed to be the ghost coming back to stalk the place where evidence against him was found. And yet, some of Cora Dean's blood was washed undoubtedly off of Snowden's hands in the bathroom at Hannifin's. The assumption that the haunting of Hannifin's is Snowden's ghost, seems to me to be wrongheaded.
Perhaps the ghostly footsteps are hers as she traces the path of her blood to where her murderer's guilt was confirmed. Perhaps the haunting is not sinister, but hopeful. In this masculine place, where cigars and mustache wax have traded reigns, a woman's ghost returns to confirm that guilt will out.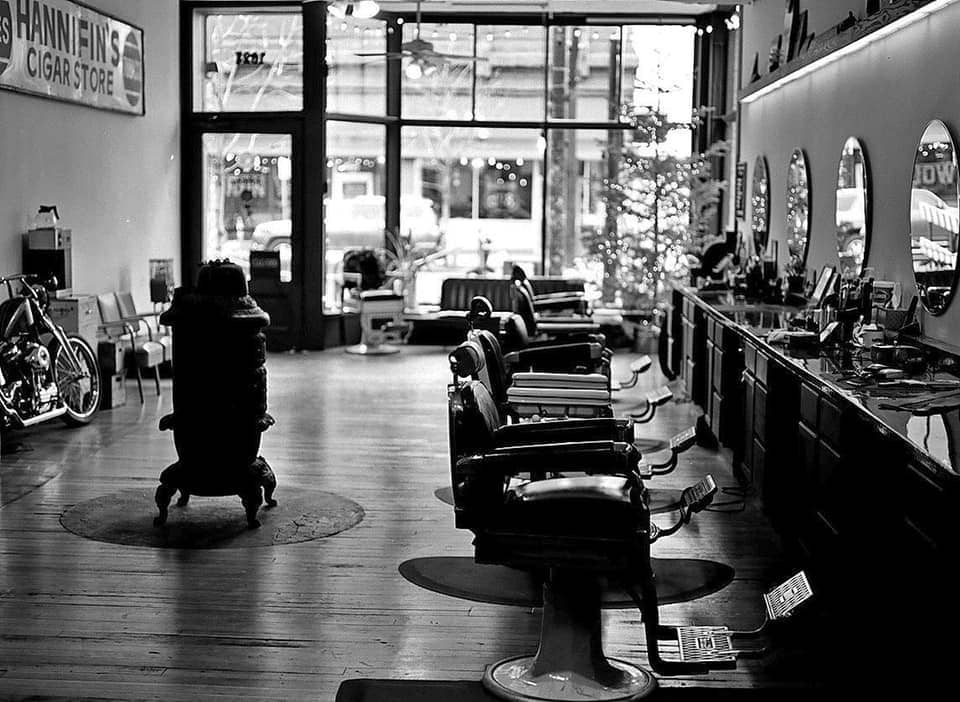 Now the Belmont Barbershop, the space still holds its legacy. Without architectural renovation, it does seem unlikely that the haunting would cease. And while Ryan Salamon, owner of Belmont, has not heard the traditional footsteps, a ghost is still resident, still present, and still a part of the community.
Ryan told me that he had offered the space to a friend for a birthday celebration for their niece, who delights in ghosts and ghost stories. They took "readings" of the shop and found only one place with measurable ghostly activity, not the back where footsteps used to pace but up front.
At the front of the barbershop is an old display stand from back in Hannifin's history. White and red, it reads "Brach's Candy Shop" and currently holds t-shirts and hair products though it used to hold candy at some point in the past. Carried up from where he found it in the basement, the display is aesthetically at home in the historic space. According to Ryan, the Pomade cans on top of the former candy display periodically leap off the shelf and roll across the floor. Brach's, incidentally, still makes candy including that polarizing October delight: candy corn. Brach's Candy Company was formed three short years before Hannifan's opened in 1908 making their disparate histories at least chronologically parallel.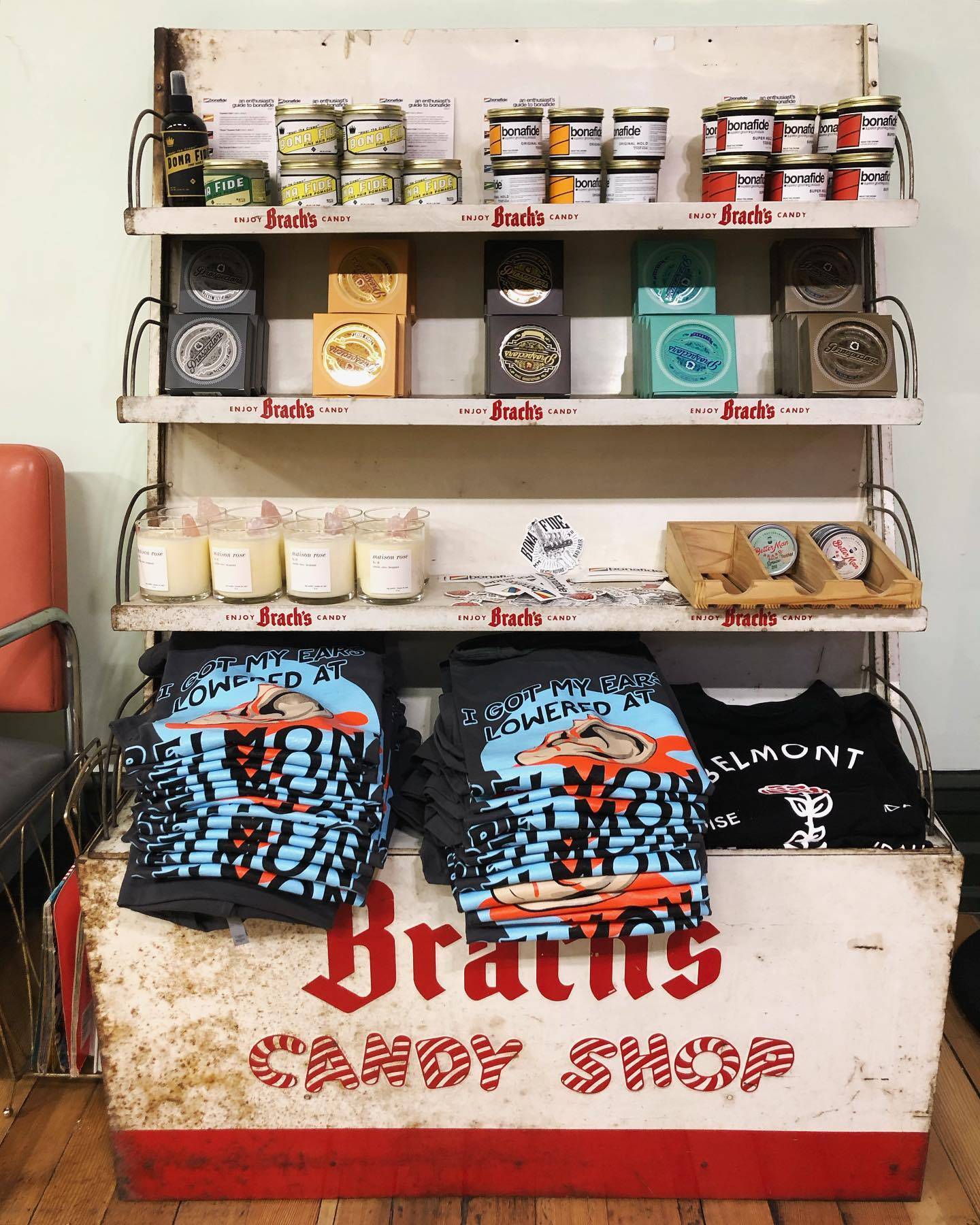 Rolling pomade cans are only slightly more intrusive than half-heard footsteps, but either footsteps or cans seem to me to be the measured awareness of presence and not malicious or murderous. If it is Snowden's ghost, it is Snowden defanged. No longer the vicious killer who cut through a woman's voice box and then severed her spinal column he is, at best, ineffectual and inchoate.
If, instead, it is Cora Dean visiting the Belmont, she seems to be asking simply to be heard and acknowledged. Not on any kind of quest for revenge or retribution, she seems instead to be simply present, grateful perhaps that her killer was found, unhappy, I am sure, that she was murdered, but without a vendetta or even an agenda. Here for the pomade and maybe some candy corn.
Thanks for reading!
With love from Boise,
Marissa
Today's story was written by Amanda Patchin
---
Please consider supporting our work! Your support helps keep From Boise free & functioning:
💌​Shout it from the rooftops (aka post on social media)
Thank you!!