​
In early 2022, a group of artists, business owners and neighbors based in Garden City got together with an idea. They had a simple yet sizable goal: to create new opportunities for local artists, public art, and creative placemaking in Garden City. And so far, they've done just that.
Before we dive into what the heck placemaking means and the incredibly cool things happening in Garden City, it's important to have some background on the area.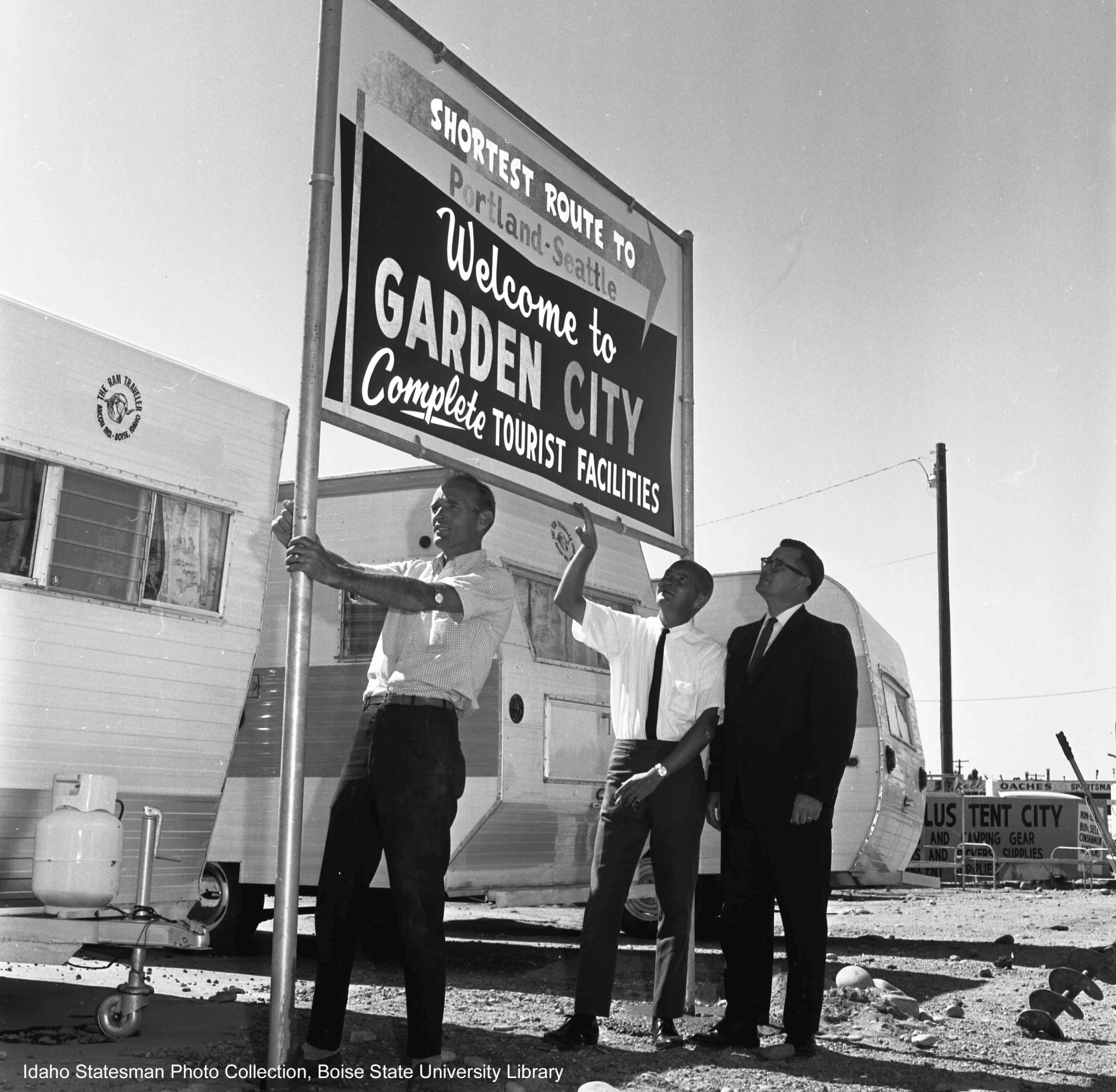 A brief history of Garden City
Of course, the land upon which Garden City rests was once inhabited by Indigenous tribes. But in an effort to be brief, I'm going to start in 1890 when Thomas J. Davis, a local cattle rancher and proprietor of the Bar O Ranch in the Bruneau River area south of Boise, bought more than 600 acres of land along the Boise River floodplain. Davis began leasing property to Chinese immigrants, many of whom had come to the area to mine gold and ended up working as laborers, shop owners, and, eventually, farmers.
The Chinese community built expansive gardens on the upstream end of the property, closer to Boise. They grew strawberries, onions, bok choy, asparagus, melons, radish, onions, and other produce, and eventually began raising hogs, too. They were extremely resourceful and started a garbage collection service in Boise, sorting through the solid waste and feeding their hogs any edible waste. With bountiful gardens, the Chinese farmers began selling their produce and delivering it all over Boise.

Davis died in 1908, but his children continued to lease the land to the farmers. Eventually, farms started to disappear and the next chapter of Garden City began.
On May 22, 1949, Ada County commissioners approved the incorporation of a village named Garden City – the name a nod to the once expansive Chinese gardens. A group of Boise businessmen had promoted the village's incorporation and later it would be realized that their true motive was to build gambling houses just beyond Boise city limits, where gambling was illegal. Eventually, gambling houses lined Chinden Boulevard (Chinden, a contraction of Chinese garden, is another nod at the area's heritage) and promoted the growth of restaurants, bars, and residential areas nearby.
All that gambling money was put to good use by Garden City officials. By 1951 there was a new water system, city hall, a police force, and a park and playground in Garden City. But just a few years later, it was discovered that the gambling in Garden City was, in fact, illegal under the Idaho Constitution. The gambling houses shut down and, in effort to keep the town alive, leaders relaxed building codes to draw more businesses and residents. There were small homes, farms, junkyards, slaughterhouses, nightclubs, adult bookstores and more. It was a cheap place to live with little regulations. In the 1970s, many people moved mobile homes to Garden City, some of which still exist today.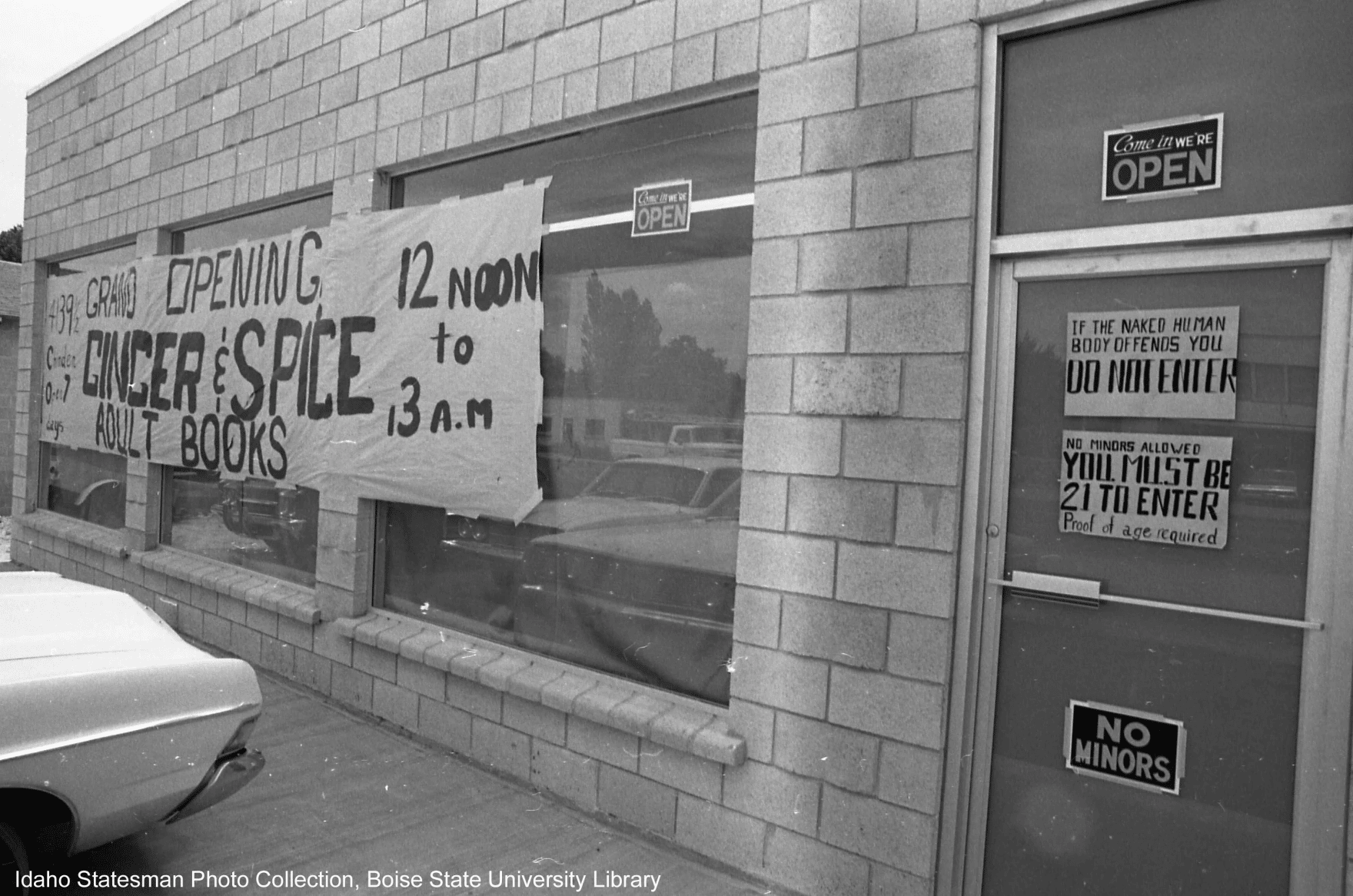 By the 1990s a handful of artists had come to work and live in the area, like Surel Mitchell. She built her home and studio in Garden City in 1998 and joined the Garden City's Planning & Zoning Commission. Surel introduced and championed the idea of a designated arts area of Garden City as a "live, work, create district," and in 2007 the district was approved. (You can read more about Surel and her work in my story, The life & legacy of Surel Mitchell. It's one of my all time favorites.)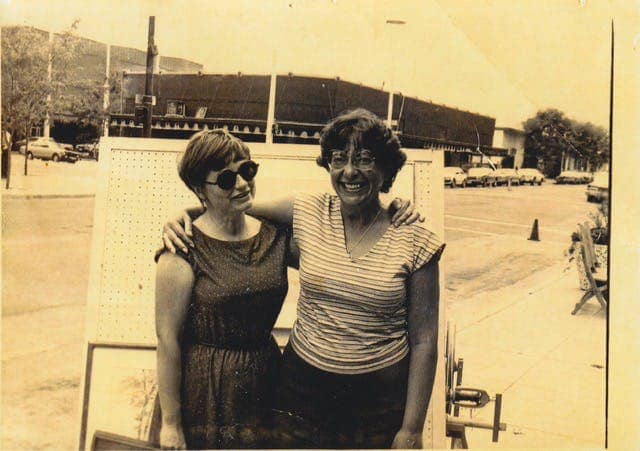 As the years passed, Garden City grew up to be more of a city with regulations and structure, though it has kept its DIY spirit, rough around the edges allure, and create what you want way of life.
The future of Garden City
Greg Hahn had just started his role as the new Executive Director of Surel's Place in 2021, when he took a trip to visit his family cabin in Minnesota. While in the area, he visited Grand Marais Art Colony, a thriving arts community that formed back in 1947. The colony's co-directors shared with him that in addition to working with their current artists, they were very focused on thinking about what they are creating for Grand Marais artists colony 25 years from now. That perspective immediately resonated and he came back to Garden City and Surel's Place with the same question.
"That was a big moment for me. I started looking at our Live-Work-Create District and thinking, okay if we only serve 9-10 artists a year in our tiny little artist residency, surrounded by multi-million dollar condos, set in a neighborhood that's something else entirely. Are we really doing what we set out to do?"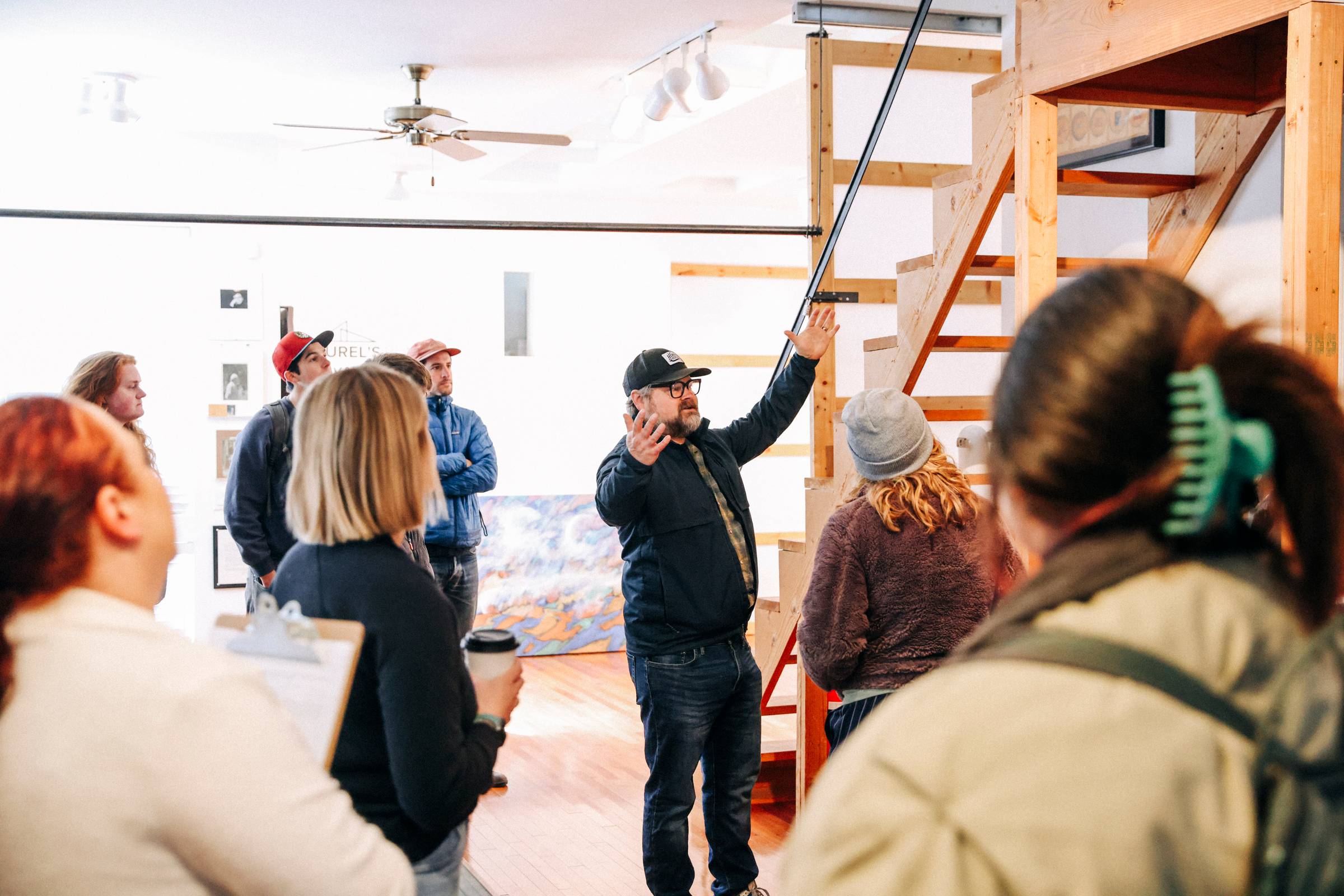 He started thinking about how Surel's Place could further support young artists, how the organization was also supporting existing artists in Garden City, and really treating the entire district like their interests don't end at Surel's house. He started meeting with developers who were coming to Garden City with plans for new buildings and businesses, discussing ways to engage and work with the artists working and living in the area.
Meanwhile, Matt Wordell, a local photographer and co-owner of Visionkit Studio in Garden City, got to chatting with local artist Ashley Dreyfus about opportunities for young local artists while at Treefort Music Fest in September 2021. Ashley shared that growing up in Boise as a young artist, there weren't many opportunities to create with or learn from other established artists – let alone be paid for art. Their conversation turned to ways that issue could be addressed.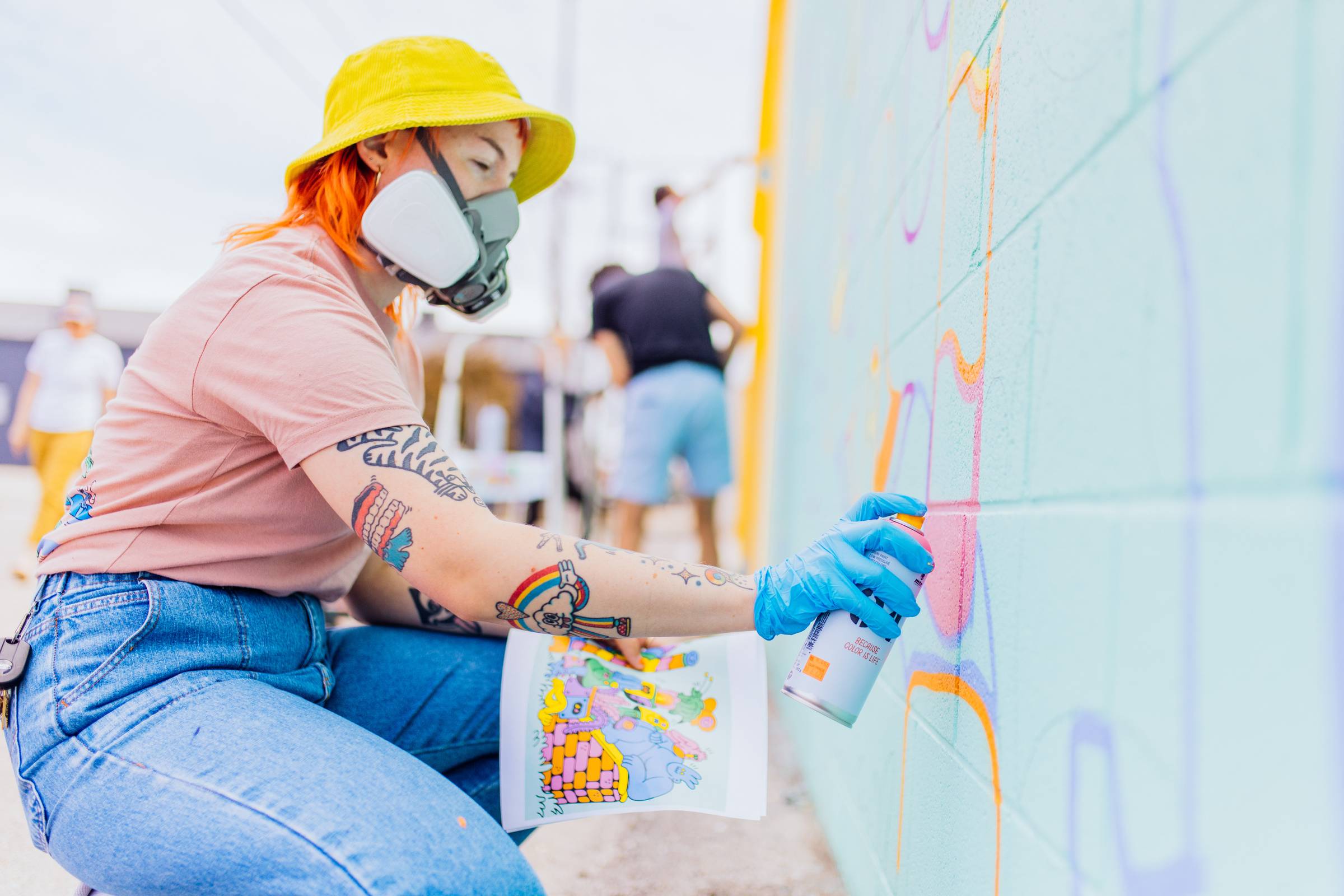 By the fall, Matt and Aaron Rodriguez, a local photographer and the other co-owner of Visionkit Studio, approached Greg and Surel's Place with an idea: what if we painted a multi-artist, large-scale mural on the side of their studio? It was a big blank wall set along a quiet street off Chinden Blvd. Greg was immediately on board, and mused: what if we thought bigger than that?
And thus, the Garden City Placemaking Fund was born.
The GCPF
The Garden City Placemaking Fund (GCPF) is a partnership between Surel's Place, visionary neighboring business owners, artists, art lovers, and countless volunteers designed to empower new opportunities for public art and creative placemaking in Garden City. At the core of its mission, Surel's Place and GCPF supports local artists and champions their role in Garden City and the greater Treasure Valley's future.
"We intentionally named it "Placemaking Fund" because placemaking is sort of a nerdy word, and we thought it would make people either look it up or ask what it meant. But it has really helped it become more than just a mural project" said Greg.
So what the heck is placemaking? According to a quick Google search, placemaking is a multi-faceted approach to the planning, design and management of public spaces. The Project for Public Spaces describes placemaking as "a participatory process for shaping public space that harnesses the ideas and assets of the people who use it." In Garden City, it looks like this:
As I described earlier, Garden City has had several distinct chapters in its life. Perhaps the GCPF gave it the push it needed to turn the page to its next chapter.
Garden City has been experiencing a wave of rapid growth and development in the last 5-10 years, even more so in the last 3 years. Just walk the Greenbelt past Garden City, or meander into the neighborhood and walk a few blocks. It's on full display in every direction. Unlike Boise, Garden City has no established arts department or arts funding apparatus, so in a way, the GCPF is stepping in to fill that gap. While art projects aren't going to bring down housing prices, they can help shape future development and encourage a sense of community and connect between people and place. That's exactly what GCPF is working to do.
Experience the murals
33rd & Chinden at Zion Art Glass
Mural by Miguel Almeida
34th & Chinden at Coiled Wines
"Boise River and Foothills at Dawn" by Lorelle Rau
33rd & Stockton at Visionkit Studio
"Photo Wall" collaborative mural by Miguel Almeida, Julia Green, James Lloyd & Ashley Dreyfus
34th & Brown Street at Simply LED
"Pink Sun" collaborative mural by CL Young and Jay Smith
​
34th & Osage at Vall-E Bike
"Live and Let Live" mural by Mary Arnold
One of the best times to go explore the murals is during Garden City's First Friday Art Stroll. I believe the next one is in April, but I'll keep you updated.
The Garden City Placemaking Fund completed 10 murals in 2022, working with 25 local artists. In 2023, they are hoping to do even more murals and create even more relationships with local businesses, artists, and developers coming to Garden City.
To see all the murals, learn more about artists and the project, or contribute financially to the fund, visit www.gardencityplacemakingfund.org​
Thanks for reading!
With love from Boise (& Garden City)
Marissa
Photos of murals in this story are by Matt Wordell & Aaron Rodriguez of Visionkit Studio.
​Click here to read & share this story!​
Love this newsletter? I'm so glad! You can keep it going by supporting it here.
​
​