Go to an Afrosonics show, and you'll experience an unforgettable fusion of talent, cultures from across the globe, and genuine human connection. It surges through each person on stage and spills out into the audience. That mostly looks like people dancing, swaying their hips, tapping a foot, with an uncontrollable smile spreading across their lips. It's impossible to not move, laugh, smile, dance, and feel the love along with Afrosonics.
Afrosonics are more than just a band. They are Boise locals, artists, friends. It's a collective of musicians with a simple yet serious mission: create music that brings people together.
And if you've ever been to an Afrosonics show, you know they have fun while doing so.
The inception of Afrosonics dates back to 2013, though it's gone through several iterations since then, as bands do. Today, Afrosonics is made up of seven Boise artists and continues to conscientiously integrate New American musicians (former refugees from war-torn areas of the world) and Idaho musicians, creating the band's one-of-a-kind, genre-bending sound.
"Yeah, what we do is pretty unique," said Dayo Ayodele, laughing.
Ayodele is the force behind Afrosonics, though he's usually the guy near the front of the stage with a contagious smile, singing vocals with a cowbell in hand.
The band came out of Global Lounge, a nonprofit founded in 2006 by Ayodele, and brought to life with the help of fellow Boise local Donna Kovaleski. Global Lounge promotes the many cultures in Boise and the value that diversity brings to our community. The nonprofit organizes creative arts events, exhibitions, workshops, mentorships, and networking opportunities.
Ayodele started Global Lounge, and subsequently formed Afrosonics, because he knows that music has the power to bring people together. He also knows first-hand why that's so important.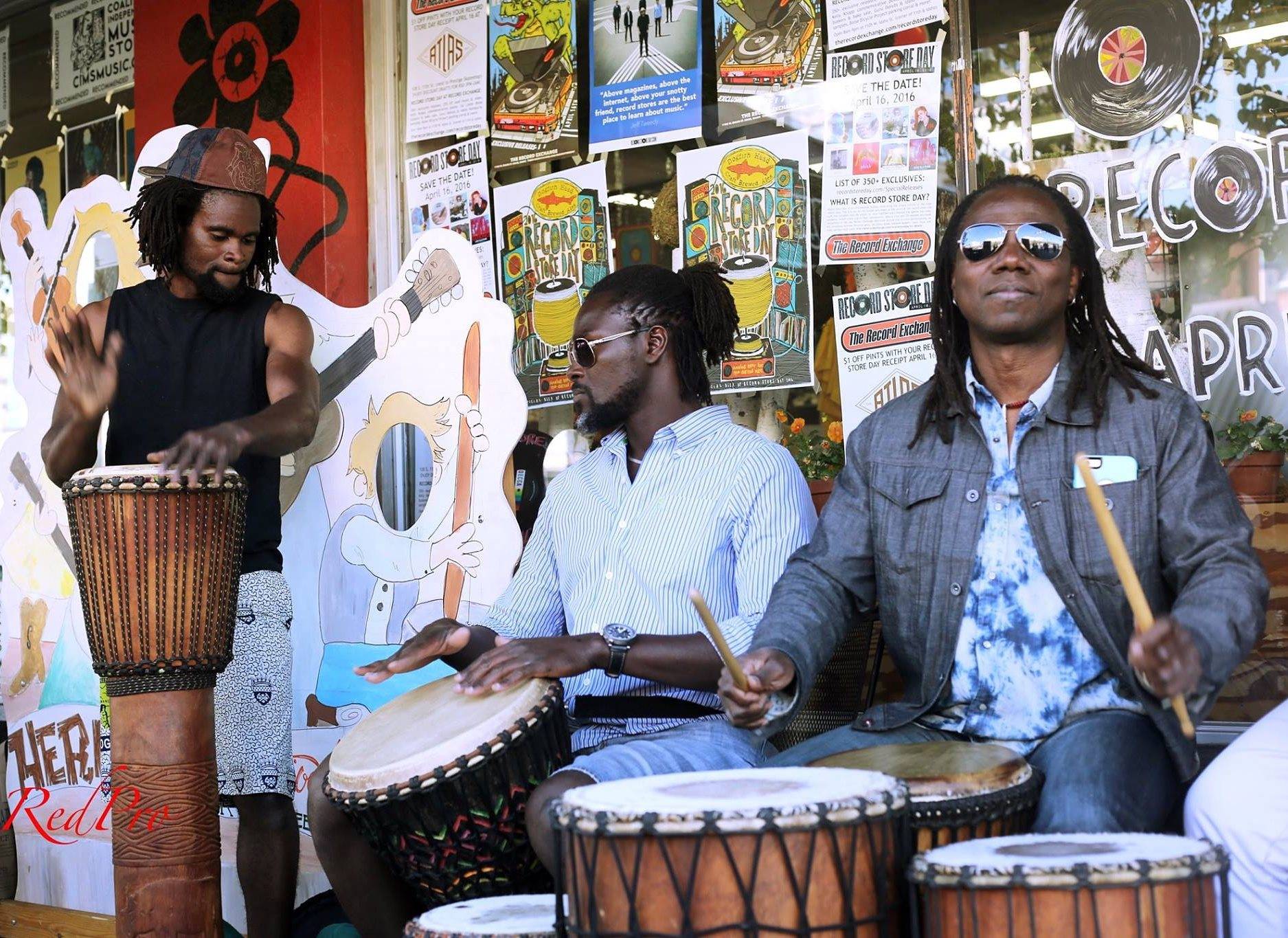 Ayodele grew up in Nigeria and has always loved music. As a child, he played percussion in church and kept a vast record collection, but his parents did not support music as a life path. They wanted him to focus on education – to the extent that they burned his entire 3,000-record music collection.
At 22, he left Nigeria and moved to California to go to college and study film. He spent his young adult life as an aspiring filmmaker until his daughter was born. Her mother thought it would be best to move back to her hometown of Boise, Idaho to raise their child.
Though his friends warned him about Idaho and the lack of diversity there, Ayodele moved to Boise to be with his daughter in 2005.
Shortly after moving to Boise, Ayodele remembers taking his young daughter, who is biracial, to the park. She would run and join in with the kids playing on the playground. Sometimes, the other parents would call their children away from his daughter.
"That used to make me really sad and teary-eyed, how people acted towards her," he said. "I told her mom, I can't go to the park with her anymore. I can't do this. This is going to kill me."
He seriously considered moving back to California, where they had not experienced such prejudice. But ultimately he agreed with his co-parent that Boise was the best place to raise their daughter.
"Her mom (who is white – blonde hair, blue eyes) was fighting for our daughter too, you know, because people would think she adopted her. They would say, 'oh wow, she's so beautiful. Did you adopt her?' and that used to kill her also."
Instead of being angry and writing people off as evil, Ayodele had an idea.
"I just started saying ok, maybe it's because people don't know. Maybe they just need to get educated. Which is how Global Lounge was born," he said. "Global Lounge started as just a way to educate people about culture and diversity. There are so many things that are so similar in all of us. Why are we focusing on the little differences?"
Global Lounge began organizing multicultural events at coffee shops and locations around Boise to educate people and introduce them to the many different cultures that make up Boise's local community.
One day, as Global Lounge was getting off the ground, Ayodele brought his drum to the park to play.
"People just kind of flocked around me and started saying 'Wow, this is so great! Do you know so-and-so?' and introducing me to some other people that were drumming in the community," he said. "Which is really kinda crazy! That with music, I was able to attract a lot of people into my life and to make them curious enough to think, wow, we have a lot of things in common. It was just that language that brought us all together. That even my accent or nothing like that mattered anymore, because we were all playing music together."
Eventually, he had a group of people playing music through Global Lounge.
"There you have all these white people and me, the African, and some other Africans, and some Mexicans, you know. We all came together because of one language – the universal language – which is music," he said. "And everyone's trying to bring their DNA into that music. Which is how Afrosonics came about."
Afrosonics blends drums, percussions, keyboards, guitars, saxophone, electronic soundscapes, vocals, chants, and dance. They fuse African and American rhythms and lyrics, intermingling blues, rock, bluegrass, gospel, Afrobeat, opera, and more. The culture and heritage of each band member meld into every song, creating one-of-a-kind Idaho music.
The band's early days started with Ayodele playing percussion, two other drummers, and Matt Fabbi playing bass. Ayodele credits Fabbi for helping him bring the funk to the Afrosonics' sound that you hear today, but things really took off when Ayodele crossed paths with Boise native Todd Dunnigan.
"It's always a process, you know, to find the right people that will get the idea or get into the groove. All these guys are very diverse in their approach to music," said Ayodele. "And that's very, very important in this band."
Today Afrosonics is a seven-person crew, all Boise locals. Ayodele plays percussion (his favorite is the cowbell), provides lead vocals, and writes songs with the help of his partner, Donna. He also helps with the band's musical arrangements and production.
Dunnigan is the band's co-lead, playing keys, providing vocals, and also helps with songwriting and production.
"Sometimes, Todd will send me music and see if me and Donna can come up with lyrics for it. And sometimes it will just be me coming up with an African melody. Then we'll sit down at the piano and try to crank things up," explained Ayodele. "It just starts like seeds between a couple of people, then we take it to the band and it becomes what it becomes."
Misty Taylor is the "chick singer" as she affectionately calls herself.
"I supply as many vocals as I can put in there," she said. "Some lead vocals, a lot of supporting vocals, and I try to be a cheerleader and dance leader on stage and get people excited and moving. Bringing the energy is what I really try to do for each of our shows."
Lenny Escobar plays the saxophone in Afrosonics, and brings the funk. They do have a song called Lenny's Funky Ass, after all.
James Lancaster plays guitar and contributes backing vocals, "but I'm really a closet drummer," he said, while casually strumming on a white guitar. "I love percussion and drums more than guitar and everything else in the entire world, so obviously I'm very drawn to this band because it is so rhythmically grounded."
Ben Wieland is on the drum kit, and at smaller shows, he also does triggers for some of the band's samples. Jake Englehorn is the band's newest member, joining in with more drums.
Afrosonics have taken stages by storm throughout Boise, playing at The Record Exchange, Neurolux, The Olympic, Art in the Park, Boise's 150th Celebration, World Village Festival, Alive After Five, TEDxBoise, and Treefort Music Fest. You may recall their Treefort 2017 set, where a few members of the University of Idaho's marching band joined Afrosonics to create a crazy parade through the streets and into El Korah Shrine. Once inside, they created a huge circle dance with the audience, then marched up on stage to finish out their set.
"It's great to have a big audience, I mean thousands of people if we can, but the intimate shows… I love those a lot," said Ayodele. "Especially when you have the audience so close to you and you are feeding off each other and they're so engaged in what you're doing. To me, that is just the topmost thing that I love about playing shows. Because it's about the people who you are providing happiness to and how they are reacting to it."
Afrosonics has played beyond Boise too, at Folklife Festival in Seattle, on tours around Washington and Colorado, and at The Festival at Sandpoint, where they opened for Angélique Kidjo – a four-time Grammy Award winner and highly regarded as one of the greatest artists in international music.
"Opening for Angélique was our biggest show to date – like 4,000 people. And it was amazing," said Ayodele. "Our set was so tight, one of the best we've ever played. And she was dancing on stage with us, over to the side. We really got the audience going for her, then she just blew us all away."
For Afrosonics, the audience is an integral part of the music, which made 2020 an especially tough year.
"Our music really does feed off of the response of the audience," explained Taylor. "A lot of our songs were written specifically with that in mind, with the call and response."
But despite shutdowns and stay-at-home orders, Afrosonics were able to play a few live-streamed shows. They joined local arts collective LED in creating a multicultural, multimedia show that was streamed to the Kennedy Center. They also debuted a super groovy new song, Anthem, and collaborated with local dancers and filmmakers to create a captivating video to accompany it. It debuted on Waltzer TV's Boise episode, which premiered on March 25, 2021.
The band is already planning their post-pandemic comeback, and it's safe to say Afrosonics' music and the joyful energy they exude will resonate now more than ever before.
"What we do is so much more pertinent now," said Taylor. "Our band is so rhythmically based that you can't be near it without having to get down a little. Then the lyrics are the icing on the cake. You're like, wow they're singing about peace and love and harmony… even if the lyrics are spoken in a different language. They all have the same purpose behind them, which is a beautiful thing."
The energy that is exchanged between the band and the audience is what so many of us have missed in the last year without live music. And it's what will feel so damn good and groovy about going to the next Afrosonics show.
"There is something really beautiful about being able to share cultures that people might not have been exposed to, and through music is such a universal way to do it," said Lancaster. "Especially in a live experience where you're standing right there and sharing that energy with the band and the rest of the people. That's an extra special experience."
Groove with Afrosonics at afrosonics.com or listen on Spotify.
With love from Boise,
-Marissa
​
PS: Full disclosure, I recently joined the board of directors for Global Lounge and have been known to get down at an Afrosonics show.
---
Enjoyed the article? Go to fromboise.com to subscribe to our newsletter. New issues every Tuesday and Thursday at 2:08 PM.