Boise Music Lessons is exactly what it sounds like: learning to play music. But it goes deeper than that.
"Every time we talk to people they're like, oh my four-year-old would love that and we're like, no, how about you," laughed Angie Marianthi, co-founder of Boise Music Lessons.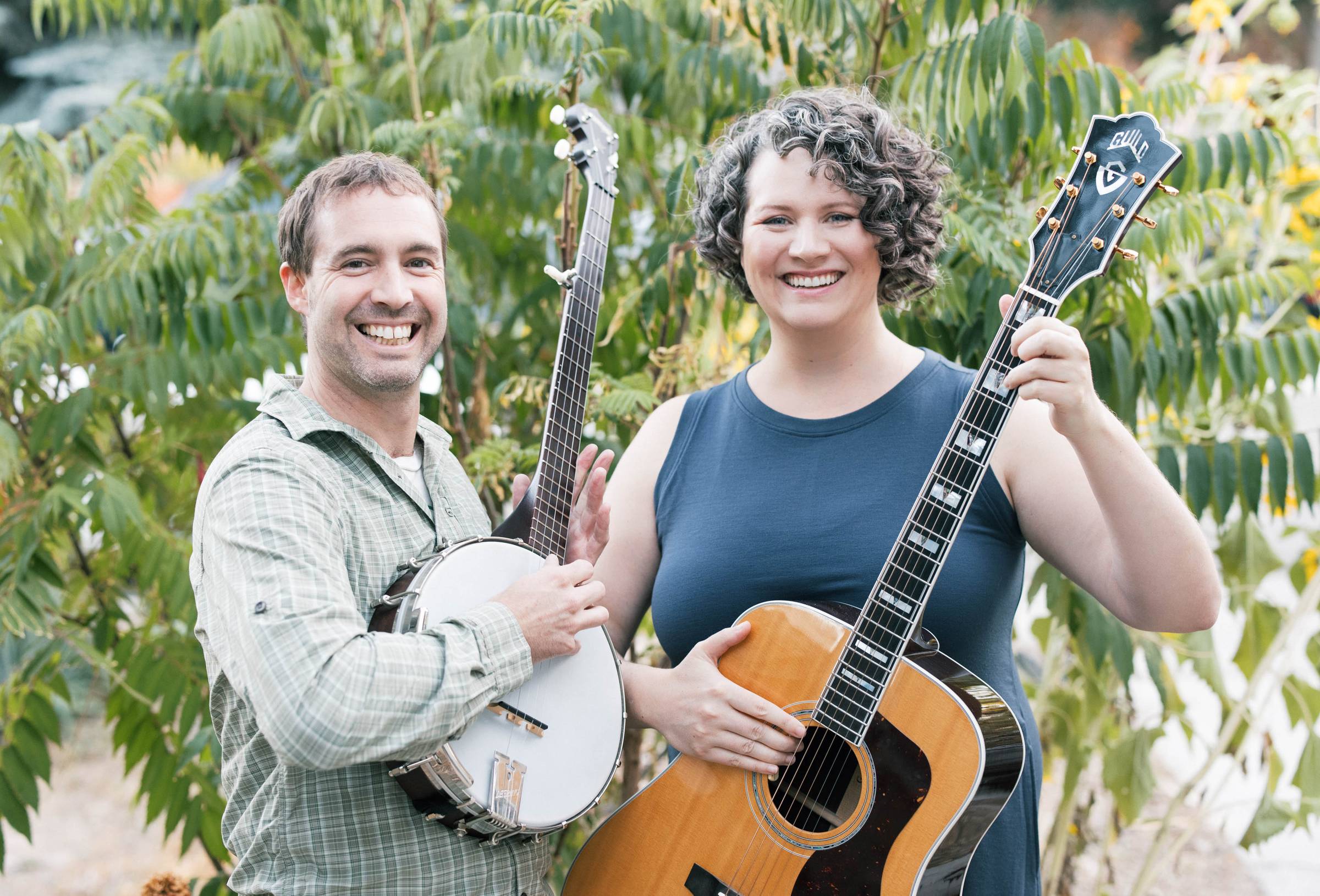 Angie and Marcus Marianthi are musicians, teachers, and parents. They created Boise Music Lessons to teach adults, teens, and tweens how to play instruments simply for the sake of playing music with other people. It's not performance based. It's not grounded in music theory. It's just learning to play an instrument and having a happy, shared experience.
Boise Music Lessons started up in 2009. The Marianthis purchased their home on the Boise Bench and converted the living room and first bedroom into studio space. For a decade they taught one-on-one and group lessons in their living room. Oh, and welcomed two children as well.
"We believe that if we bring music back into the home, and we model it, then it becomes this shared activity like hiking or skiing, or anything else that you would share with your family as a hobby," said Angie.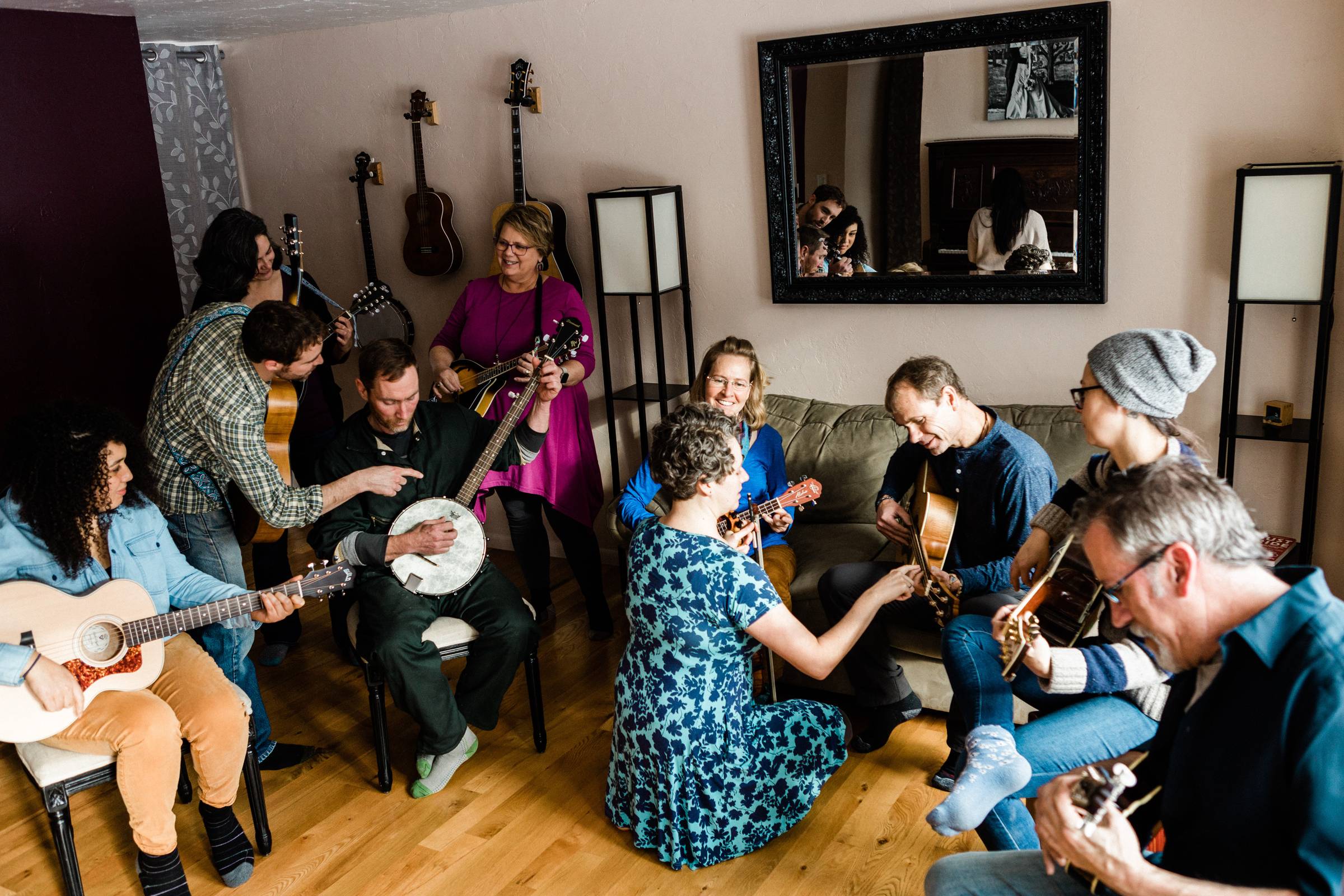 When the pandemic hit in 2020, they obviously halted holding classes within their home. They pivoted to online lessons and eventually held outdoor group classes in Morris Hill Park. They were even on Good Morning America, highlighted as a business that found a way to continue on despite the circumstances.
As people began to gather again, they needed to figure out a way to hold their classes safely. Also, like most of us, they were looking for ways to connect with people again.
First they built a little greenhouse in their driveway and held classes there. It worked well, so they went all out and created an amazing backyard studio for Boise Music Lessons. Marcus moved his backyard gardens around and dug out a big fire pit area, which is now known as the "jamphitheater". They secured grants and crowdfunding to build a big outdoor covered space, almost like a tall carport, which was completed in August 2021. Most recently, Marcus installed a wood-burning stove in the space to make it comfortable year-round.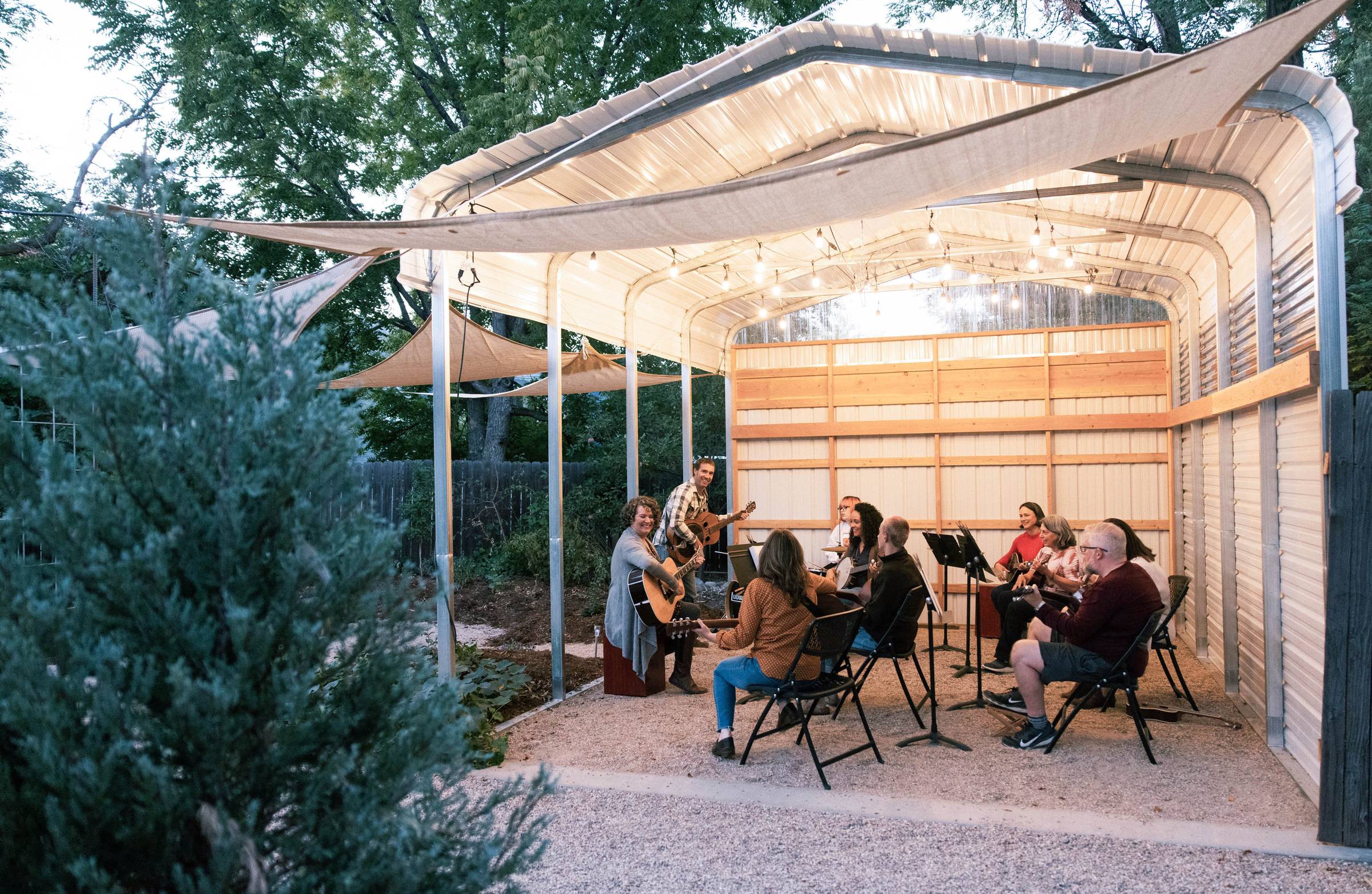 Now days, Angie and Marcus are teaching Boise Music Lessons six days a week with two programs: a six-month membership program and Campfire Music Club.
Campfire curriculum
All Boise Music Lesson students follow a unique curriculum created by Angie and Marcus. In short, they teach anything you could play around a campfire.
"We're just trying to normalize the act of people playing together," said Angie. "So, all of our stuff is song based. We don't use method books. We teach through a curriculum that we developed with popular songs."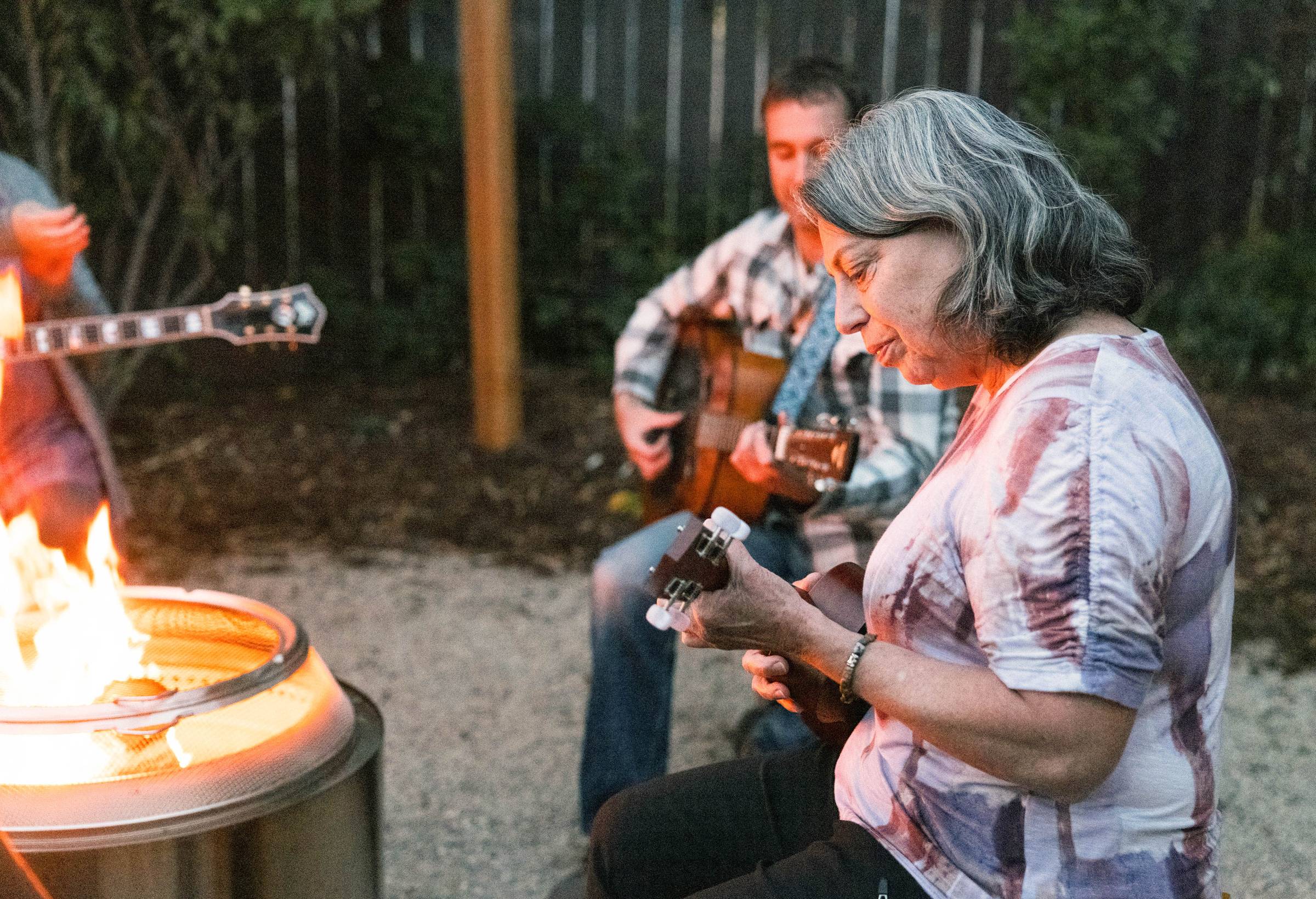 Their curriculum takes a popular tune and breaks it down by individual instrument. Membership students spend time learning songs one-on-one, then come together to play it as a group. At Campfire Music Club, people learn the song on the spot. There is a Campfire Club group for absolute beginners, where you learn the basics by learning a song, and a group social strummers, who know the basics of their instrument but want to learn more.
By focusing on new and well-known songs, emerging musicians stay more engaged than students who learn to play an instrument through traditional method books. They have students send them their favorite playlist or make a list of songs they want to learn, then compare it to the curriculum and show students what songs they can focus on that align with their interests.
"We keep it fresh and we keep it actually applicable to the things that people want to be playing," said Angie.
Multi-instrumental
Boise Music Lessons is very multi-instrumental. You can learn any instrument you want – strings, piano, drums, percussion, etc. This allows students to learn their individual parts, then come together and hear the song in a larger setting. Also, students have the opportunity to try other instruments. If someone is feeling burnt out on one instrument, they can try another and see if it clicks, or return to their original instrument feeling refreshed and excited.
"We find that people don't top out at a certain point. They just keep kind of expanding and collecting different instruments and different abilities and genres," said Angie. "Then they start teaching their friends in their family, and they start mentoring within the studio. It's really, really cool to see."
As for songs to learn, the options are pretty much endless.
"We try to keep it as broad as we can and show people how they can apply any genre to acoustic instruments," said Angie.
They play songs by The Decemberists, The White Stripes, Brandi Carlile, Harry Styles, and more – some of which come as a surprise to students. "The songs that are fun to play with other people aren't always the songs that you listen to recreationally or vice versa," said Angie. "It's the idea that there will be a positive takeaway from any song that you learn because you're sharing in an experience, so it really doesn't matter what you're playing."
Everyone is welcome
If you've ever thought you are "too old" or "not musical enough" to learn an instrument, Boise Music Lessons is here to prove you wrong.
"We we mostly teach people that never thought they could play music," said Angie. "That's kind of our core demographic. You know, adults that are embarrassed or they feel like they can't or that they're not allowed."
Boise Music Lessons isn't about the skill level or the outcome or even the song. It's about getting together with people and creating something together in a cool and comfortable space. That's it.
"I think in our culture, there are a lot of preconceived notions about music and there's a lot of emphasis placed on performance and outcome. So, we have a hard time enjoying the process and without a specific end goal," said Angie.
"If we can take it back and show people that music is a shared experience that makes us happy. Or that you can play an instrument and then play a different instrument if you want. Or that you can play songs that make you happy. Or that you can play just for fun with your family and share an experience."
And that is what Boise Music Lessons is all about.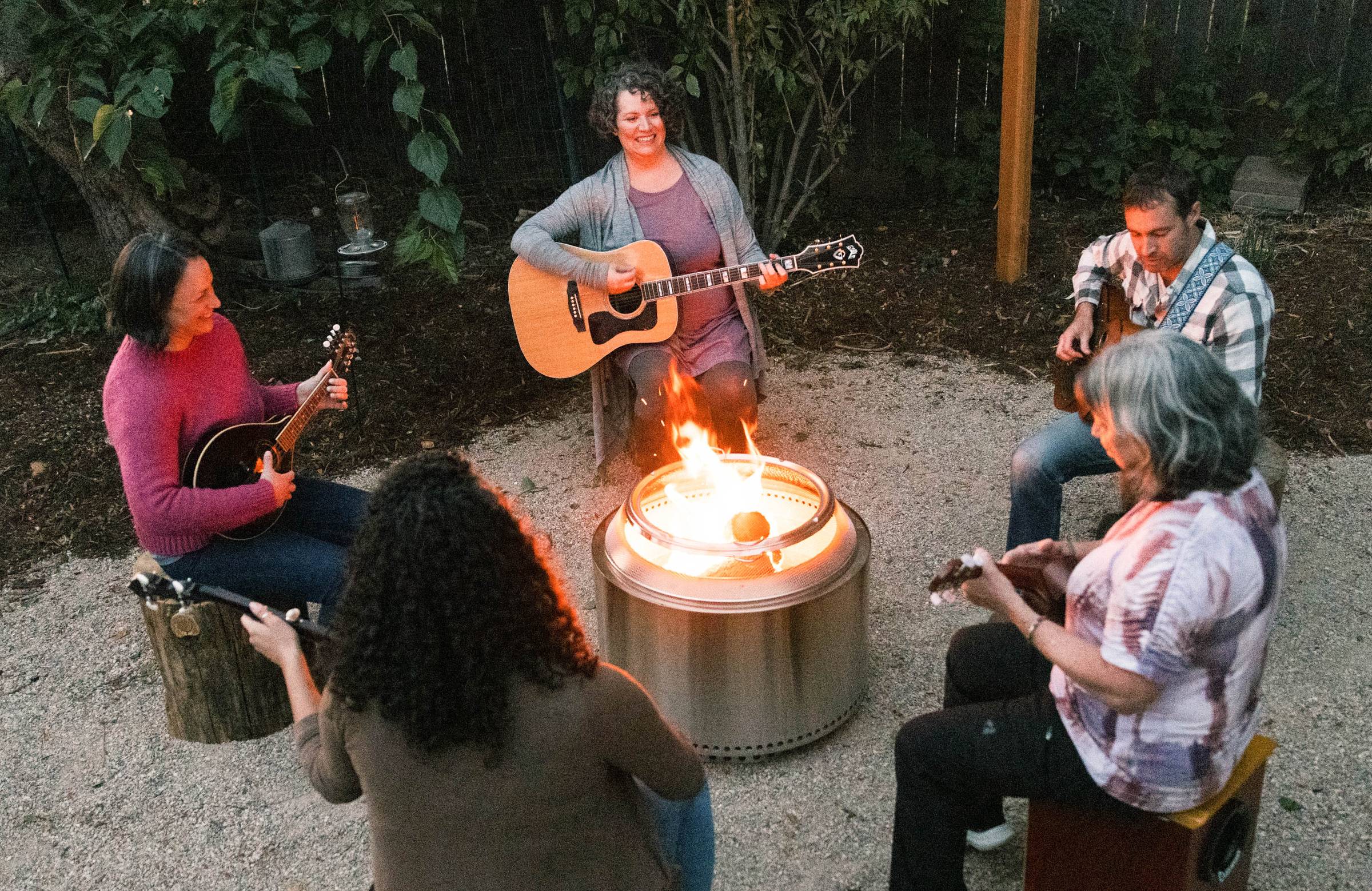 Check out Boise Music Lessons upcoming programs, like the Spring Campfire Club which starts on Feb 27, and learn more here.
Thanks for reading!
With love from Boise,
Marissa
​
Enjoying From Boise? I'm so glad! You can help keep it going by supporting it here.
​