Hi friends! Before we dive into today's story (it's a good one), I'd like to introduce y'all to our new partner:
​City Cast Boise is a daily news podcast and newsletter. It brings you a mix of local news, current events, food finds & more. You might even hear me on there from time to time talking about fun things to do 😜 Through the end of the year, we'll be working with City Cast Boise to highlight interesting podcast episodes & keep you in the loop with ways to be more involved in your community.
​Check em out & stay tuned for more!
---
July 15th has become a memorable day for Danielle Christine.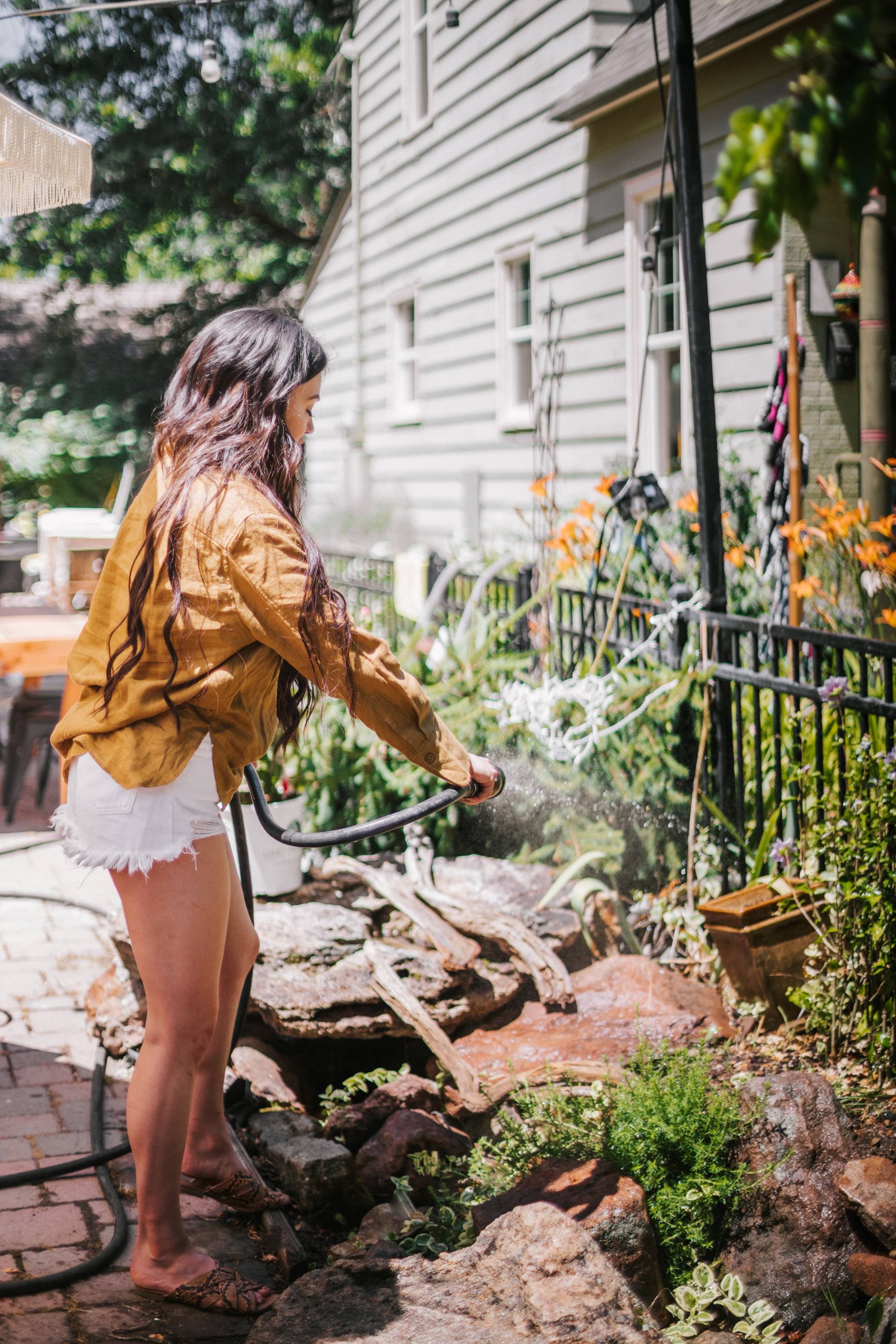 Later this week on, July 15, 2022, Danielle will celebrate the soft opening of her first brick-and-mortar restaurant, Apericena. It's an incredible "inspired European" eatery opening in 1800s old house-turned-restaurant on 13th Street in Boise's North End.
Two years ago, on July 15, 2020, Danielle held the soft opening of her first restaurant concept, Haute Foods, a chef-prepared meal delivery service operating out of Crave Delivery.
Three years ago, on July 15, 2019, Danielle had a heart attack. She was just 26 years old, lying pulseless in the back of an ambulance on her way to the St. Luke's.
Meet Danielle
"I've always wanted to open a restaurant, for as long as I can remember," said Danielle Christine.
Danielle grew up in Wallace, Idaho and started learning about food – specifically how food felt – in her early teens. Most food didn't make her feel good. In fact, it made her feel pretty bad. She had removed gluten and dairy from her diet by age 14 in effort to simply feel better.
"I was using my earnings from household chores to buy dairy free milk and gluten free baked goods, and I immediately noticed a difference in how my body was feeling," said Danielle. "My family thought I was crazy – they thought I had an eating disorder. But I was just like, no I just can't eat this food. It doesn't agree with me."
Danielle was determined to go to college and became the first in her family to do so. She went to University of Idaho and enrolled in the College of Art & Architecture. She worked hard to put herself through school, balancing a full course load while working full time at Sangria, a local restaurant in Moscow, which would prove to be the beginning of Danielle's love for food.
"I felt so inspired by what they were doing. They had a local, forward focus I had never seen before," said Danielle. She remembers the owner showing up to the kitchen with armfuls of fresh produce from local farms and market. She recognized how these fresh, local ingredients completely transformed the meals into incredible dishes. And she wanted to do the same.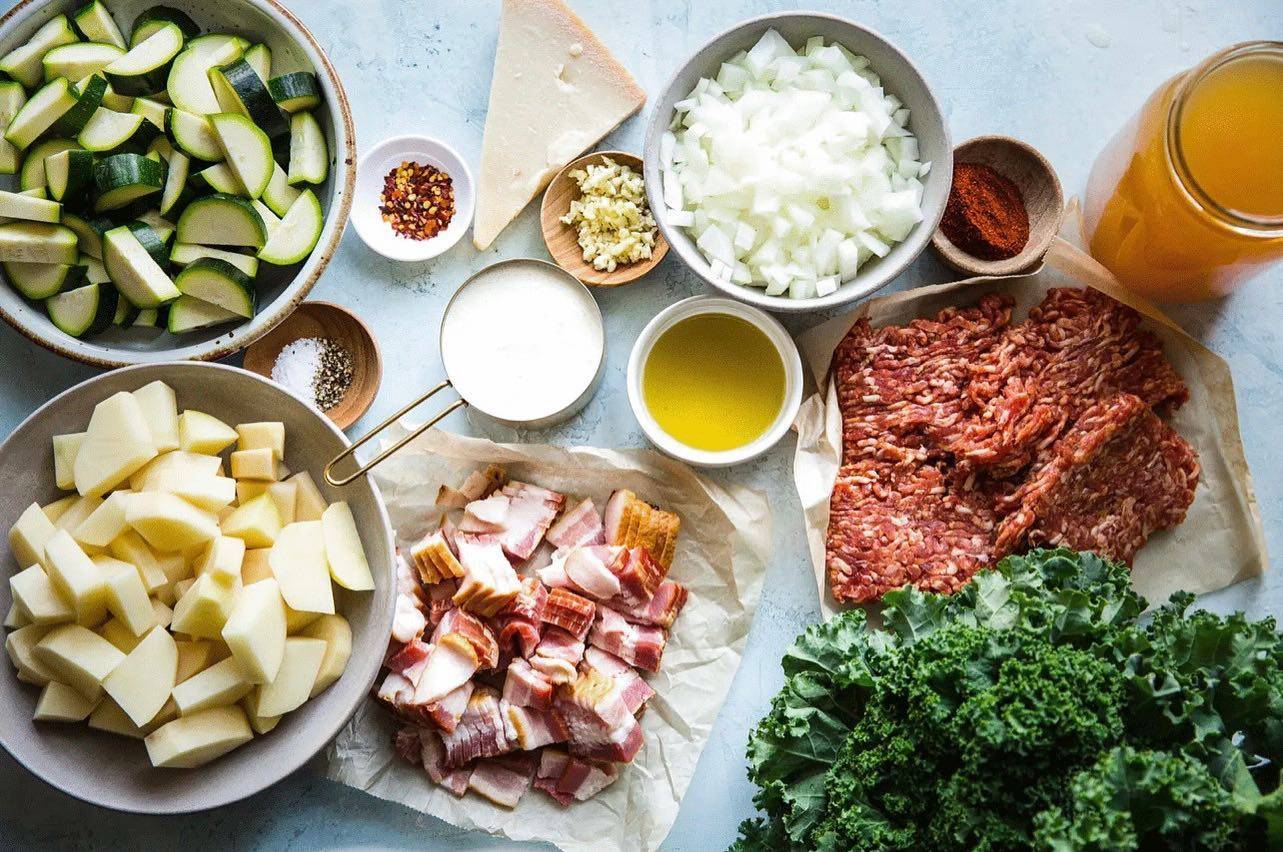 While in college, Danielle was exploring her food sensitivities and learning more about exercising, eventually learned she had an autoimmune disorder. One day while walking into the rec center, she was drawn to a flyer. It was for a study abroad program in Nicaragua for health science students. She felt so drawn to it that she called and asked if she could go. Danielle was an architecture student at the time, and while the department had never had a student outside of their program approach them before, they said yes.
Danielle's entire life changed while she was living in rural Nicaragua. She lived on a yoga retreat surrounded by 13 acres of organic farm. They picked fruit right out of the orchards. They made their own soy milk. They ate fresh veggies straight from their backyard.
"The food was killer," said Danielle. "Every dish had one whole food ingredient with a touch of olive oil and spice, ya know? And I felt great. I felt so amazing. And that is when I realized that food should feel good."
Danielle returned to Moscow and changed her major to Exercise Science and Health. "Selfishly," she said. "Because I just wanted to learn about nutrition, knowing I probably would not work in the field, but I wanted to know more so I could share it."
After graduating from U of I, Danielle moved to Boise to pursue a Masters degree at Boise State and got a job working in a holistic doctor's office.
"I loved the nutrition component and the clients, but it wasn't my purpose," said Danielle. "I decided it was time for me to really step into this. So, I made plans to open up a farmers market Peruvian concept – which I still plan to open – and my whole life got flipped on its head."
Danielle was one week out from her first farmers market when she started to feel very sick. She woke up on July 15, 2019, and couldn't get out of bed. Her chest was tight and she struggled to breathe. She figured it was just stress, but things quickly got worse. Home alone, she lost and regained consciousness as she made her way out of bed to find her phone. When she finally did, she attempted to call 9-1-1 before losing consciousness again. She awoke nearly eight minutes later to find she had misdialed and called 9-9-1. By the time she corrected her mistake and paramedics arrived, Danielle was barely alive.
Paramedics and emergency room nurses performed chest compressions on Danielle for over an hour and gave her seven adrenaline shots to the heart. Desperately trying to figure out what was happening to the seemingly healthy 26-year-old, the attending physician in the emergency room suggested TPA, a drug that breaks up blood clots. He administered a dose and slowly, Danielle began to stabilize.
Danielle had unknowingly developed blood clots throughout her body and suffered a double pulmonary embolism. She had had a mild heart attack, which caused her lung to collapse and her liver, kidneys, and pancreas to fail. She was in a coma for three days and spent two weeks at St. Luke's recovering.
"The whole time I was on life support I just was like, wow, I have so much I want to do and so much I want to share and I didn't do any of it. But why? And I really, really stewed on that," said Danielle.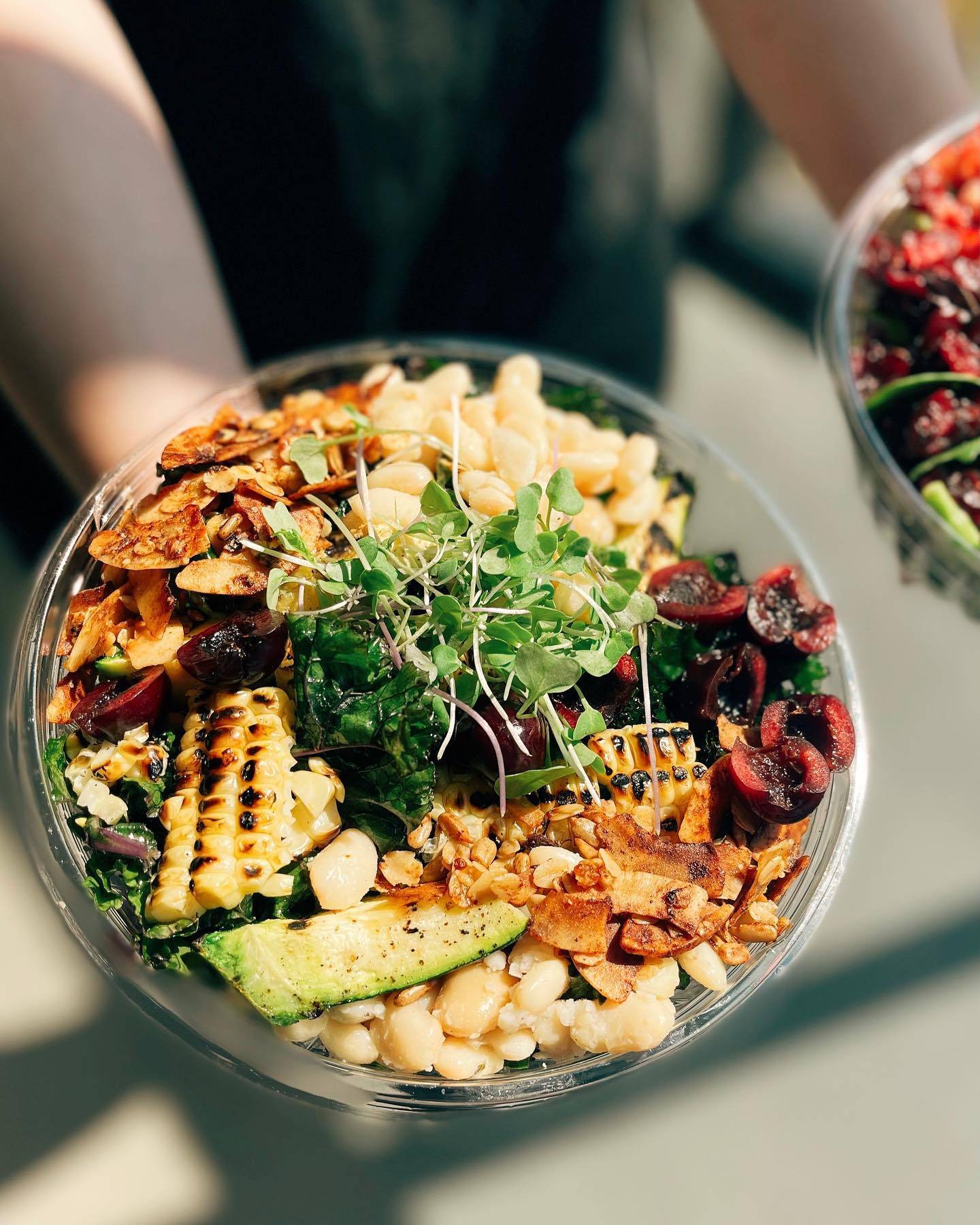 All of the "why's" she had for not pursuing her dream were quite common. I don't know if I can do it. Too busy. The menu isn't perfect yet. The name isn't quite right.
But Danielle promised herself that no matter what, she would pursue her restaurant dream once she got out of the hospital. And she did. She was ready to finally open her Peruvian farmers market concept – then covid hit.
Rather than being discouraged, she took it as a sign that it just wasn't the right time. She was meant to follow her dream, but the universe was telling her to do it in a different way.
"So, I just really went with the first thing that came to my gut. And I followed my intuition," said Danielle. "I asked myself, what can I do that's food-forward, and that will get my name out there within the community as a chef with my values, with the farm-to-table concept at the forefront of everything, but not have the risk of opening a 2,000 square foot fine dining and full kitchen facility."
This is how Haute Foods was born.
Launching Haute Foods
​Haute Foods is a full-service restaurant, but they do things differently. It's a week of chef-prepared meals delivered right to your doorstep. Danielle seeks to reduce excess food waste that is so common in the industry, while creating thoughtfully-sourced, fresh, seasonal meals.
Customers select how many meals they would like per week and choose which meals from the ever-changing menu they want for the week, then Haute Foods does the rest. Meals are delivered on Mondays between 11am and 1pm.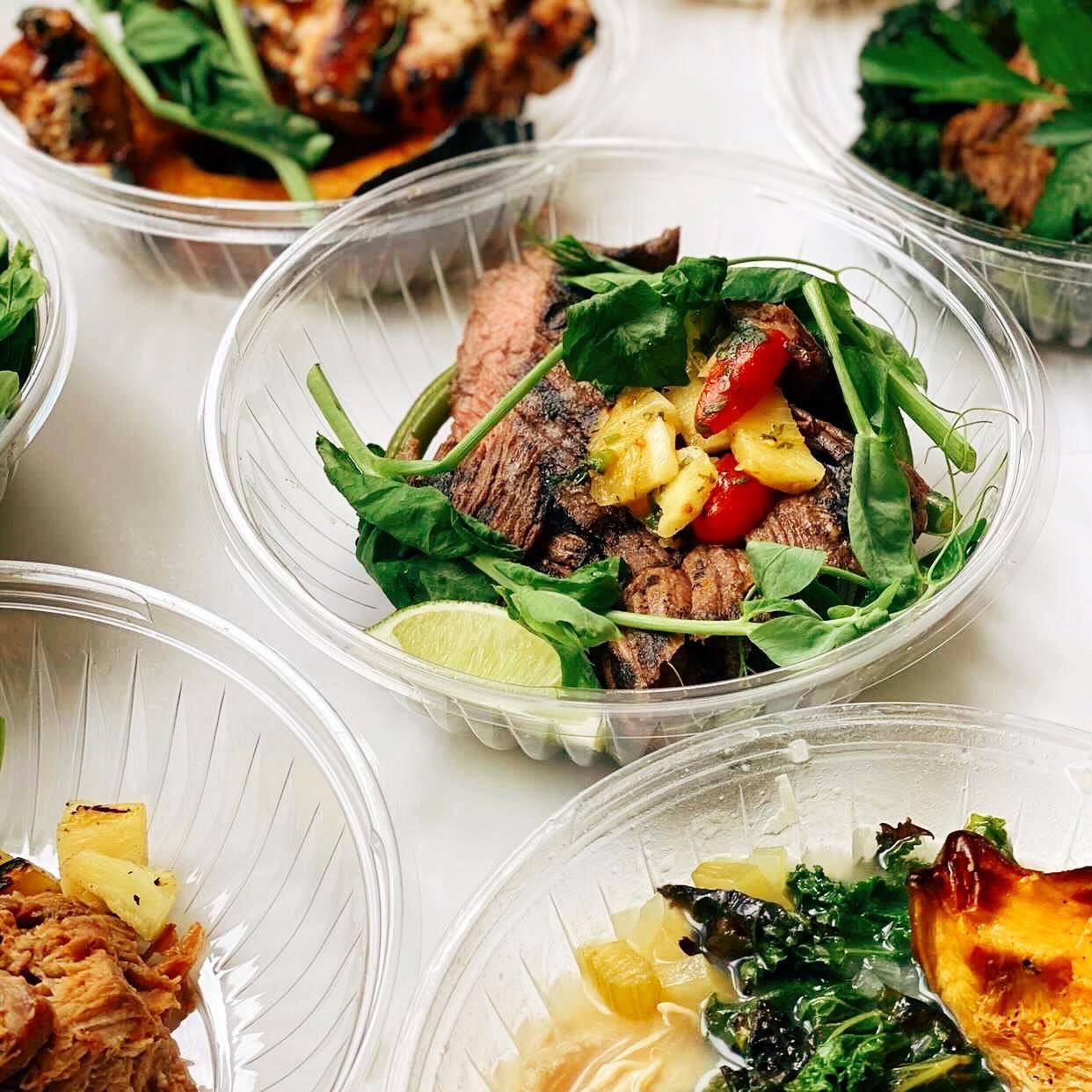 Danielle moved Haute Foods into Crave Delivery on July 15, 2020 – one year to the date of her life-changing health scare.
Back then, she was doing about 40 deliveries a day. She had one employee – a friend she has known since middle school – and together they were doing all the food sourcing, all of the cooking, packaging, and the deliveries. Then she got too busy. They were exhausted and she knew it was time to hire a team.
"I look back on moments like that and realize how far we've come. I couldn't do it without them."
Now, Haute Foods now has 327 active subscriptions. And just last week, Danielle moved Haute Foods out of Crave and into the North End. Apericena and Haute Foods will share a kitchen and a staff in the North End. The two restaurants will have different menus, but occasionally will share an entrée or special. Haute Foods will deliver from the North End, and people can also come to the restaurant and pick up their weekly meals.
Introducing Apericena
In May, Danielle read a story in BoiseDev about the North End restaurant Hyde House's dramatic closure. She was immediately interested in the space and got in touch with the building owner. Within hours she was touring the space, and within a day she had signed a lease.
"It was the easiest thing I've ever done, truly – it felt like it was meant to be," said Danielle.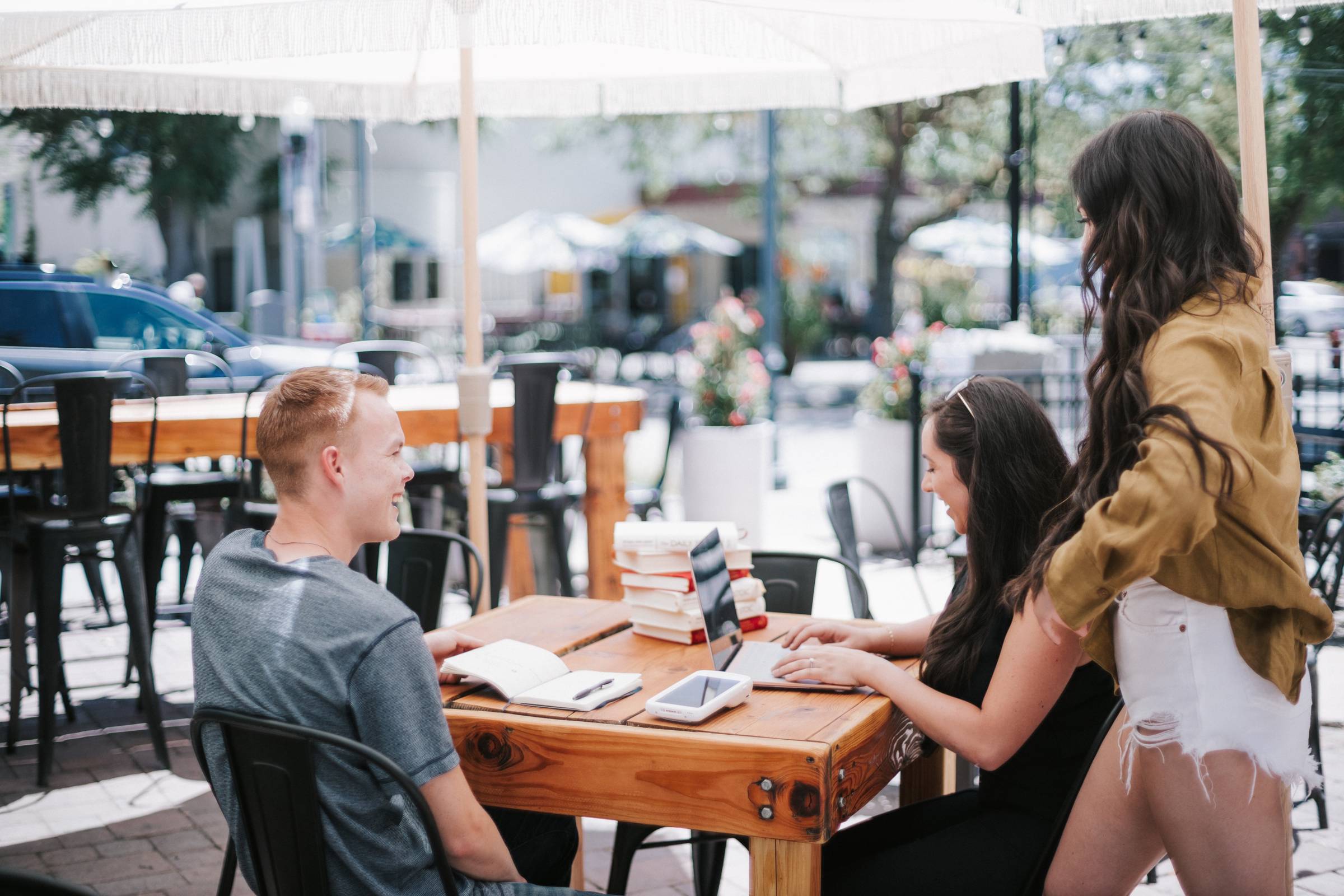 Since then, she's been all in on Apericena. Danielle has spent weeks cleaning, remodeling, making 5,000 trips to Home Depot, hiring more staff, creating an amazing new menu, and moving Haute Foods out of Crave Kitchen and into the North End.
And this week, it's all coming to life.
Much like Haute Foods, Apericena's menu will feature all seasonal, locally-sourced ingredients, brought together to create dishes with Danielle's creative and delightful style.
"Food is a language of its own, and it's just a language that I know. I don't know how to explain it," said Danielle. "I play with new recipes and ingredients all the time and I'll make things that I've never made before – half of Apericena's menu I had never made prior to this. I did the same thing with the Haute Foods menu for over a year while creating new dishes. In the beginning, I would just make it at my house, take a picture, put on the website, and say, 'Hey guys, this is what we're making this week.' And everyone is always ready for a new challenge.'"
Food should feel good. It's what Danielle learned in Nicaragua, and it's the feeling she aims to give anyone who she cooks for. She approaches food from a storytelling perspective. Because of her autoimmune disorder, she doesn't eat gluten, dairy, eggs, and she avoids soy.
"I go to restaurants and order something and I'm so sad when the food comes out. I'm looking at my friends immaculate plates and they're so happy, and I'm a buzzkill because my food just doesn't have the same flavor profile or love behind it."
Danielle believes that food should be enjoyed – regardless of your dietary needs. Everyone should be able to eat food that looks and tastes good, and makes you feel good.
"Haute Foods and Apericena are both wellness brands from the ground up," said Danielle. "I don't care who argues with me and says it's just a restaurant – it's not."
The menu that Danielle has put together for Apericena is unlike anything else you will find in Boise – or maybe anywhere, for that matter.
"The thing about menu making – just like the thing about running restaurants – is I don't do it like anybody else does. I selfishly put together all my menus and I put together all the things that I wish I could get and that I can't get anywhere locally."
Apericena is opening with dinner service, but eventually will have breakfast, lunch, and dinner. The menu is "inspired European" – which basically means Danielle is doing her own thing.
"I'm calling it inspired-European, not European-inspired, because it is my rendition of my favorite European recipes. And it's not what you'd expect anywhere because I did not go to culinary school. I went to art school, so my dishes are always art forward."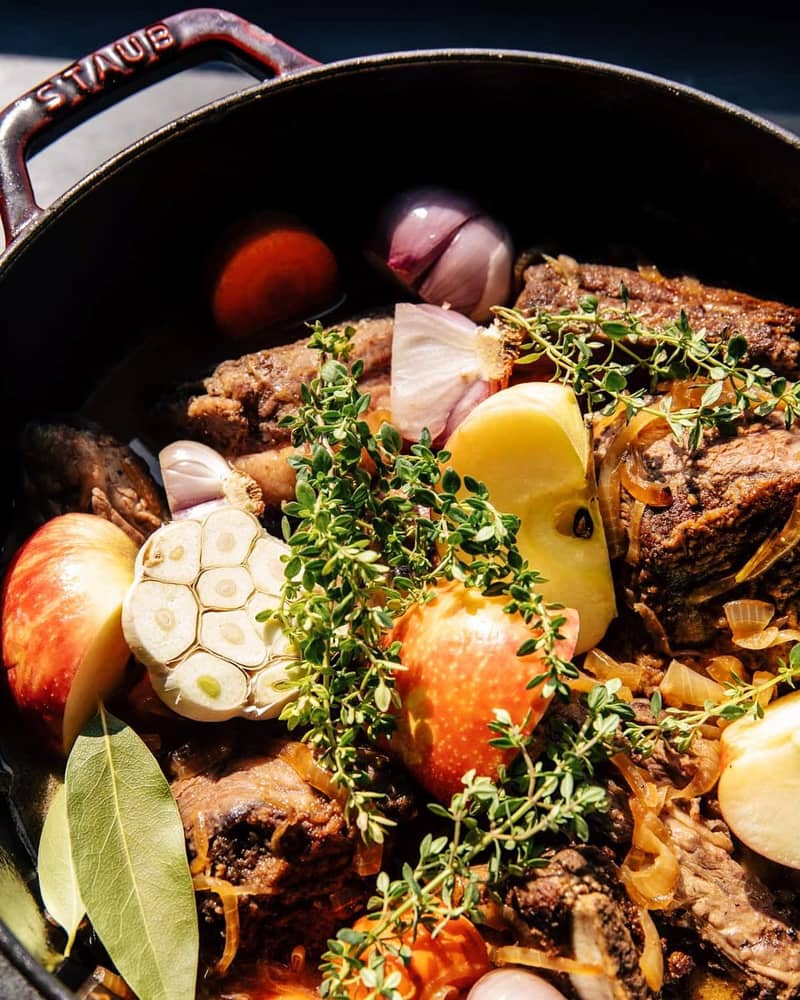 At Apericena, you can get a Scandinavian Salmon Salad with wild-caught salmon dressed in a white wine, lemon, and dill dressing served over jammy eggs, sweet cherry tomatoes, garden cress and pea shoots. She's got a French Onion soup and Soup du Jour.
Entrees will be served after 5pm daily. Danielle has dreamt up a Coq au Vin, a stew of fall-off-the-bone chicken that she slowly simmers in a red wine pan sauce with potatoes, onions, mushrooms, and crispy bacon. Her seasonal penne pasta currently features grilled chicken, burst cherry tomatoes, asparagus, local spinach, and a big handful of fresh herbs. The Braised Lamb Bolognese comes together with lamb shoulder slowly braised with onions, carrots, celery, whole cherry tomatoes, and fresh herbs.
Every day, Danielle will have a special entrée, vegan special, and a soup of the day.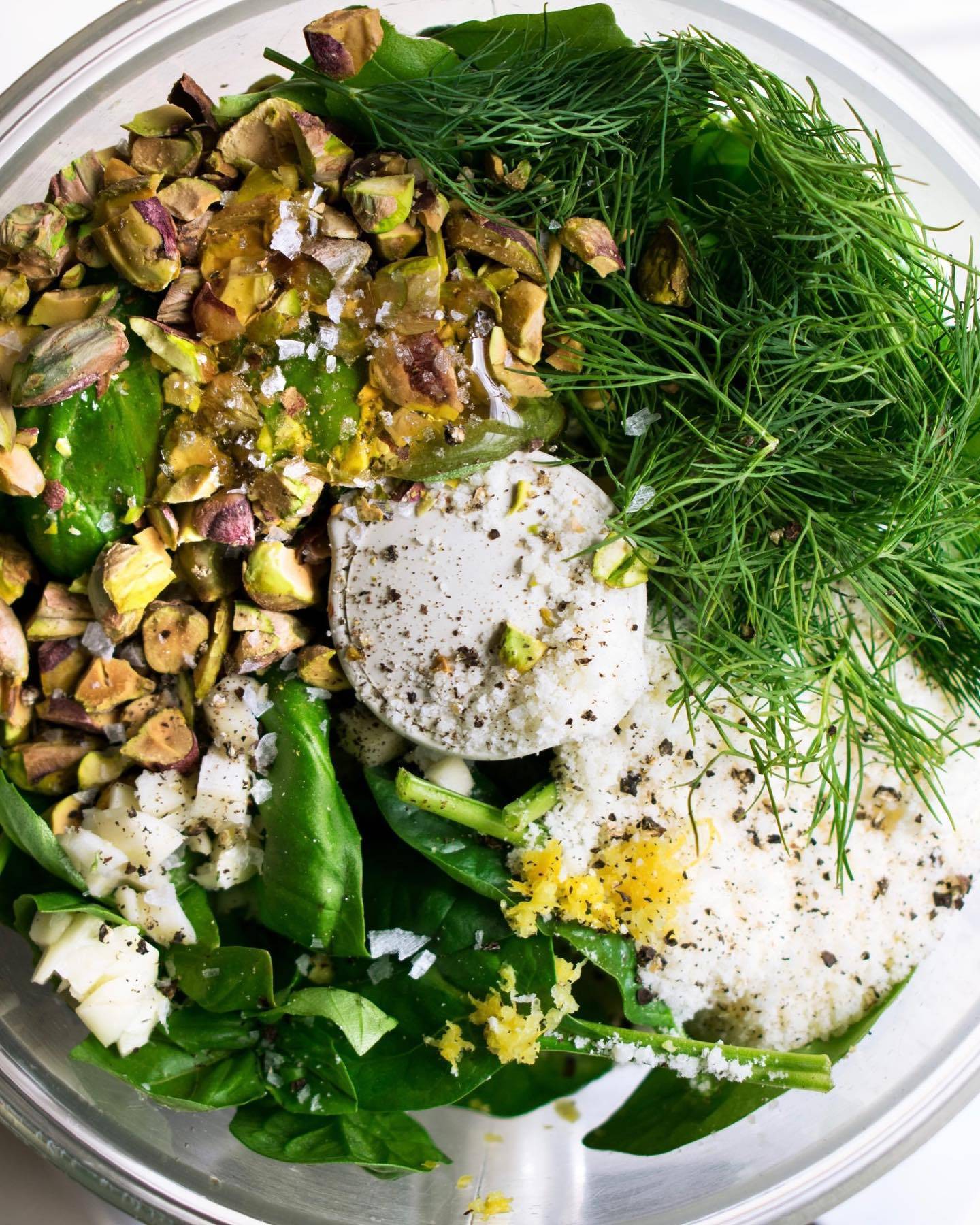 In addition to healthy, delicious, farm-focused food – Danielle is all about options. Every pasta on Apericena's can be made gluten free. The French Onion soup can be made gluten free. Her menus also feature naturally gluten and dairy free dishes.
"I've tried every single type of gluten free pasta available on the market, and I know what works and what doesn't work. It's the same with dairy alternatives," said Danielle. "I make my own cheese with cashews. So, we're going to have a cheese board eventually and you'll be able to get my cashew cheese if you are dairy-free and want to indulge."
She's also come up with a cashew-based ice cream, which she will use to make dairy-free mods to items on the forthcoming dessert menu, like the affogato.
One of my favorite things at Apericena are the small personal touches Danielle has added. Like at the end of your meal, your check will be delivered tucked into a page of one of her favorite books.
"I took all of my favorite books on mindfulness and books that have made the most impact on me in my life and in this journey," said Danielle. "The Daily Stoic will be really special since it's meditations by day. I suspect people will likely flip to the day they are in and leave us little personal notes on the pages."
Apericena will officially open late July. Reservations will be suggested, but not required. There will be a six-person bar top, patio seating, and indoor seating. And of course, there will be an ever-changing, always amazing menu created by Danielle Christine.
You can stay in the loop at @apericenaon13th and www.apericenaon13th.com. Apericena has also launched a crowdfunding campaign to help raise funds for a new walk-in fridge and hood system to help the young business keep up with customer demand. You can contribute to it here.
Thanks for reading!
With love from Boise,
Marissa
​
Are you looking to get the word out about your business or event? Sponsor a newsletter! Every week, From Boise reaches over 15,000 people who love to be out & about in Boise. Email Marissa for details -- > marissa@fromboise.com