Hello friends! I'm pulling a switcheroo on you.
Last week the story was about the history of transportation in Boise, and I said that this week's story would be the follow up to that, which is the future of transportation in Boise. As you can imagine, writing about the future of transportation is not a simple story and I just felt like I was rushing through it. I hate the feeling of being rushed, especially with a story, and especially with a story that deserves time and attention and thought! Sooo I decided to bump the future of transportation story to give myself a lil more time to work on it. (I do this switching around of stories often, I just usually don't tell anyone lol)
Today's story is about Boise's theater community. This story was written by Julie Sarasqueta & it's so good! You can listen to me read it on today's podcast episode. I hope you enjoy it & I hope it inspires you to get tickets to an upcoming local theater performance.
---
Exploring Boise's theater community
By Julie Sarasqueta
Back in 1864, Boise was barely a blip on the map. And yet it had theater: The Idaho Tri-Weekly Statesman reported that the Idaho Saloon had been converted to accommodate traveling stage performers. When visiting actors failed to travel to Boise in numbers great enough to meet the growing city's demands for art, residents created its first theater troupe, the Boise City Theatrical Club.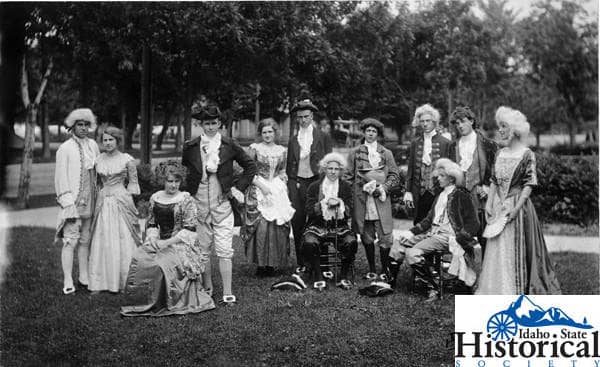 For more than 150 years, theater has sustained Boise. But after a bruising pandemic that forced the cancellation of performances and entire seasons, some theater organizations say they're still in catch-up mode — and they're hopeful Boise can sustain them.
"As a company, we're doing really well as far as what we're working on and how we're doing it," says Buffie Main, artistic director of Alley Repertory Theater. "We feel really good about our creative process. But the piece that is really, really real is that audiences haven't come back in the same way."
​Boise Contemporary Theater's producing artistic director, Benjamin Burdick, echoes Main's concerns. BCT shut down in March 2020 and did not reopen until October 2021.
"Attendance is not what is was pre-pandemic," he says. "For the most part, contributions are not far off, but they're not what they were in 2018 or 2019. We're still feeling the ripple effects of that 18 months of closure."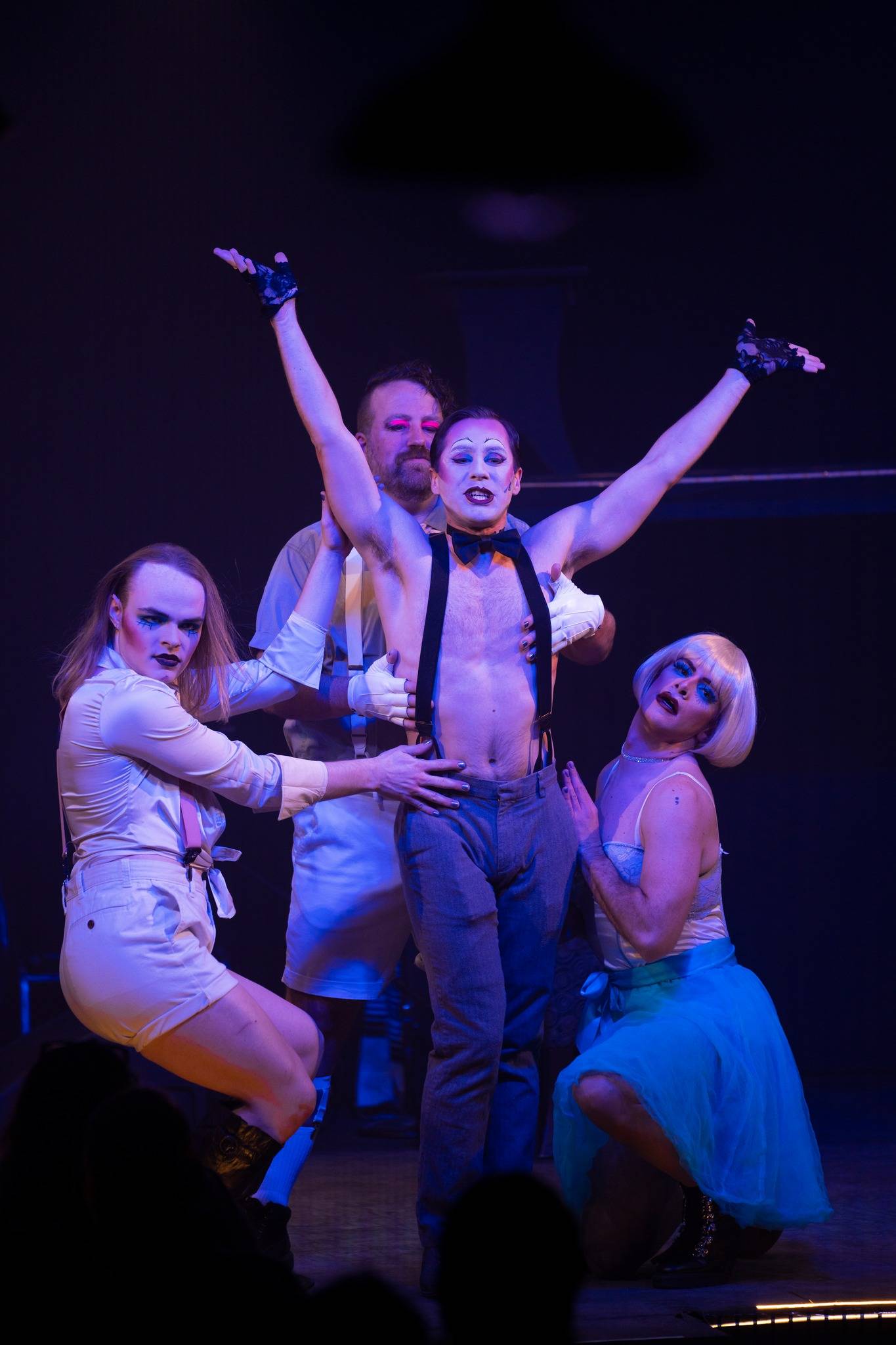 They are also facing a paradox. Boise is growing rapidly, but so far theater audiences are not growing in proportion to the population. Some of that is due to the pandemic, as Burdick and Main said. But it's also reflective of a larger shift facing theater companies around the country: Theatergoers are spoiled for choice. With the rise of streaming services, it's much easier to simply stay home and have your entertainment delivered to you.
Boiseans also have many more options than they used to. Boise's theater scene, like its music scene, has always been homegrown due to its geographic isolation. Since 1977, when the Idaho Shakespeare Festival put on its first show on the lawn of One Capitol Center, Boise's theater companies have mushroomed. On any given night, you can catch a classic musical at the Boise Little Theater, which has been entertaining Boiseans for more than 70 years; watch a new work by a BIPOC playwright at the Boise Contemporary Theater; or even audition for your own shot on stage at the Stage Coach Theatre. And that's just a slice of what's available in theaters — add competition from concerts, movies, sporting events, or other arts organizations, and the challenge becomes clearer.
"There's a lot to do and a lot of things to choose from," Main says. "And so people are sharing their time with lots of organizations. And I just think people aren't going out as much to the arts because it takes a higher energy level. By the time you get through the week, you're like, 'I don't know if I can move.' I mean, going back to work full time in an office takes a different energy."
Yet, even with those limitations, the avenues for entry into Boise's theater scene keep growing. Kids can head to the Idaho Shakespeare Festival's summer camp, which has served as a farm team for local performers, or the Treasure Valley Children's Theater. Boise State University, as well as Caldwell's College of Idaho, have theater arts programs that have been instrumental in providing generations of talent.
So have Boise's community theaters, such as Stage Coach and Boise Little Theater, Burdick says. "These community theaters provide space for actors and directors and lighting designers and set builders," he says. "They provide this great foundation of learning the craft."
The DIY approach has often worked to Boise's advantage, especially for groups that can afford to take risks. All it takes to put on a performance, according to one of Boise's newest theater groups, is a location, an audience, and the desire to perform.
"Our company, the Boise Bard Players, is a mobile company," says Tiffany Eller, the group's managing director. "We just do performances wherever we can."
So far, that has included staging minimalist productions of Shakespeare's plays everywhere from breweries to the Old Pen to a driveway on 8th Street. Unlike more traditional theater groups, the Boise Bard Players grew their audiences during the pandemic because they could put on low-budget microshows in well-ventilated locations, or outside. Their start is not too terribly different (aside from the pandemic) than the start of the other Shakespeare-focused theater company in town, the veteran Idaho Shakespeare Festival, where the original outdoor performances were put on with a total operating budget of $4,500.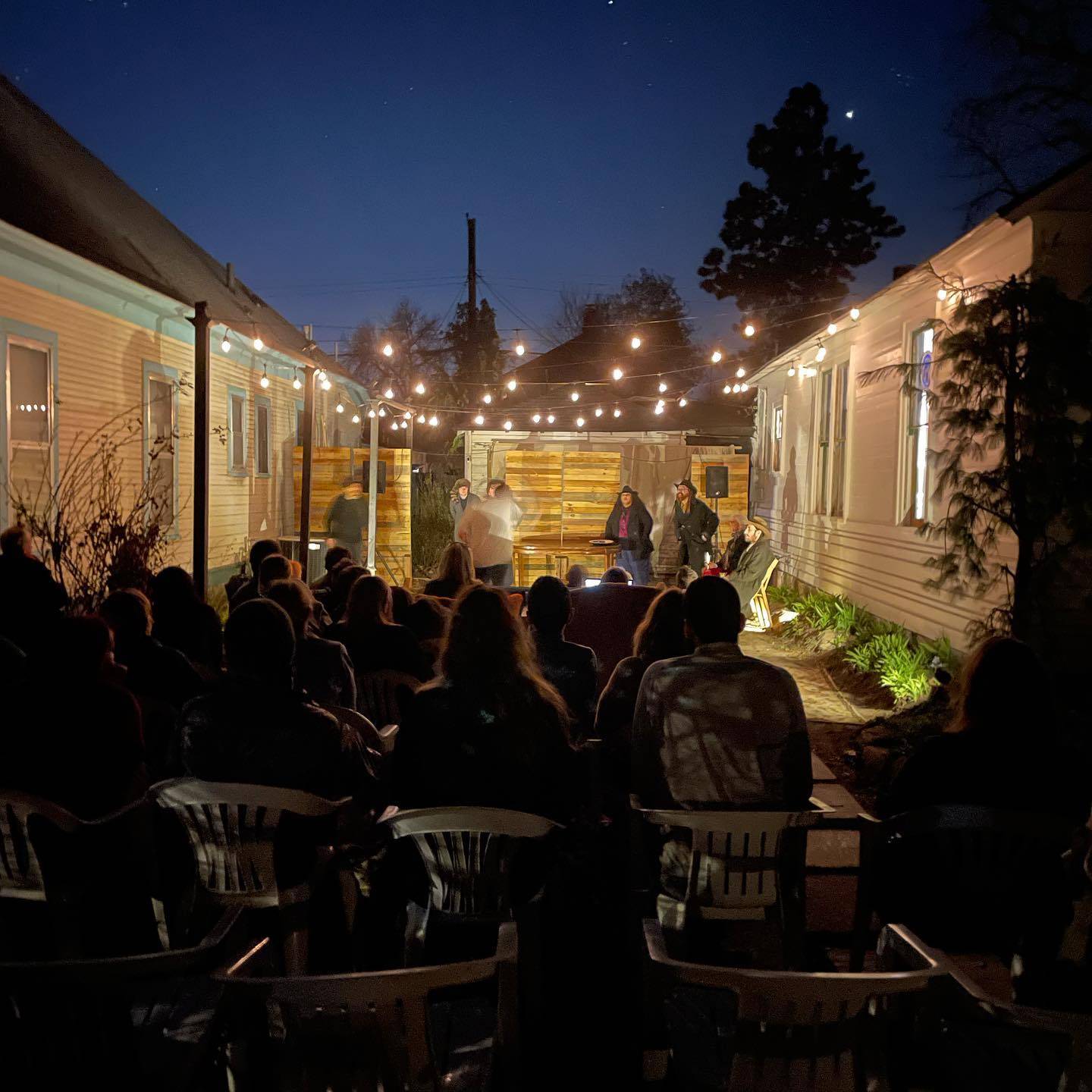 ---
Sponsored by Radio Boise
Tune in, tune out
​Radio Boise believes in the magic of the airwaves. Tune in & embark on a musical journey of eclectic tunes, diverse sounds, and local voices. Whether you're a fan of rock, jazz, blues, indie, hip-hop, or any genre in between, Radio Boise's team of passionate volunteer DJs curate the perfect tunes, just for you.
Listen to Radio Boise at 93.5FM downtown, 89.9FM in Boise & beyond, or radioboise.org, and support Radio Boise here.
---
Today, the Idaho Shakespeare Festival has a multi-million-dollar budget and strategic alliances with the Great Lakes Theater in Cleveland, Ohio, and the Lake Tahoe Shakespeare Festival in Incline Village, Nevada. The alliance allows all three groups to share a managing team and the resources needed to put on professional theater in locations that might not otherwise be able to sustain such large, high-quality productions. But it also means that a lighting designer who might have stayed in Boise through the winter and worked on an Alley Rep show probably will be out of town for another production.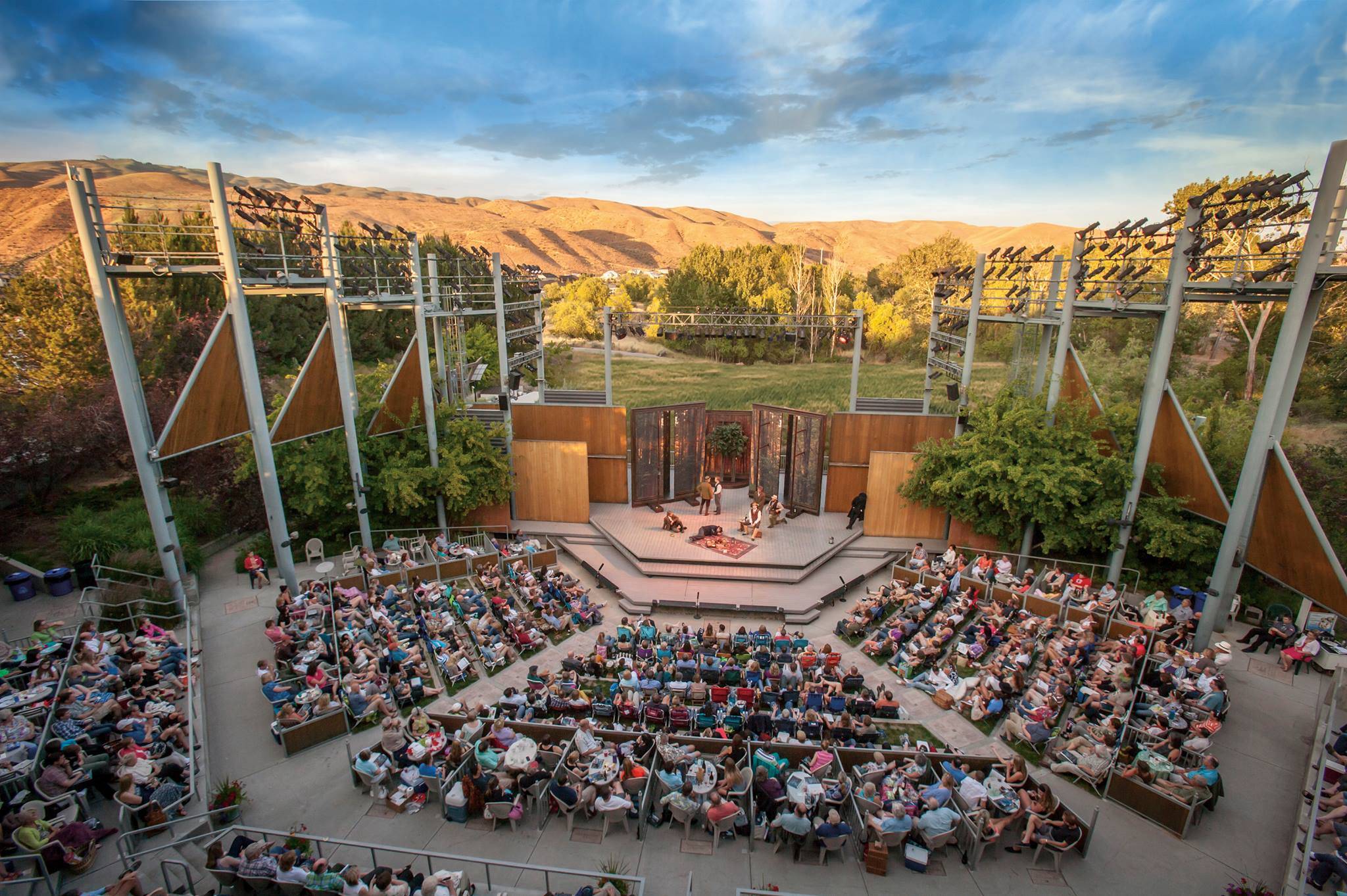 "We want diversity in the arts," Main says. "So we're in this position where we find ourselves spending a lot of money to bring in designers or to bring in a diverse perspective that doesn't reside here."
Providing a decent wage and shelter to artists has also become more of a challenge as the cost of living has gone up. "We want to pay artists," Main says. "It's not a bad problem. But it's just killing your bottom line because you're paying for travel and you're paying for housing." Last spring, she says, she spent the same amount of money on housing for a visiting actor as she spent on the actor's salary.
Even though costs are rising, Boise is still a sought-after destination. Chris Canfield, artistic director for the Boise Bard Players, says he puts his faith in the power of the "Boise vortex," the ineffable pull the city has on people.
"The Boise vortex is very strong," he says. "And instead of fighting it, I've just surrendered to it. And I hope to be at the center of that Boise vortex when, inevitably, people come circling back around and be like, 'OK, you're back. I can plug you in. What do you want to be doing? Let's make stuff together. Let's collaborate."
Burdick, who spent years in Los Angeles before returning to his native Idaho, says the need for local talent is strong. He is especially interested in theater arts students who want to work as scenic designers and sound designers and costume makers. "The best I can do is expand my reach and introduce myself to young theater makers and hope they'll come down and fill some gaps," he says.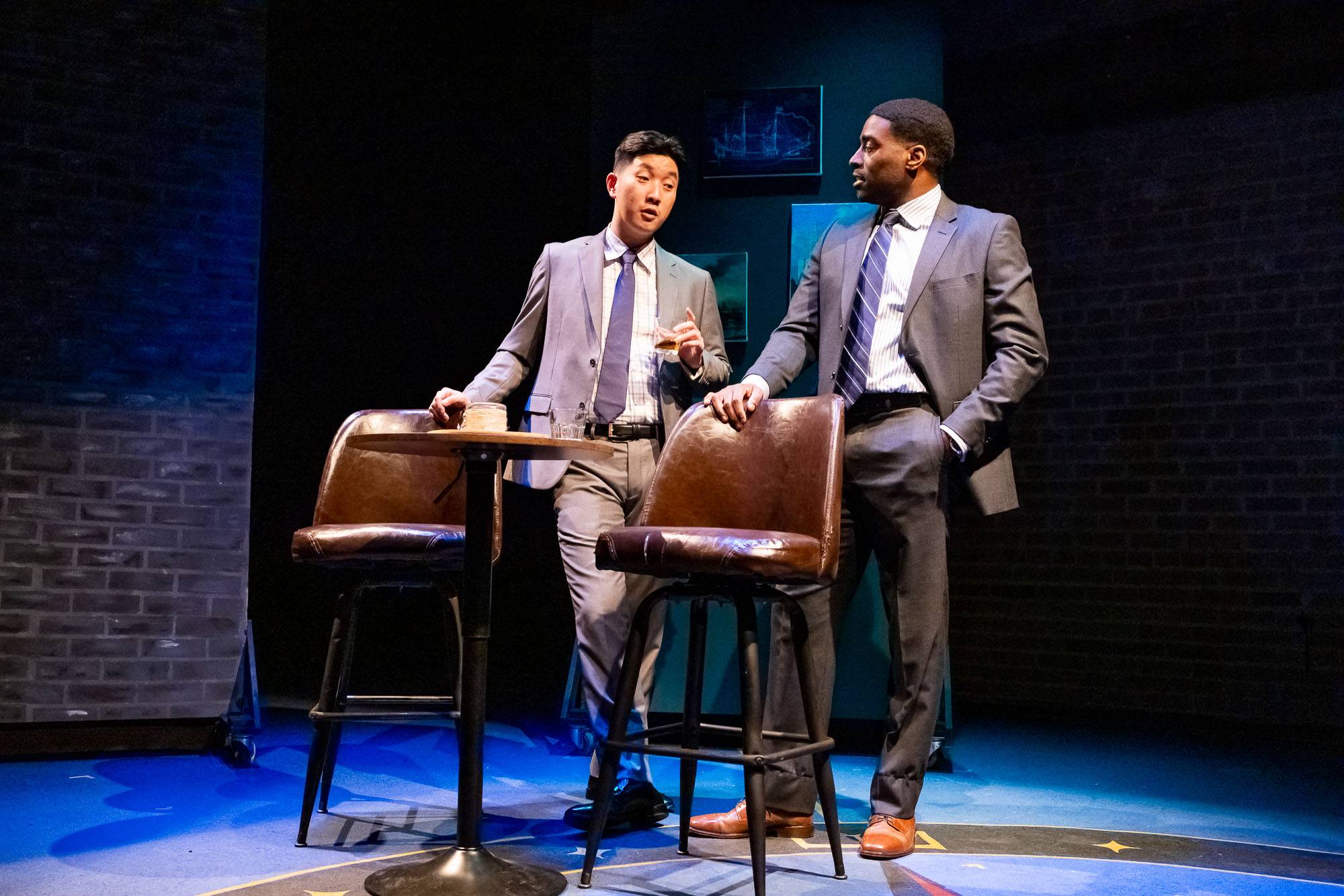 BCT has also been expanding its reach with its BIPOC Playwrights Festival, which is now in its third year and draws talented artists from all over the country to Boise. Alley Rep has been vocal in its commitment to showcasing the stories of the marginalized and oppressed — including a play, "Boulevard of Bold Dreams," written by LaDarrion Williams, who was featured at BCT's BIPOC Playwrights Festival this summer. As Idaho grows, so do the types of stories its audiences will witness.
Burdick is sure the power of those stories will triumph over any lingering pandemic effects. The magic begins when the curtain rises, he says.
"That's where it becomes a true collaboration — you have living, breathing human beings and it asks attention and it asks people to engage," he says. "And I think that's really important at a time when, you know, the way to get the most clicks is to have a 10-second or a 30-second video. We're asking people for 90 minutes to two hours of active listening and engagement. I think once people experience it, they really, really love it."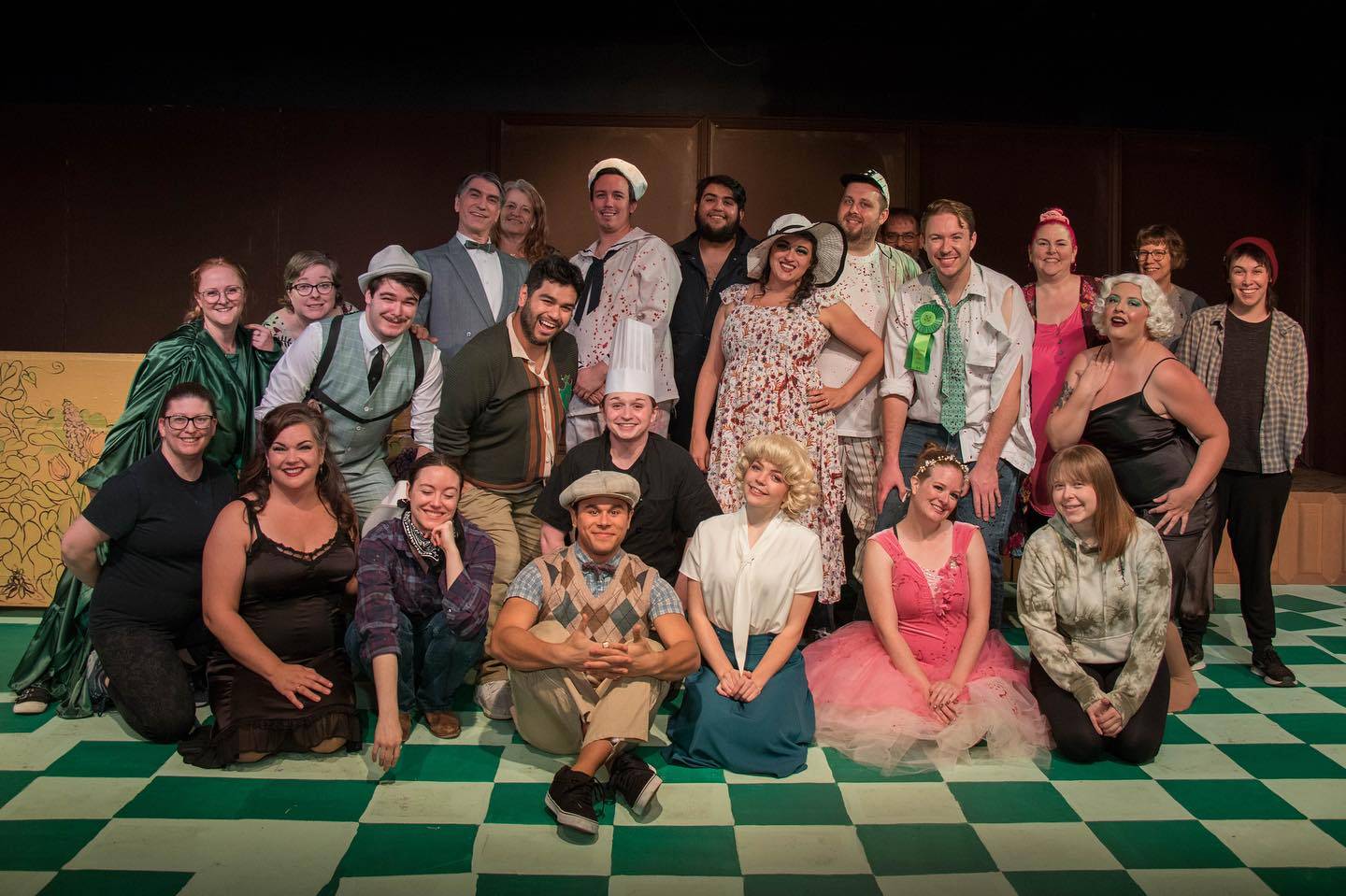 Where to find theater in the Treasure Valley
Many theaters offer season passes or ticket packages, often at a discounted price, that help sustain them through the season — when possible, put your money to work for the theater while saving a bit yourself.
​Alley Repertory Theater. Alley Rep prides itself on showcasing "bold, risk-taking theater," including plays and musicals, at the Visual Arts Collective in Garden City. The next performance is Hair: The American Tribal Love-Rock Musical, running December 8-23. Get tickets here.
​Boise Bard Players. This minimalist group performs just about anywhere they think would be a great place for a production, keeping the focus on the words and visceral experience of Shakespeare and other classical playwrights. The next performance is Measure for Measure at Mad Swede Brewing (on Cole Rd), running December 8-17. Get tickets here.
​Boise Contemporary Theater. BCT was founded in 1997 to bring professional, challenging contemporary theater to Boise; besides its five Mainstage productions, the organization also hosts festivals, a Theater Lab, and reading series. The next performance is The Thanksgiving Play, running November 29-December 16. Get tickets here.
​Boise Little Theater. Boise's OG community theater group has been producing comedies, dramas, musicals, and classical and contemporary productions for 76 seasons. The next performance is A Christmas Carol, running November 24-December 16, and Christmas II: It's a Wonderful Nativity, running November 24-December 16. Get tickets here.
​Chaotic Acts of Theatre. Chaotic Acts of Theatre stages inventive, out-of-the-box productions, readings, and improv in locations throughout the Treasure Valley.
​Dinner Detective Murder Mystery Dinner Show. It's mystery dinner theater with a twist — anyone in the room could be part of the show. The next events are November 18 and December 9. Get tickets here.
​Eagle Theatre Company. This Eagle-based community theater group performs out of the Eagle Performing Arts Center. They are currently performing Making God Laugh, running through November 19. Get tickets here.
​Encore Theatre Company. This roving theater group performs Shakespeare and other classics, but it's famous this time of year for the Encore Company Carolers who sing holiday favorites at locations throughout the Treasure Valley. You can see the upcoming caroling locations here.
​The Huckleberry Star Theater. Mom, Dad, and the kids can get involved in this Meridian community theater company, which takes a family-friendly approach to its work. They just performed Seven Brides for Seven Brothers last weekend.
​Idaho Shakespeare Festival. It's Idaho's largest theater company — and for many Treasure Valley folks, summer wouldn't be summer without it. They just announced 2024 plays, which start in May 2024.
​Knock 'Em Dead Dinner Theater. This community theater has been bringing popular musicals and plays to the stage since 1984.
​The Morrison Center. Bringing Broadway performances to Boise and hosting a variety of local and student theater performances throughout the year. There are lots of upcoming performances, including A Charlie Brown Christmas on November 16-December 3. Get tickets here.
​Music Theatre of Idaho. If you love a Broadway musical, this family-friendly theater offers affordable productions featuring talented local performers. The next performance is Elf, The Musical, running December 6-9 , but it's already sold out! You can get 2024 tickets here.
​Stage Coach Theatre. Since 1981, Stage Coach has been a favorite of community theater lovers who appreciate lively adaptations of popular musicals and plays. The next performance is A Twisted Christmas Carol, opening December 1.
​Treasure Valley Children's Theater. Kids can immerse themselves in theater from an early age at this specialist theater. Enrollment for clubs, camps & workshops open now; performances will resume in the spring.
​Watson's Mystery Cafe & Spirits. If a lively production or improv is what you're after, you'll discover it in this English-style pub. They have a regular calendar of events, which you can find here.
​
Thanks for reading!
With love from Boise,
Marissa
This story was written by Julie Sarasqueta, a writer and tarot reader who lives in Boise.
​
​