In partnership with
Last week City Cast Boise chatted with local food writer Lex Nelson about where to try the best vegan food in Boise. Listen here!​
---
Today's story was written by Sonya Feibert.
It's no joke holding onto your sense of humor through a pandemic. Harder still when your community hub – the place you did your first five, where you saw your comedy hero perform and sought their wisdom, where you gathered on the patio before shows to trade taglines – shutters its doors.
As comic Emma Arnold shared, "A lot of us in Boise worked so hard for so many years to build a healthy, functional scene. Covid clean-slated it."
Thankfully, the hard-working comics of Boise are bringing back the laughs.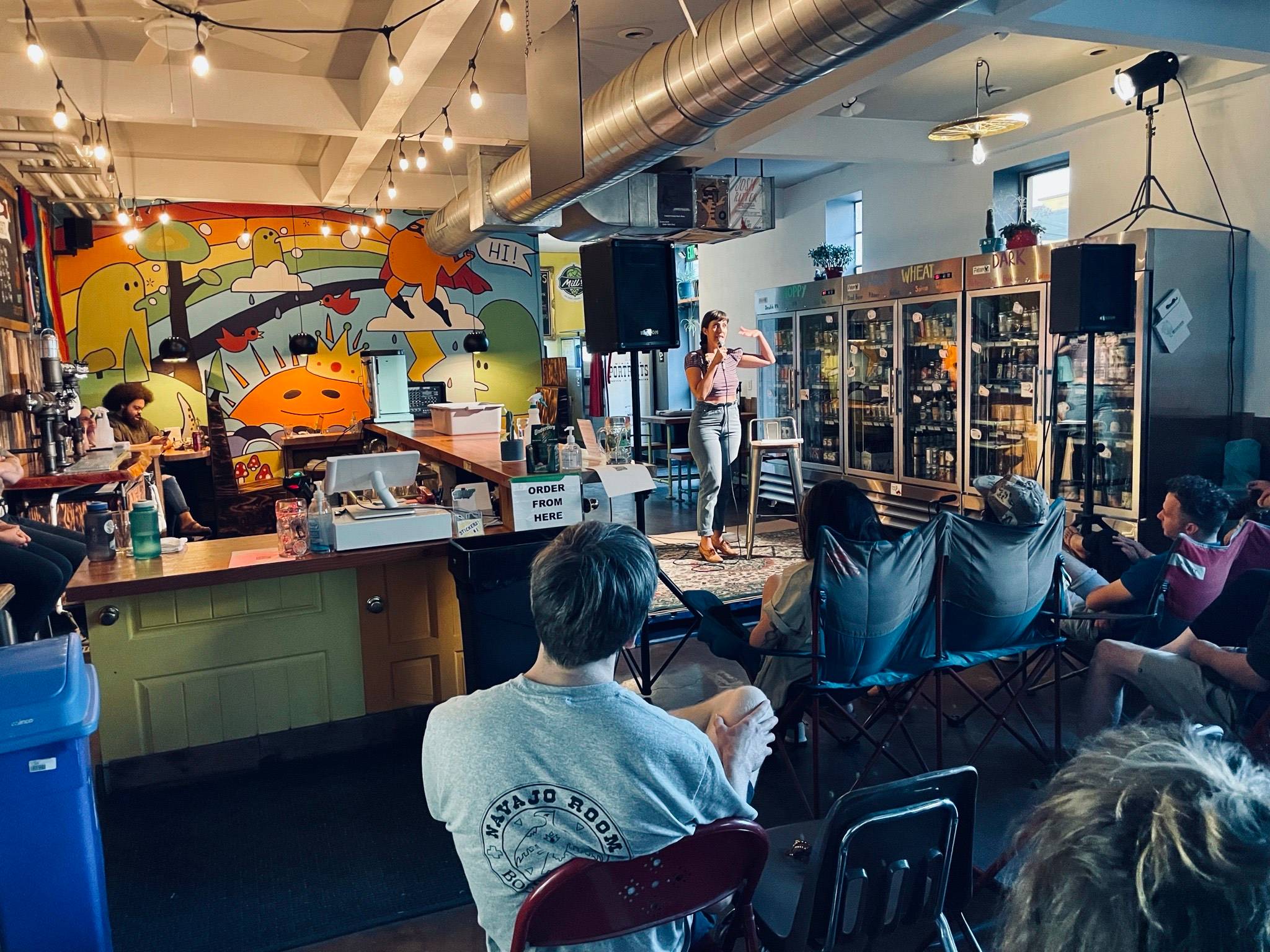 From the first (and decidedly not last) Idaho's Best Comedian Competition, to Blue City Comedy's open mics and Comic of the Month competitions, to Krystal Moore's Femme Fatale and Brunch of Laughs, to Underground Comedy and so much more – there are plenty of places to laugh around the Treasure Valley.
And, in large part, women are fostering opportunities for comedy in Boise.
Comic and storyteller Beth Norton is the director of Story Story Late Night and creator of Idaho's Best Comedian Competition, a three-day event for which she enlisted the creative efforts of local comics Kat Lizarraga and Hailee Lenhart-Wees. The three comedians put on the competition this May, taking turns hosting and collaborating with the improv group Nice! Cool Beans! and burlesque performer Muff Jones to put on an engaging, multi-day experience at the Visual Arts Collective (VAC).
Idaho's Best Comedian was a great example of, as Norton put it, "cross-pollination in the arts."
"Working together with storytelling, burlesque, and improv was awesome. There's such an opportunity for different art forms to complement each other and work together," Norton said.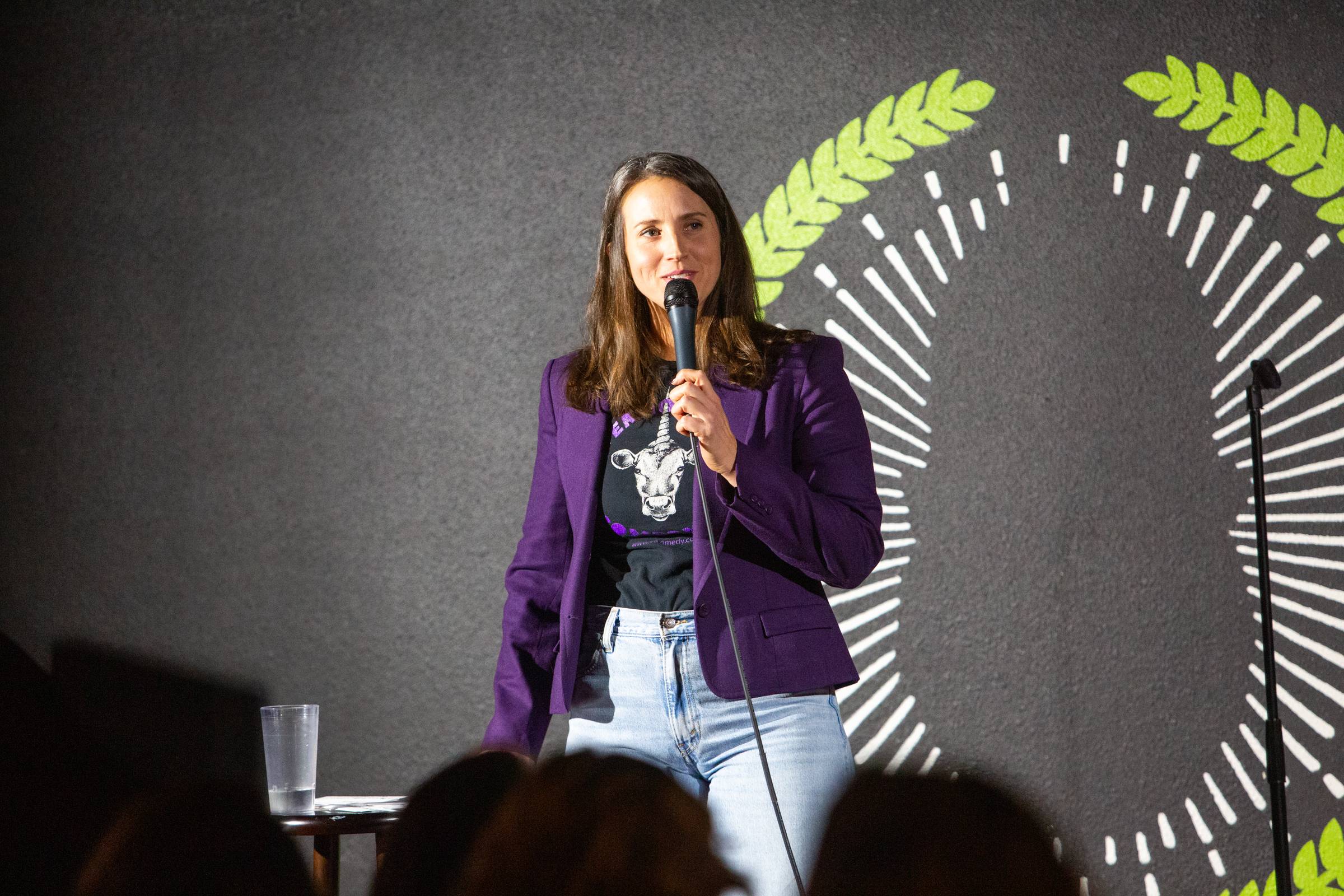 Good news for fans (and comics) — Idaho's Best Comedian Competition is just getting started.
Mark your calendar for May 25, 26, and 27, 2023, when the three-day competition will return to the VAC. Norton plans to sell a limited number of three-day passes. And while most people would call this year's event an indisputable success, she's excited to make next years' experience even better. "It was a complete success, but it wasn't the smashing success I'd like it to be. Next year I want it to be a smashing success," Norton said.
This drive to keep working on the craft, to not let good enough be good enough, is a defining characteristic of almost every performing comedian in Boise.
As comic Reese Samuels shared, "Since starting stand up, I've seen some of the most passionate people I've ever met. There's a mentality of, 'I know I've done a good job, but I could do better.'"
Still, the view that stand-up isn't artistic pervades, Samuels said. "A lot of people don't see stand-up comedy as an art form. But it's how we create, it's an expression of how we feel. It's our outlet." And despite the impression you might get from well-executed jokes at an open mic, it's a true process. "There's so much editing and putting it back together again. Sometimes it takes a week to write a good joke; sometimes it takes you a month to perfect that joke," Samuels said. "And usually it's still never perfect. You're still trying to make it better."
Samuels has been doing just that at shows around Boise in addition to creating opportunities for BIPOC comics in Boise through Underground Comedy, which she created with comics Tina Townes and LJ Sullivan.
While the hard-working comics of Boise are still working to get the community back to where it was pre-pandemic, the gap has also created opportunities for new voices and innovative shows. As Bree Jones said, "If anyone wants to step up and produce, they can. The opportunity is there."
Jones would know. In addition to the many shows she produces around the Valley, she co-produces the Upstaged Comedy Competition with Tiffany Eller, host of the Idaho Pun Slam and Managing Director of the Boise Bard Players. Upstaged is in its second year and Jones is excited to bring more laughs to the Treasure Valley.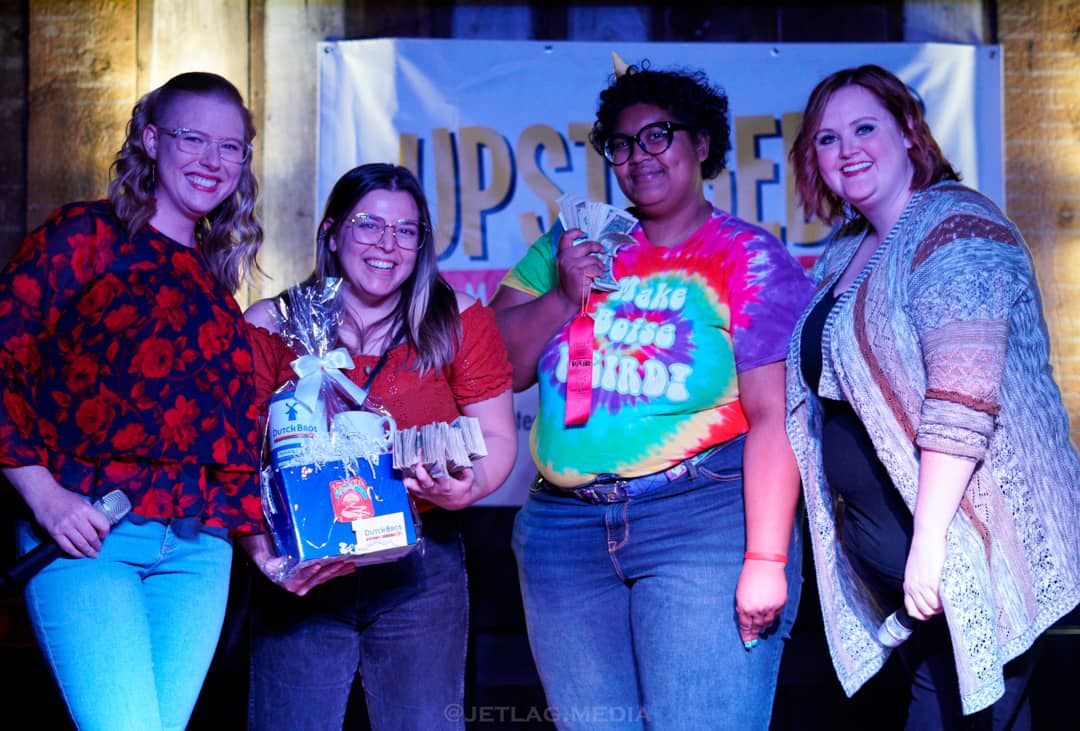 For Jones, it all comes down to providing the audience with a great experience.
"For me, it's about what can I do for the audience? It's about the audience. They're the ones that allow me to do this awesome job," Jones said.
It's a sentiment other comics echo: an appreciation for the audience and the folks who patronize comedy.
"This community matters to me," Arnold said. "I always feel honored when people with way cooler jobs than me want to come out and listen to what I have to say."
As comic Krystal Moore said, "I am always mindful of the time people are setting aside. Not only do I appreciate the time you're spending, I appreciate the vulnerability you're sharing with me. I want us all to get something out of it and leave better for it."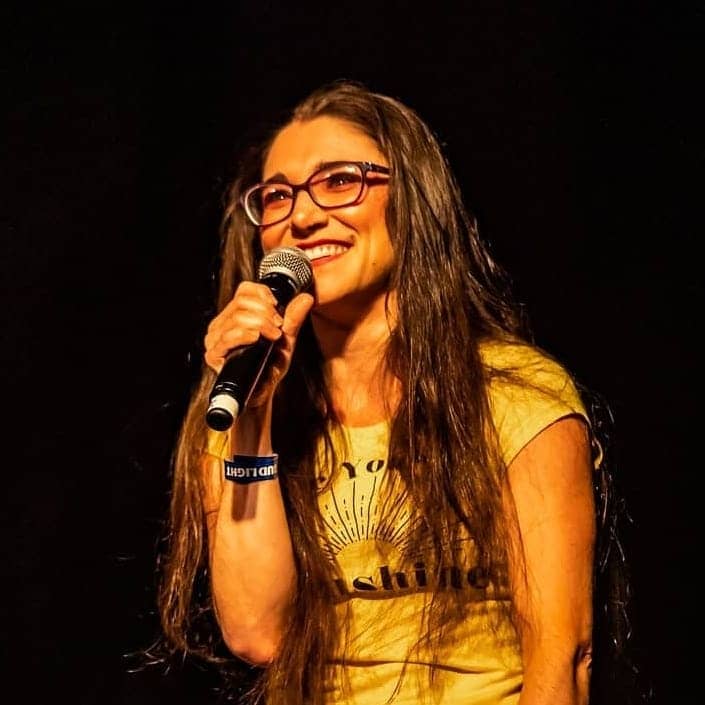 A powerhouse producer of Boise comedy, Moore produces the Mom Jokes Show, Femme Fatale, Let's Get Weird, A Brunch of Laughs, and Jack Mormon Comedy Hour. Through the pandemic, she brought comedy curbside with her on-demand Curbside Comedy shows. Moore tested the idea out on friends initially, and, by winter of 2020, had performed 55 shows in yards and cul de sacs for birthdays, anniversaries, and other occasions. Later, as the world began opening up, Moore worked with Hailee Lenhart-Wees to create A Brunch of Laughs, a pun for which Moore gives all credit to Lenhart-Wees' witty wordplay.
You can catch Moore's Let's Get Weird show on September 3 at Watson's Mystery Cafe, and the next Jack Mormon Comedy show at the Balcony on October 1. A Brunch of Laughs happens monthly at Watson's.
The homegrown approach to comedy is creating opportunities for new voices and collaborative, innovative shows in Boise. On August 26, Norton will headline the Post-Roe Show at O'Michael's Pub & Grill in Boise's North End. The show is produced and hosted by Amos Hayley; Lenhart-Wees and Brittany Hargis will perform. One hundred percent of the proceeds from the show will go to the Northwest Abortion Access Fund.
In June, Jones put on Occult Jokes: A Cult Comedy Show at the Neurolux, which blended standup, burlesque, and improv and was hosted by Moore. Moore's Jack Mormon Comedy Hour regularly incorporates burlesque acts.
As Lenhart-Wees put it, "Comedy is evolving. It's taking on new forms. We're just getting started. There are so many avenues."
This is true of Lenhart-Wees' brainchild, Blue City Comedy, which celebrates its third anniversary this year. Blue City Comedy hosts weekly open mics at Mad Swede Brew Hall in downtown Boise and the Mad Swede Tasting Room on Cole Road.
Lenhart-Wees shouts out Mad Swede for being so welcoming to the community. "Mad Swede has been a great supporter of comedy," Lenhart-Wees said.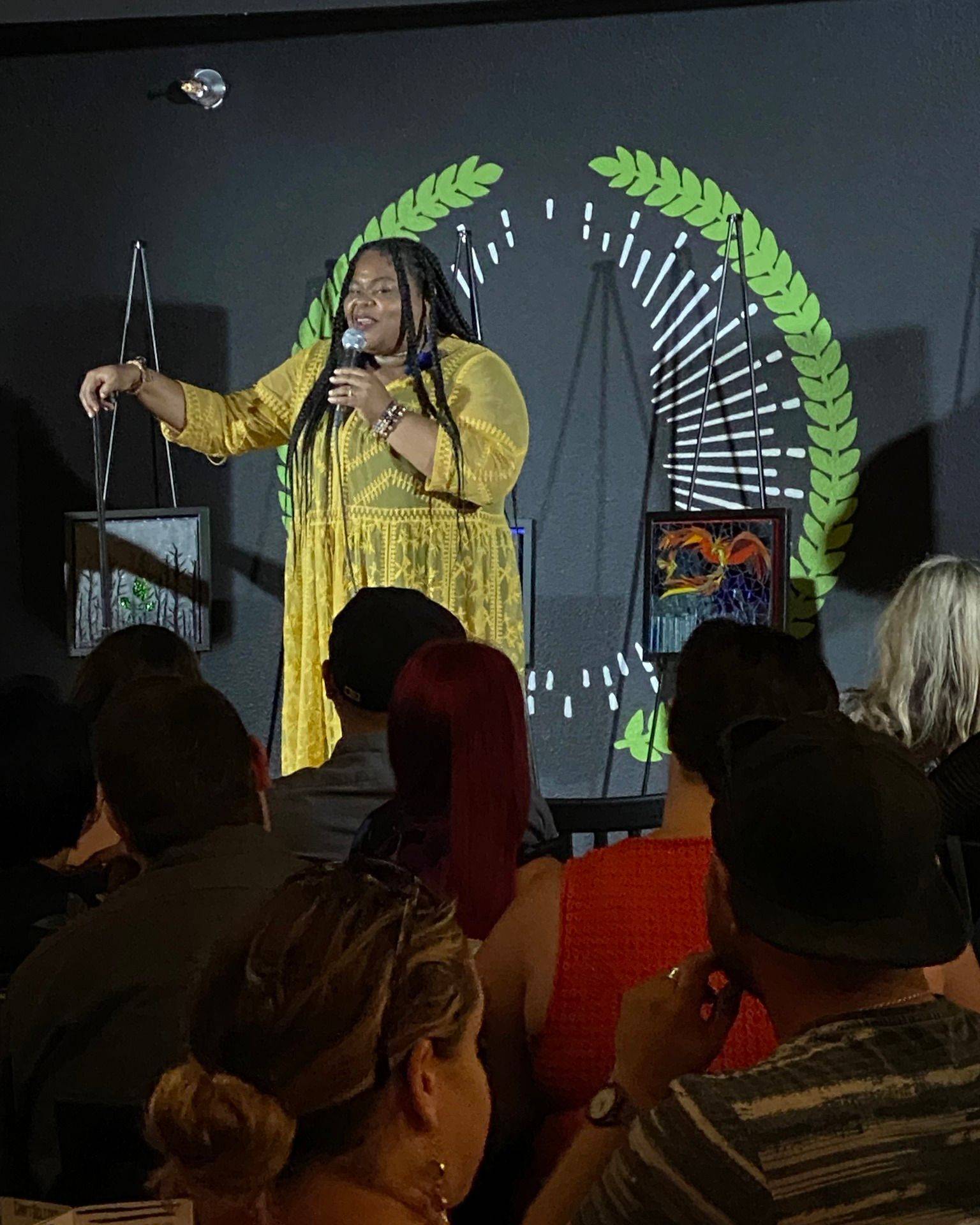 Blue City Comedy also puts on Comic of the Month, a showcase of local talent with $100 on the line and a spot in the culminating Comic of the Year event. "It's dear to my heart. My sister helped me get it going, so it's my legacy to her," Lenhart-Wees shared. The competition serves both as a way for up-and-coming comics to get recognized and as a pipeline for annual competitions like Idaho's Best Comedian.
To learn about upcoming shows, follow Blue City Comedy on Instagram and Eventbrite and subscribe to their newsletter.
Comic Sara Raffaella just celebrated the first anniversary of her Bring Comedy Backyard Show. She's always enjoyed hosting get-togethers at her house, so it was a natural evolution to backyard comedy shows, complete with church pews. "I started planning backyard shows in June of last year. We performed during a thunderstorm, but that's what makes it amazing," she shared. Raffaella also produces Ladies Night Out and Stand Up, Strip Down shows at the Lounge at the End of the Universe.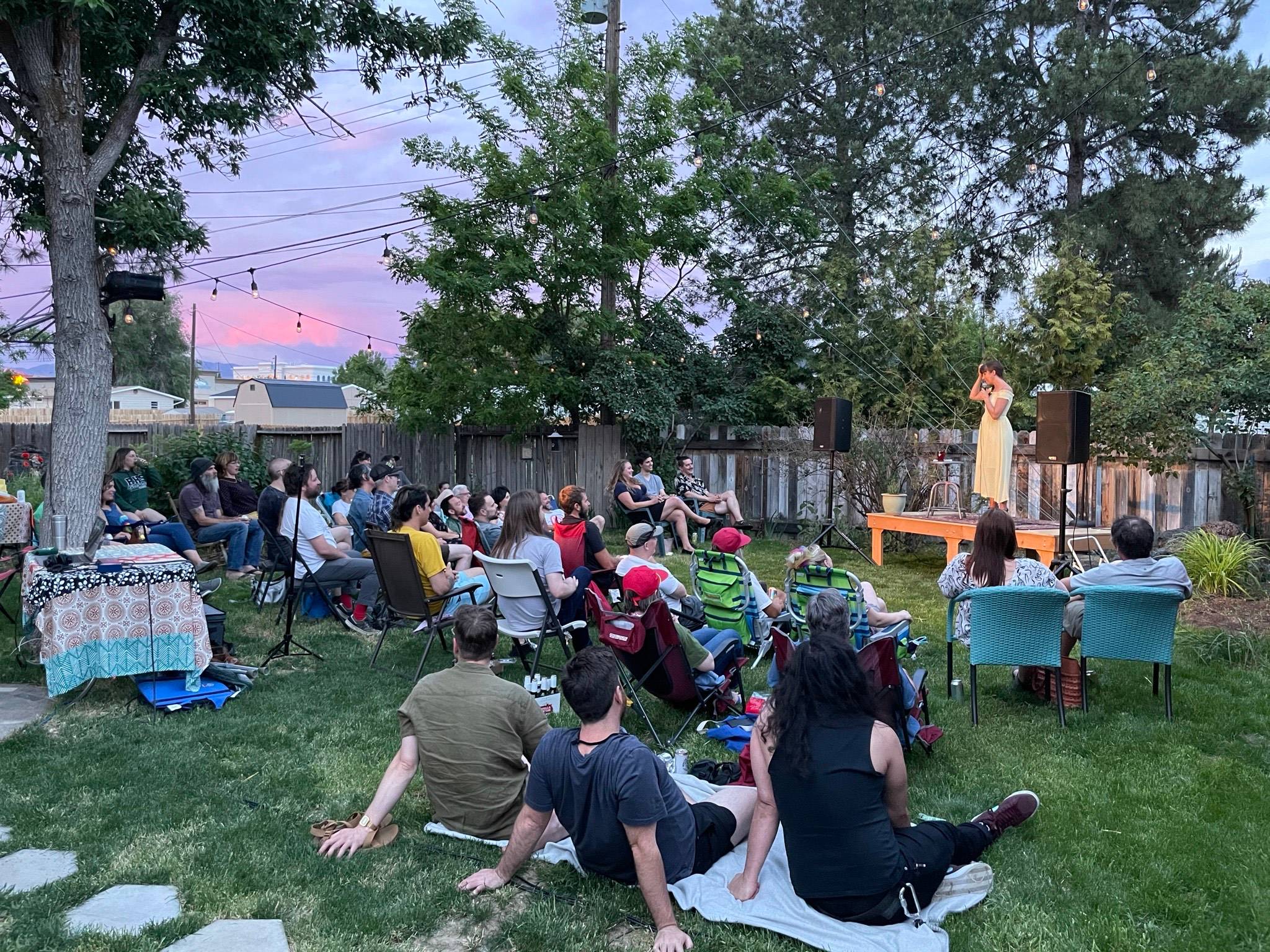 The Lounge at the End of the Universe is a woman-owned comedy club and arts entertainment venue where owner Jen Adams brings in weekend comedy shows, the Pun Slam, open mics, and more. Adams often books national headliners for weekend shows but encourages them to choose from local talent for their featured comedians. As Jones noted, "She's carving out space for us."
Backyard shows may just become a Boise staple. Last summer, Emma Arnold put on Bee-Side shows in backyards around Boise. She recalls a backyard show made possible by a generous Boise resident. It was full of family, friends, and food — essentially, community. "I thought, this is the basis of what we do," Emma shared. "You don't need a club, you just need a group of people willing to listen. I feel incredibly flattered and blessed that people are willing to come out and try it."
It's something Arnold found with her and comic Sophie Hughe's popular Hogspoiled shows at Woodland Empire. They often start the show with 20 minutes of Arnold and Hughes bantering back and forth. People were into it — not just that, they kept coming back.
Arnold sees what comedy delivers to folks facing daunting news stories and ongoing challenges. "People get out of their problems for 90 minutes. We lighten their loads. Maybe we can focus on that in the new landscape," she added. In many ways, it's never been a more valuable offering.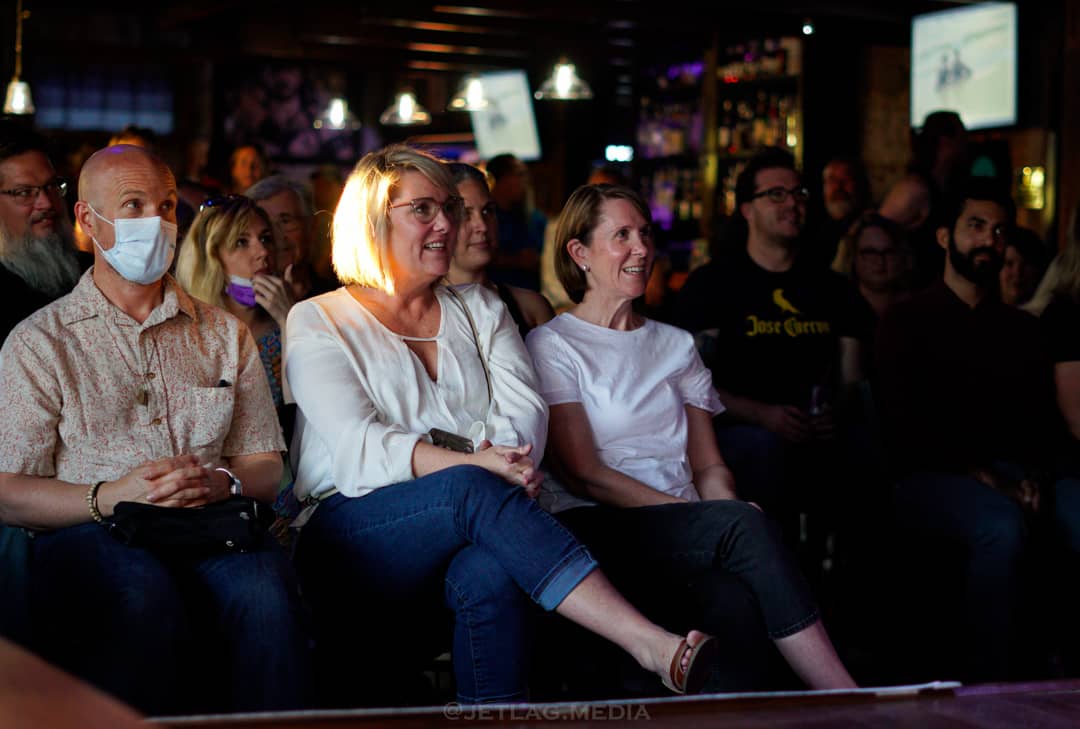 So, Boise, keep showing up. Keep listening. Keep supporting your favorite comedians through Patreon and experimental shows. Come to open mics and encourage new voices. And by all means, keep laughing.
---
Sponsored by The Egyptian Theatre​
Three days until...
...singer-songwriter and accomplished ukulele player Paula Fuga takes the stage at Boise's historic Egyptian Theatre. As one of Hawaii's top musicians, Paula has gained a global fanbase and worked with renown artists like Jack Johnson and Ziggy Marley.
Don't miss Paula Fuga at The Egyptian Theatre on Thursday, August 25 at 7:30pm. Get your tix today!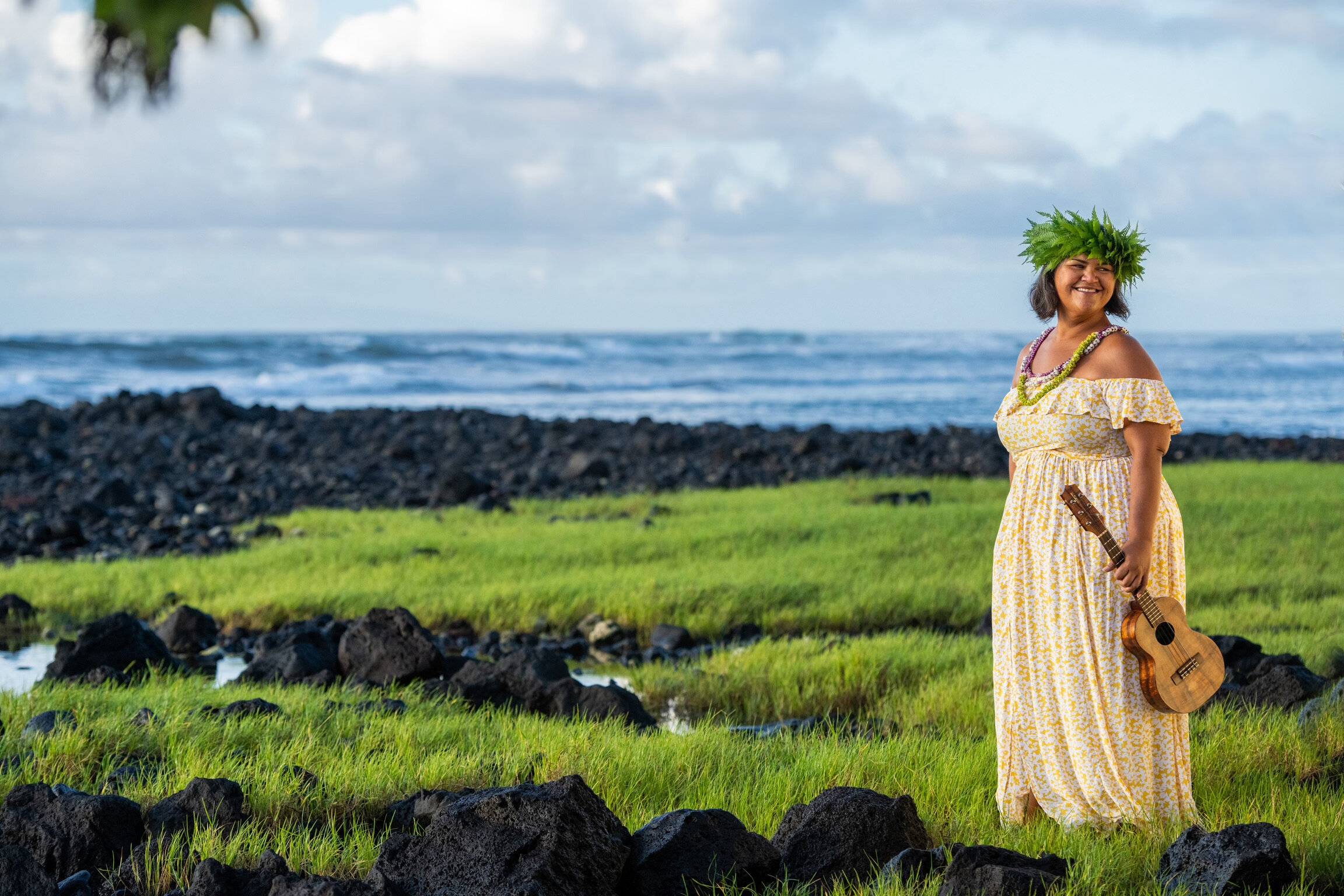 ---
Where to catch comedy in Boise
​Mad Swede Brew Hall in downtown hosts weekly open mics and Comic of the Month put on by Blue City Comedy. Improv duo Nice! Cool Beans! performs monthly. All ages before 8 p.m.; 21+ only after 8 p.m.
​Mad Swede Tasting Room hosts weekly open mics. 21+; children welcome until 8 p.m. when accompanied by an adult.
​Idaho Pun Slam is a monthly pun show. Sign up to compete the day of the show or come support the pun slammers.
​Game Changer Improv is a fast-paced improv comedy show held at locations around the Treasure Valley. All ages.
​Watson's Mystery Cafe hosts A Brunch of Laughs, the Boise Comedy Showcase (Bo Com Show), Mom Jokes, and more. 18+ to 21+ depending on the show.
​Lounge at the End of the Universe brings nationally-touring comedians, local talent, and improv and is home to the Pun Slam. 21+
​Visual Arts Collective is home to Idaho's Best Comedian Competition, burlesque, and more. 21+
​Recycled Minds Comedy puts on family-friendly improv, storytelling, and sketch shows in their Creative Space. All ages.
​Blue City Comedy puts on weekly open mics at Mad Swede Brew Hall and Tasting Room, Comic of the Month, and regular shows.
​Crescent Brewery in Nampa hosts weekly open mics and comedy shows on the last Friday of the month. 21+
​O'Michael's Pub will host the upcoming Post-Roe show on August 26 and hosts ongoing comedy shows. All ages.
​Idaho's Best Comedian Competition is an annual comedy competition started in 2022 by Beth Norton. 21+
​Upstaged Comedy Competition is an annual comedy competition created by Bree Jones and Tiffany Eller. 21+
​Comedyfort is an annual comedy festival that takes place during Treefort Music Fest (March 22-26, 2023). Most shows are all ages, depending on the venue.
​Push & Pour hosts the occasional comedy show. Usually all ages.
​The Egyptian Theatre hosts comedy shows pretty regularly. Usually all ages but depends on the comedian.
Thanks for reading!
With love from Boise,
Sonya
Today's story was written by Sonya Feibert.
Love this newsletter? I'm so glad! You can keep it going by supporting it here.
Want to see your business or event featured in From Boise? Sponsor a newsletter! ​
​