​Treefort Music Fest starts next Wednesday! Are you going?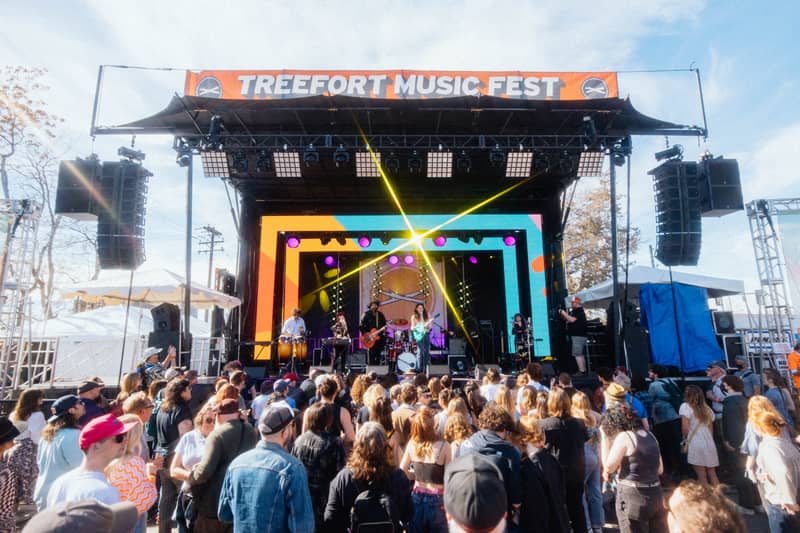 I am, because I also work at Treefort/Duck Club (full disclosure). But even if and when I didn't work there, I'd be there because its one of the best weeks in Boise!
This year I've got the whole famdamily in town for Treefort. My mama and my aunties are coming from Oregon (they always wear wigs - say hi if you see them, they will love it lol). My little brother & sis in law are going with their friends. My in laws are traveling from back East with some family friends to have their first Treefort experiences!
That is really the essence of Treefort. It's a festival that really is for any age and it highlights so many of the great and fun things about Boise. And if my family shows you anything, it's the "I'm too old" excuse is not true!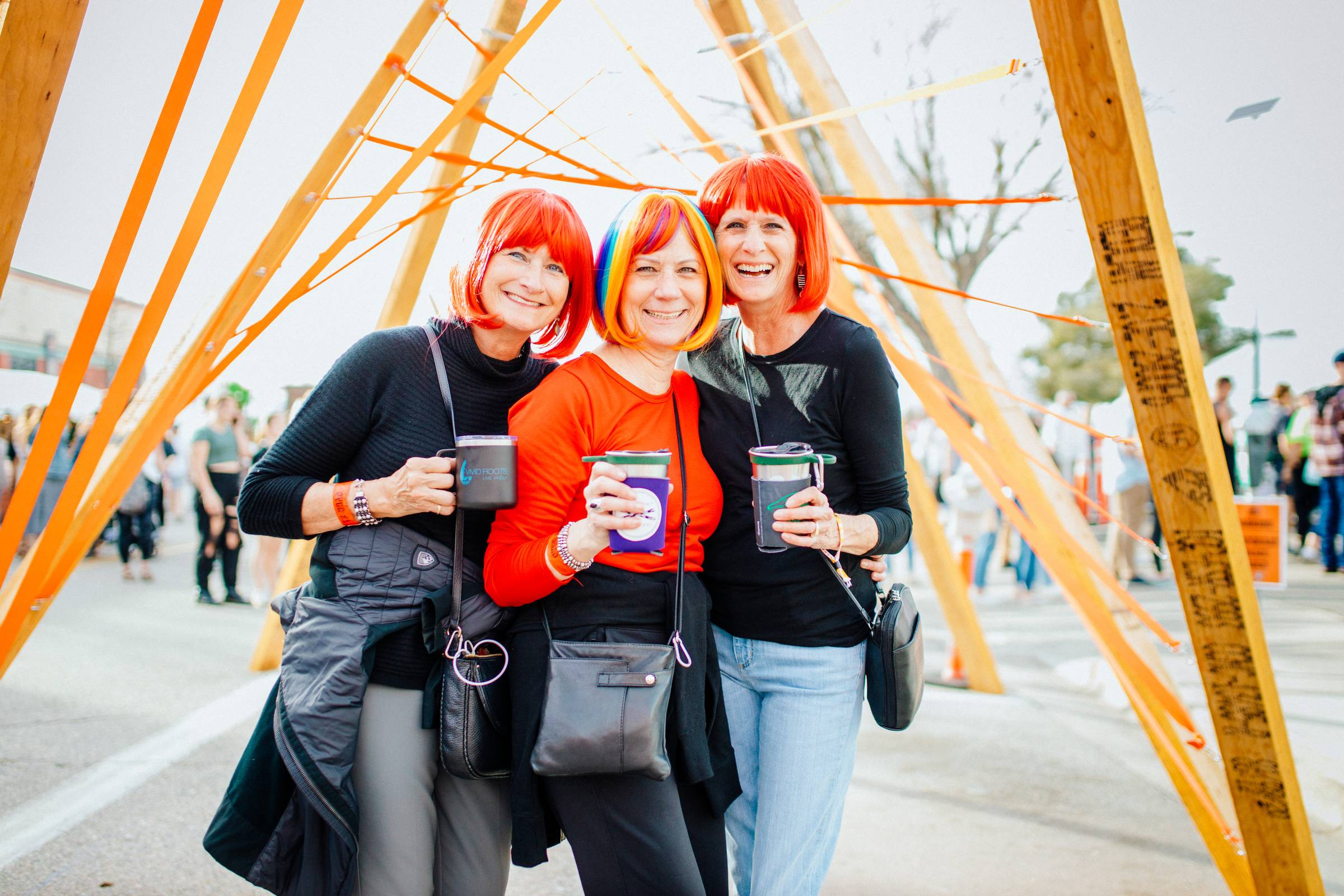 If you've never been to Treefort, I wrote about the history of Treefort & how it got started, which you can read here. I also wrote about the different ways to Treefort, which you can read here.
Alsooo I was just on the Boise Bubble podcast talking about Treefort 11! So if you would rather listen to me talk about this, click here.​
So anyway, here's a guide to Treefort with lots of lil tidbits for the newbies, the unsure people, and the hardcore Treeforters.
First things first
You need a pass or a (loose) game plan.
See all ticket options here. There's lots of ways to Treefort, and try not to let it overwhelm you. Figure out what is best for you this year, and you can always modify your plan for next year.
Your options for attending Treefort are:
attend all five days

attend one full day

attend for the Main Stage shows

attend one show/venue

attend a fort

attend the free stuff

or combine free stuff with a Main Stage, venue or fort pass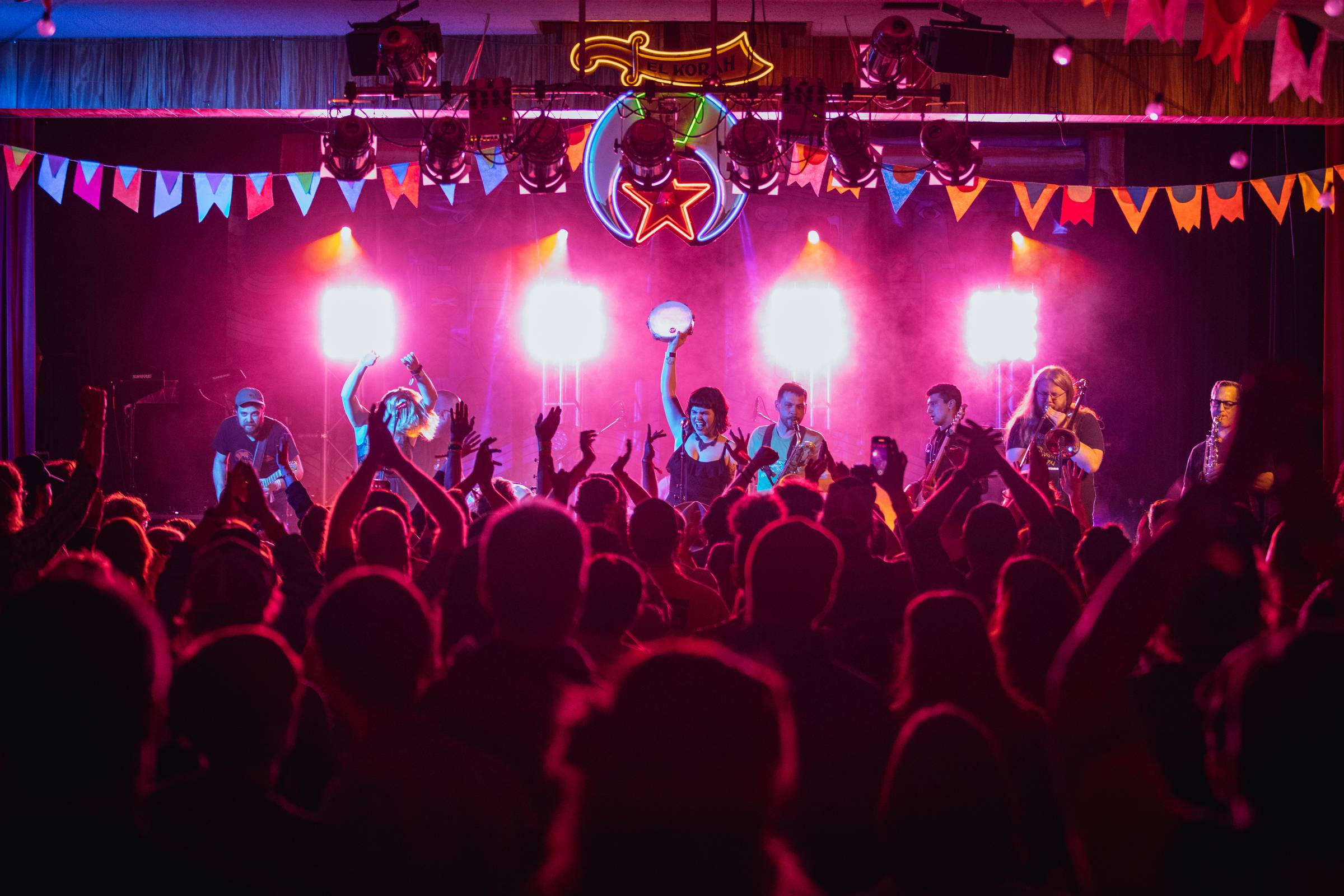 Go all five days
Buy a full 5-day festival pass ($290) or a ZIPLINE ($420, lets you skip all lines). There's also a 5-day pass for those under age 21, U21 Pass ($150). These get you into all events for all five days of Treefort (except for a few ticketed events like Foodfort dinners). This is the best option if you plan to go to shows on 3 or more days.
Go for a day
Buy a single day pass ($100) go to everything happening on that day. If you do the math and compare with the schedule, this is a screamin' deal. For example, there's 375 events happening on Saturday alone, so with a single day pass you'd be paying less than $0.25 per event.
Go for the Main Stage
This year the Main Stage is in Julia Davis park. You can easily spend all day at the park. There is a section of the park called the Wristband Zone, and you need a Main Stage pass ($50) to enter. Within this section there's the Main Stage, the Hideout Stage, and the Garden Dome. Additionally, there's four other stages in the free section of the park. So for $50, you can see all shows on 7 different stages in one day.
Go for a show
If there is a show you want to see or want to hang with friends at a specific venue, you can buy a ticket to a specific venue. This is not available for all venues. You can buy a ticket to see all shows on the given day at Treefort Music Hall ($30), Egyptian Theatre ($30), Knitting Factory ($20). This blog tells you alllll the shows that you can buy a single ticket to and has direct ticket links.
Go to an event
There's a few events that are ticketed and you do not need a festival pass to go, only a ticket. Those events are: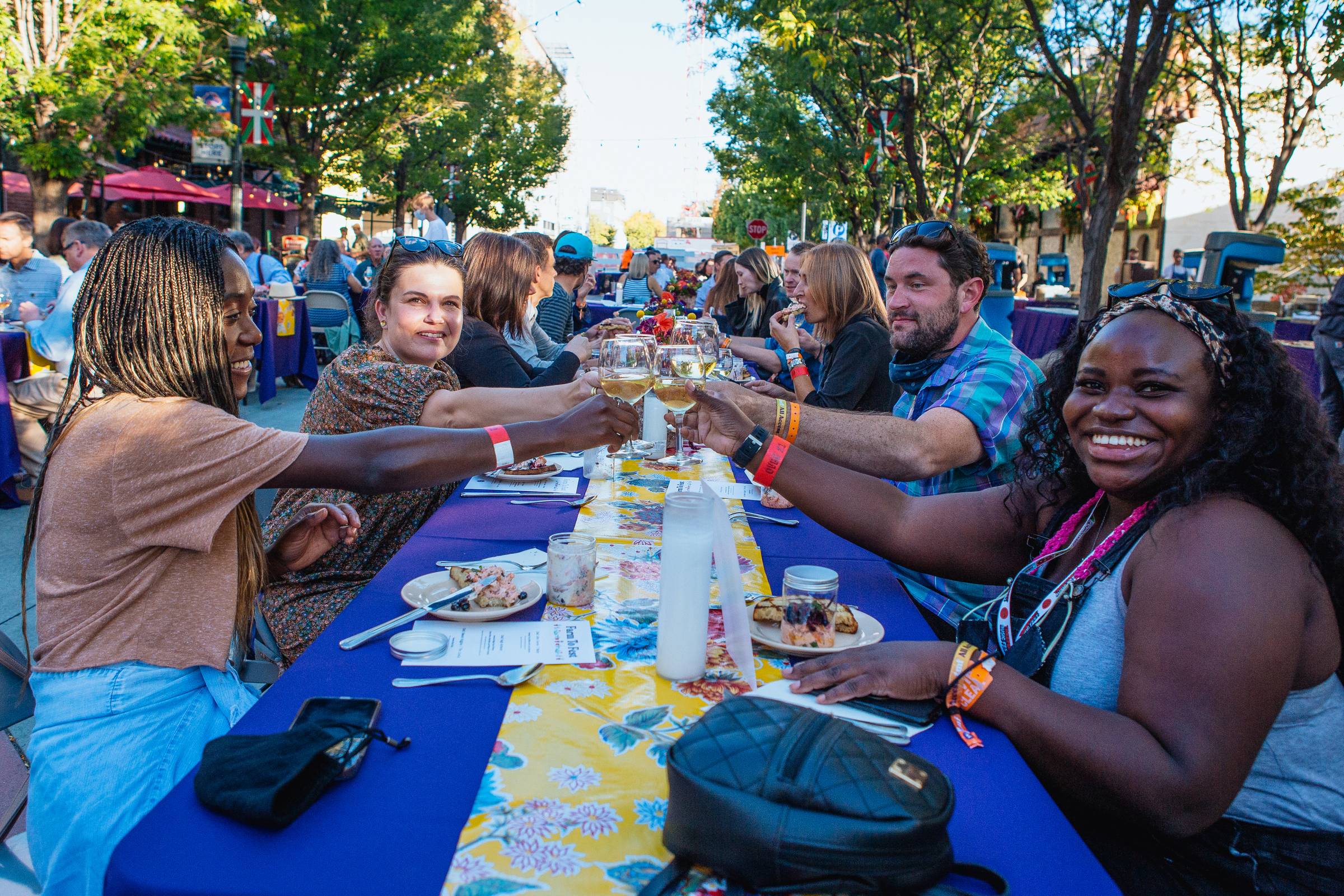 Go to your fave fort
You can buy a Fort Badge to go to all events at your chosen fort. You could pair this with free shows and forts (see below) and have a packed schedule. Buying a Fort Badge allows you to go to all events at that fort for the whole week! Those options are:
Freefort
Treefort has multiple free stages and "second chance shows" at bars and spaces around downtown. Most of these shows are all ages (I'll note if 21+) and I linked to the schedule for each venue. You can see shows for free at:
Forts you can go to for free: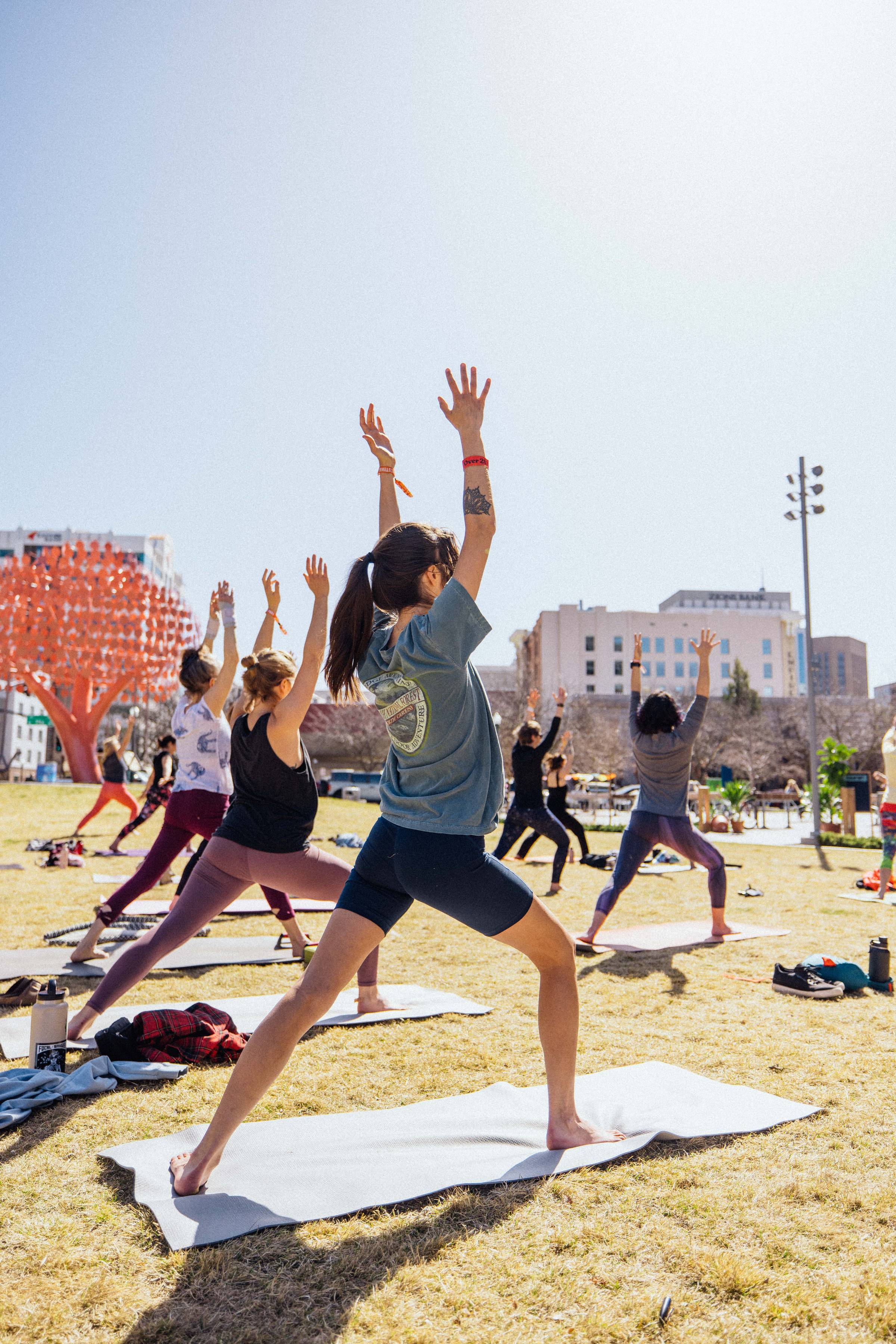 ---
Sponsored by ExtraMile Arena
This Weekend...
​...PAW Patrol Live! is at ExtraMile Arena! Bring the kid(s) in your life to help the pups find the pirate treasure on March 18th & 19th. There's FOUR chances to catch the live show:
Saturday, March 18th | 10:00AM & 2:00PM

Sunday, March 19th | 12:00PM & 4:00PM
​Get your tickets for PAW Patrol & get ready to roll!
---
Second, schedule
Don't know anyone on the lineup? Haven't had time to look at the schedule? Not really sure if you want to go? No prob. I got you. Here's some cool stuff and must see things for Treefort 11:
Wednesday, March 22
4:10pm: French Tips at Main Stage - Boise rock band kickin' things off at the Main Stage. I love this band. Wristband or Main Stage pass required.
6:00pm: Angel Abaya at Treefort Music Hall - dreamy pop tunes to get you groovin, also see Boise's newest venue! Wristband or TMH Pass required.
6:00pm: A Night at Miss Kim's (Foodfort) - this is a Korean dinner that is gonna be off the hook. You do not need a festival pass to attend, only a ticket! It will prob sell out so get one while ya can. Food & drinks included. Chef Ji Hye Kim is James Beard nominated & has won lots of awards for her cooking. It's gonna be amazing.
7:20pm: Movement & Music Showcase at The Egyptian - This is an evening of music and dancing featuring Ballet22, Ballet Idaho, Project Flux, WEND, and Mizu. Wristband or ticket ($30) required.
8:40pm: Rogé at Treefort Music Hall - I'm really excited for this Brazilian singer-songwriter. Wristband or TMH Pass required.
9:10pm: Orions Belte at Bandshell - FREE show. I loveee this band from Oslo, Norway. If you like experimental rock/spooky tunes, you will too.
10:50pm: SISTEMAS INSTABLES at El Korah - Another spooky experimental band, this one is from Chile. Wristband required.
11:40pm: Joshy Soul at Treefort Music Hall - if you wanna dance and groove, go to this show. Wristband or TMH Pass required.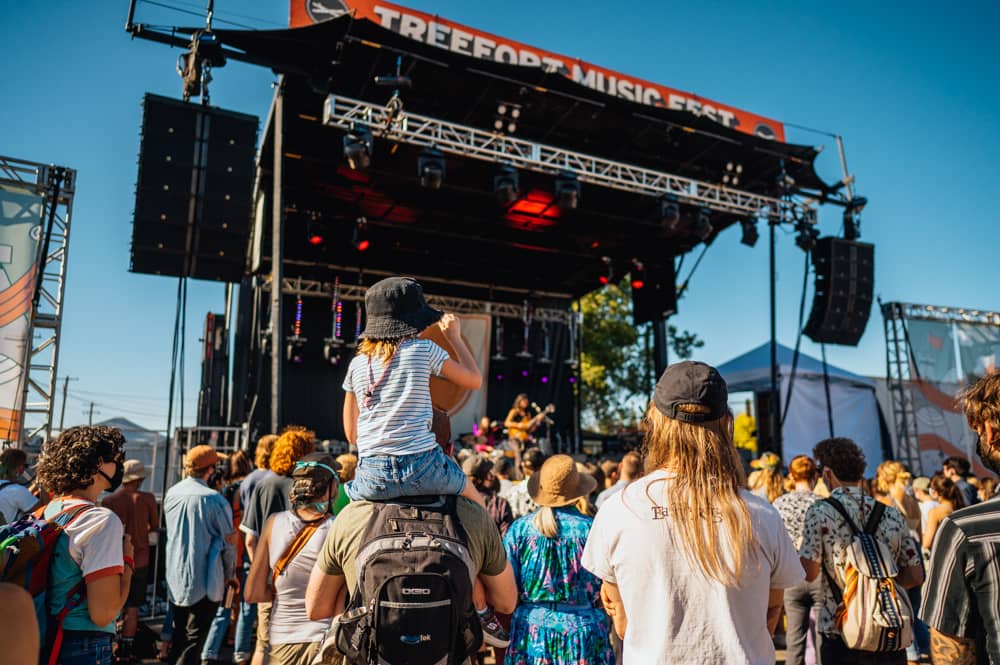 Thursday, March 23
9:30am: Rock n' Roll Yoga at Basque Center (Yogafort) - get your morn started with a stretch and some tunes. Festival or Yogafort Pass required.
10am: CD's Aren't Dead listening room at Boise Public Library - go listen to old tunes! It's free!
11:00am - VR1 Arcade (Hackfort) - wanna check out some VR stuff? Go here! It's open all day. Hackfort Pass or Wristband required.
1:00pm - Lock Picking Lounge (Hackfort) - this event is super popular and fun. Learn to pick locks! Hackfort Pass or Wristband required.
1:00pm: Behind Gray Walls (Podcast) - this is the Old Idaho Pen's podcast, recording live. It's free!
2:40pm: Blondshell on Main Stage - first Main Stage show of the day. Wristband required.
4:00pm: Cocktail Showcase at Bus Station (Alefort) - Michael Bowers is bartending, he's a founding pillar of Boise's cocktail scene and created the infamous "Layover" cocktail at The Modern! He does not bartend anymore, so get one of his cocktails while you can! Wristband or $20 at the door, plus 3 tokens for a drink.
5:00pm: Bone Haus at Cyclops - local shredders in Freak Alley! It's free!
5:00pm: Daisha McBride at The Hideout - if you like R&B and rap, you are gonna love this one. It's a vibe. Festival or Main Stage Pass.
5:30pm: SunDog at Hound Lot - I love this band from Alaska, good ol indie rock. Wristband or $20 at the door.
5:30pm: Street Eats (Foodfort) at Zoo Boise. This dinner is SUCH A GOOD DEAL. Some of the best chefs in Boise are creating small dishes, and then you just go around and eat! Participating chefs/restaurants: Madre, The Lively, Amano, Petit 4, Ansot's, Kibrom's, Sunshine Spice, Wild Root, Chef Hugh Acheson, Maskal Teff & Terroir. Lots of James Beard nominees on there. Tix are only $45! No wristband required, just a ticket.
6:20pm: Dust City Opera at Payette Brewing - cool rockish countryish band. Free & all ages!
7:50pm: Banshee Tree at Basque Center - if you like the violin, you will love this band!
8pm: Dragfort at The Balcony - a must for getting hyped up for the night!
8pm: Psymon Spine at The Hideout - a must see for me, experimental groovy music. Wristband or Main stage Pass.
8:40pm: Unknown Mortal Orchestra at Main Stage - the top headliner! Great one to take the fam to.
9pm: Pepperoni Prada at Spacebar - check out Spacebar's new spot and listen to this local band that raps about pizza, not kidding lol.
9:10pm: Lounge on Fire at Cyclops - local funk band on a free stage!
10:30pm: Godspeed You! Black Emperor at The Egyptian - this is a legendary multimedia, instrumental group. Wristband or ticket ($30)​
10:30pm: Brijean at Treefort Music Hall - super fun chill dance music. Wristband or TMH Pass.
Friday, March 24
10am: Fluff Hardware at Kidfort - take the littles to stamp their own Treefort keychain! It's free!
11am: Build an App Without Code (Hackfort) - cool workshop alert. Wristband or Hackfort Pass.
12pm: Vegan Lunch w/ Chef Hugh Acheson & Doug Martsch - Vegans! This lunch is for you! Ticket required.
12:30pm: Burning the Candle at Both Ends: Nabil Ayers and Margo Price reading and in conversation (Storyfort) - Nabil Ayers is an author and the son of Roy Ayers (famous song "Everybody Loves the Sunshine"). Margo Price is a fantastic artist and author. This is gonna be a cool talk. It's free!
2:30pm: Smokey Brights at Main Stage - great band, go see em
3pm: Shorts Block (Filmfort) - go see a few short films! Wristband or Filmfort Pass needed.
3pm: Solar Energy & The Future Of Green Energy In The United States (Hackfort) - interested in solar? Learn more at this talk! Wristband or Hackfort Pass needed.
4:50pm: Christian Wallowing Bull at Pengilly's - cool Indigenous artist. I saw him last year and it was fantastic. Wristband or cash at the door I think.
5pm: Dark Dazey at Cyclops - they were recently in Boise and the show was amazing. It's free!
6:20pm: Bibi Club at Treefort Music Hall - I don't know really but I have an inkling that this is going to be a cool show.
8pm: Black Maracas at Lost Grove - cool band from Spain. Free show.
8:50pm: Mavi at Knitting Factory - if you like rap/hip hop you are gonna want to see Mavi and all the artists after him at Knit. Wristband or Knitting Factory Pass ($20)​
10:30pm: Comedyfort Last Show at Mad Swede Brew Hall - go sit down and laugh for a bit. Wristband required.
11:40pm: Louis Cole Big Band at Treefort Music Hall - not kidding when they say "big band", there's like 16 instruments in here.
12:30pm: Tropa Magica at Basque Center - one of my faves, cumbia punk band!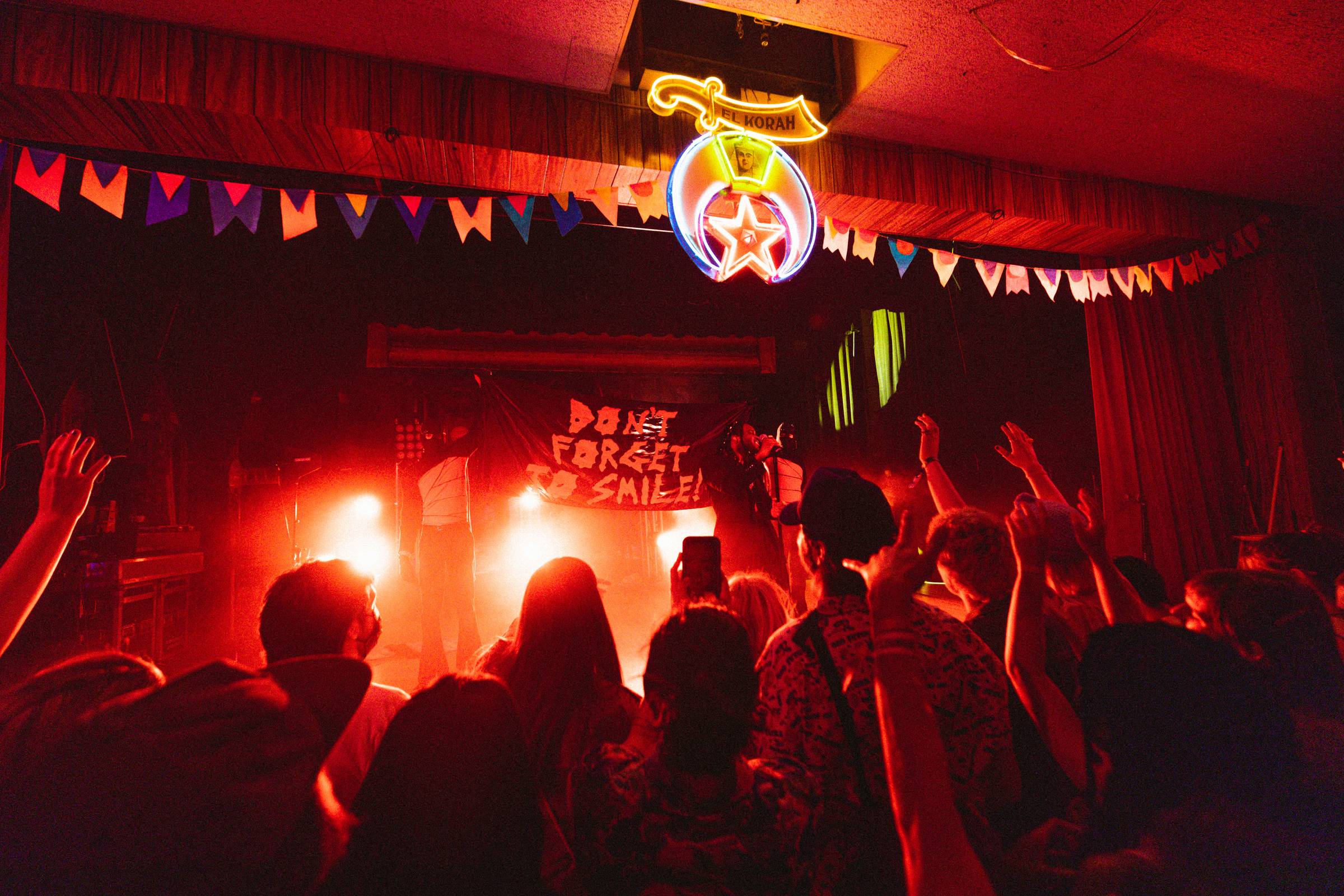 Saturday, March 25
11am: Matt Baker Comedy + Stunt Show - another fun one for the littles! Tix are $10 for kids and parents. They will love it!
12pm: Skatefort at Rhodes Skate Park - this is so wonderfully chaotic and fun. Go to skate or just watch. It's free!
12pm: Comedy show at Alefort - it's free!
12pm: The Boise Bubble (Podcast) - go listen to a local podcast, live! It's free!
1pm: BBQ with Tuffy Stone (Foodfort) - go for a lil weekend BBQ with this world champion smoker chef! It's free to attend, food purchased with tokens.
3pm: Bike Rodeo at Kidfort - bring the littles down for the Bike Rodeo! It's free and cute!
3pm: Local Gems at Filmfort - go see some local films!
4pm: Jenny Don't and the Spurs at Camp Modern - punk meets country on a free stage.
4pm: Hermanos Guitérrez at Main Stage - If you like instrumental music like Khrungabin, you're gonna love these dudes.
4:50pm: Husbands at Bandshell - bring your husband to see this easy listening band. It's free!
5:20pm: Lady Wray at Main Stage - powerhouse singer, good one for the kiddos & adults.
6:20pm: Tanukichan at Hideout - I loveeee her music.
6:50pm: Goodnight, Texas at Payette Brewing - good countryish tunes at a free stage.
7pm: Ani DiFranco at Main Stage - she's a legend, what else can I say.
7:10pm: Mapache at Treefort Music Hall - one of my fave folk bands
9:10pm: Rose City Band at Bandshell - another fave for me, psychedelic instrumentals. Free!
11:30pm: Rayland Baxter at Treefort Music Hall - great countryish artist, easy listenin
12:30pm: Zeta at El Korah - if you like metal or hard rock, you gotta see this band from Venezuela. One of my faves.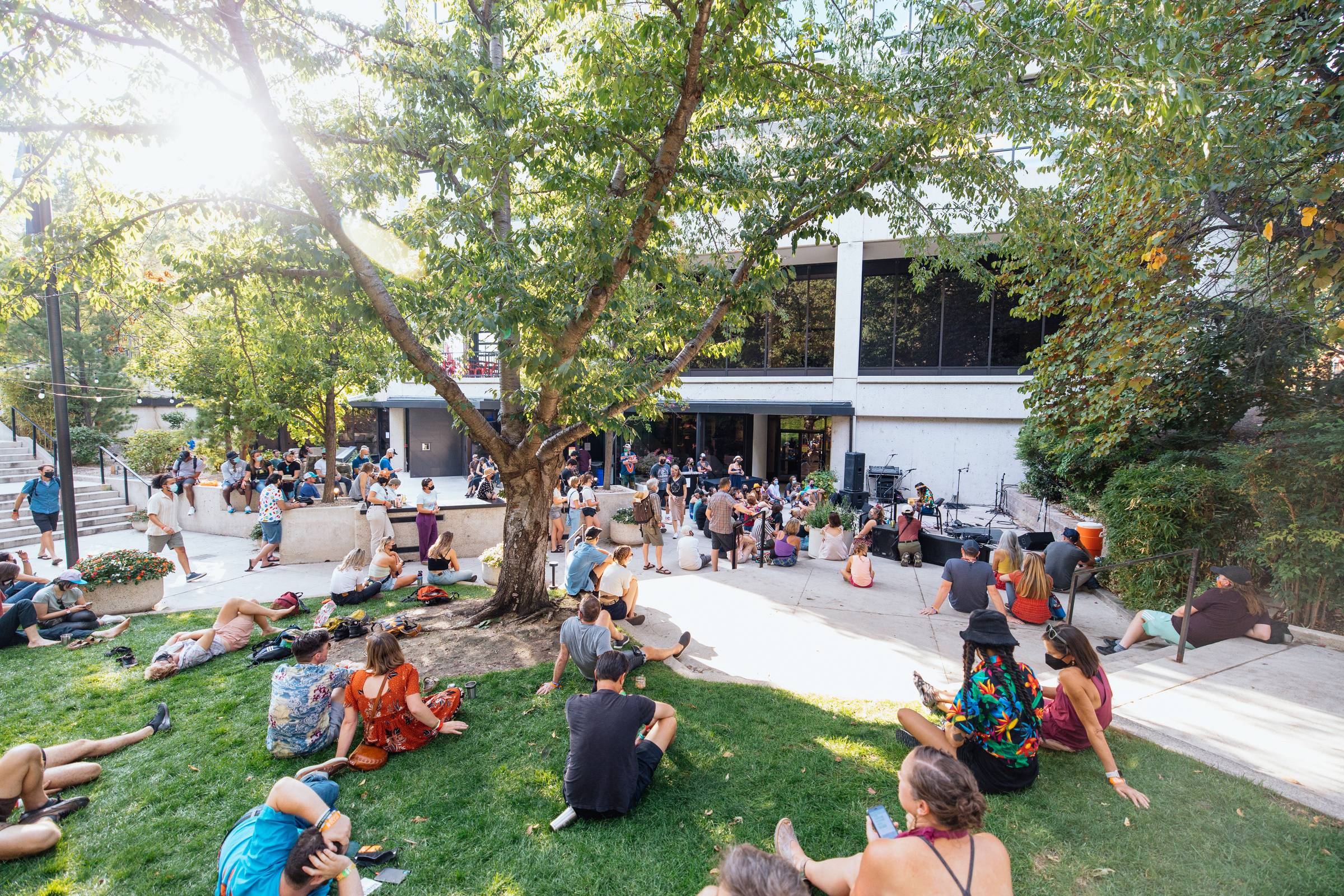 Sunday, March 26
10am: Board Games & Brunch (Hackfort) - play some games! It's free!
12pm: Poetry & mimosas (Storyfort) at Ochos - chill way to start a Sunday. It's free!
12pm: Drag Brunch at Alefort - another fave for me, it's always poppin! Free!
12:10pm: A Conversation with Ani DiFranco and Jessica Hopper - can't wait for this interesting talk. It's free.
2:50pm: 700 Bliss at Bandshell - cool hip hop project. Free.
3:15pm: Open Arms Dance Project at Kidfort - I wrote about this group, which you can read here. Their performance is free!
5:50pm: The Seshen at Bandshell - I always enjoy seeing this band. Free!
8pm: Leikeli47 at Main Stage - very excited about this rapper! She goes haaard.
8pm: Help at Hound Lot - if you like punk, you gotta see Help.
​Here's the full Treefort Schedule.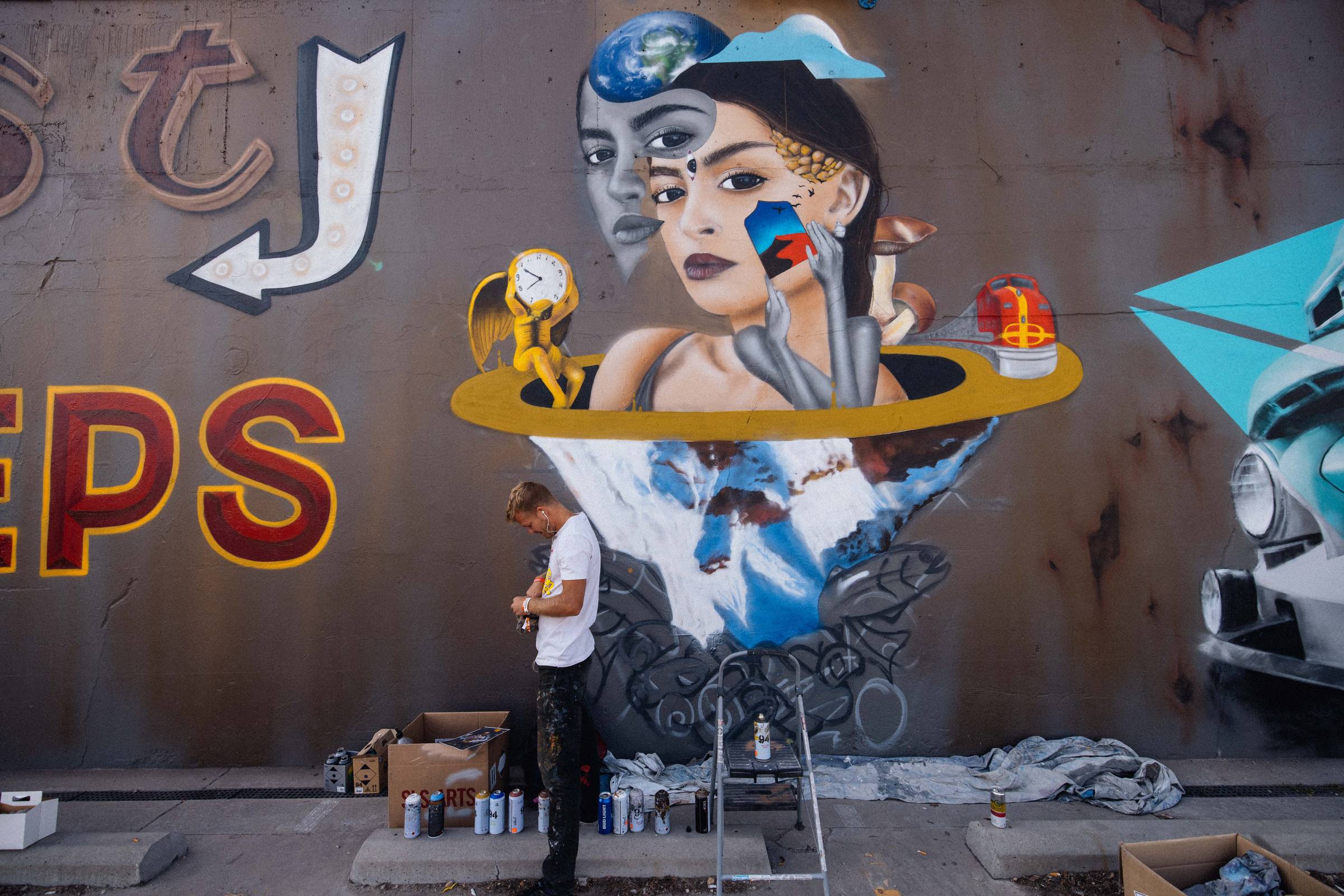 Third, Treefort essentials
Here's things you need to know, pack, plan for:
​Download the app. That's the best way to check out the lineup + schedule. Also you can build your own schedule, share it with friends, and check lines at venues. Here's my schedule (open on mobile). Fair warning that I love hard rock and weird stuff lol.
Here's maps for both the festival and Julia Davis Park.
You can park at Boise State in the Brady Garage for $5/day. You have to move your car by 10am the next day. Pretty sweet deal, eh? Info here.
​You can buy bulk tokens ahead of time & save some money! You pick them up with your wristband in Julia Davis Park.
​Ride the bus! There's bands that play on the Treeline bus, which is extremely fun. No wristband needed to ride the Treeline. But if you do have a wristband, you can ride ANY city bus for free during the festival.
Kids under age 12 are free to attend the fest with an adult passholder. You are allowed to bring strollers, blankets, and snacks into Main Stage/venues.
Here's all the venues you can bring kids to:
All stages at Julia Davis Park (Main Stage, Hideout, Garden Dome, Bandshell, The Nest)

Basque Center

Bus Station (Hound Garage + Hound Lot)

Camp Modern

Egyptian Theater

El Korah Shrine

Idaho State Museum

KIN

Knitting Factory

LED

Lost Grove Brewing

Mad Swede Brew Hall

Old School

Payette Brewing

The District

The Funky Taco

The Shredder

Treefort Music Hall

Woodland Empire Lot
Here's all the new venues at Treefort 11.​ If you are in a chair or festival-ing with someone who has a disability, peep the accessible venues.
Don't forget to pack a steel cup, earplugs, etc! Also change your shoes every day, your feet will thank you.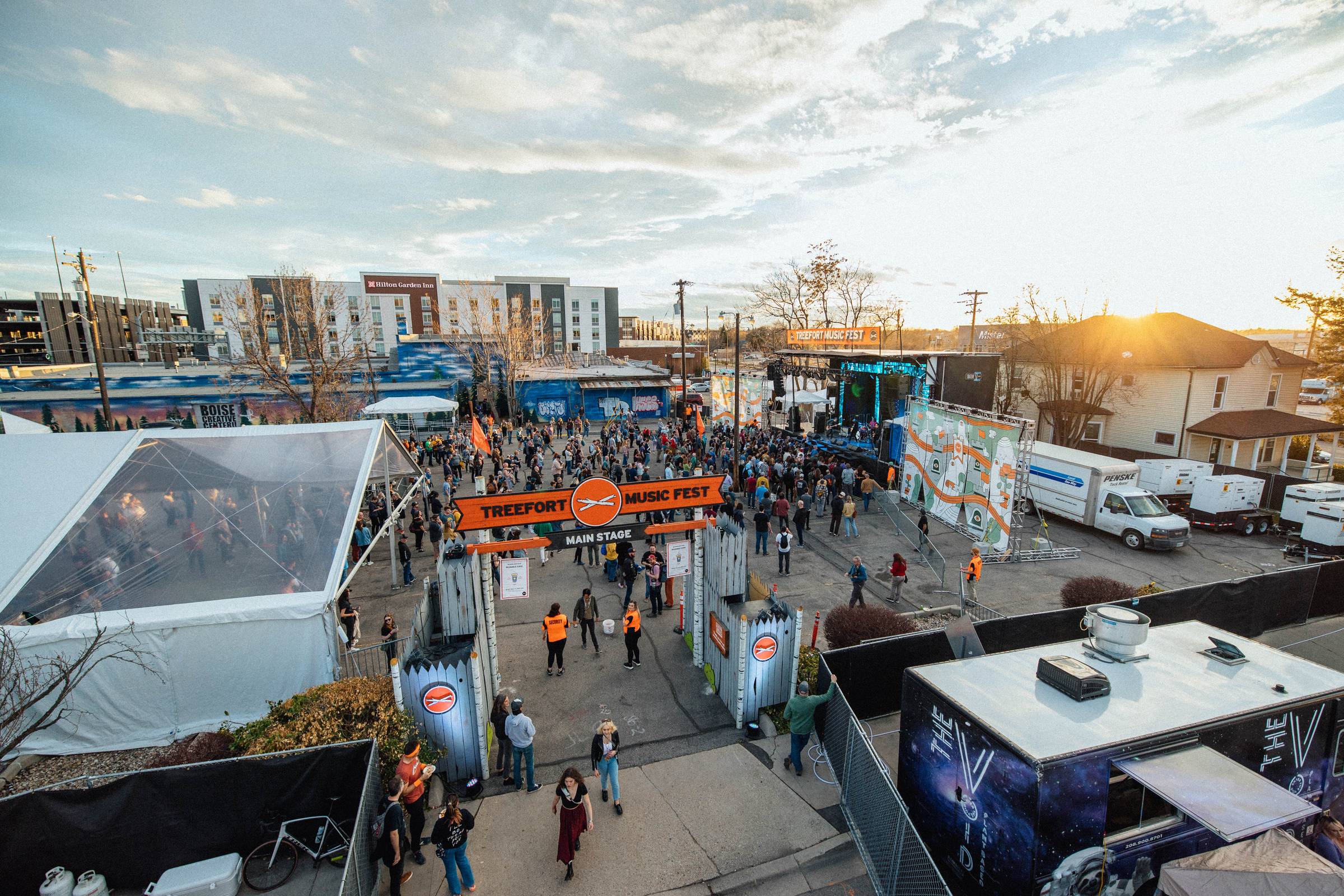 That's all I got for ya. Are you going to Treefort? Let me know if so. Maybe we will have an impromptu From Boise meetup?!
Thanks for reading! Happy Treefort! <3
With love from Boise,
Marissa
​Click here to read & share this story!​
​
Love this newsletter? I'm so glad! You can keep it going by supporting it here.
​
​